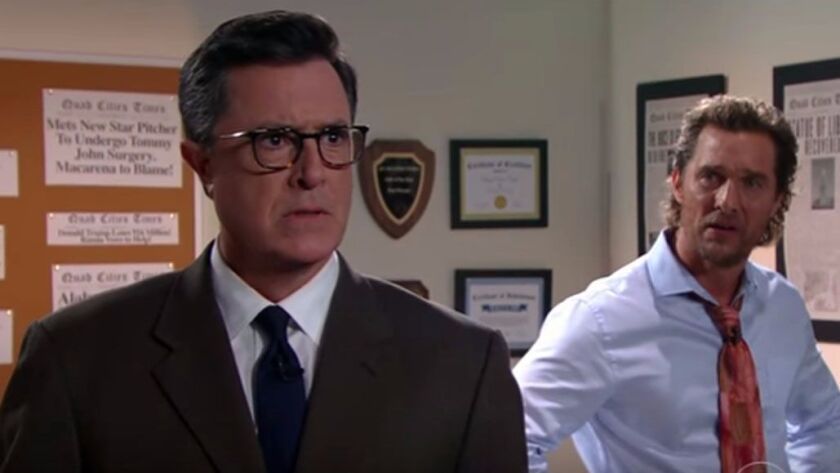 UNDERRATED
"Exit 57": Though TV sketch comedy feels like an endangered species in 2017 once past the orbit of "Saturday Night Live," the genre's history is a goldmine, particularly once you look past standard-bearers such as "Kids in the Hall," "SCTV," "The State" and, of course, "Monty Python." Also worth finding on YouTube (since it hasn't been released on DVD), this 12-episode gem from mid-'90s Comedy Central helped launch future "Strangers With Candy" stars Amy Sedaris, Paul Dinello and one Stephen Colbert, who revived one of the series' old skits on "Late Night" at the encouragement of longtime fan Matthew McConaughey. As you may already expect, "Exit 57" goes to very strange places.
Charles Lloyd's "Passin' Thru": With a track record of distinctive, searching recordings that reaches back to the early '60s, Charles Lloyd has almost become easy to take for granted. His latest release, a live album celebrating his 10th year with a quartet that includes the restlessly inventive pianist Jason Moran and drummer Eric Harland, offers a rich survey of his career with some of his earliest recordings ("Dream Weaver" and the album's title track) alongside some equal parts lush and unfettered more recent music that showcase an artist with a focus still firmly fixed forward. At 79 years old, Lloyd sounds as if he's just getting started.
OVERRATED
MTV: Already pilloried around social media last month after a site-wide experiment with long-form, occasionally critical journalism on its news site was abandoned for a dreaded "pivot to video," MTV is joining every other TV network by diving into its own archives with a planned reboot of its video countdown "Total Request Live" (or the far edgier "TRL"). While nostalgia is big business — certainly more so than music writing (sadly) — does a return of music videos to MTV matter? Even setting aside the inevitable Rickroll that's coming once the voting is hacked, are on-demand music videos that hard to find in 2017?
CBS' "Kevin Can Wait" shuffle: A perplexing sitcom that lives on the memories it conjures more than its own merits, "Kevin Can Wait" with Kevin James announced plans to embrace its standing as a half-hour tribute to "King of Queens" by bringing James' former costar Leah Remini on board as his former partner. What will happen to Erinn Hayes of "Eastbound & Down," who played James' wife on the new series? Her character will die, which means the show will evolve with a bittersweet complexity as it ponders loss and the fleeting nature of life. Just kidding. No doubt the show will be much like what you watched before just because it's on.
See the most-read stories in Entertainment this hour »
Follow me over here @chrisbarton.
ALSO:
'Game of Thrones' finally unites Daenerys Targaryen and Jon Snow, and a scene-stealing character gets the last word
Overrated/Underrated: Your new favorite 'Game of Thrones' villain has arrived
James Van Der Beek offers an absurdist look at the EDM life in Viceland's 'What Would Diplo Do?'
---