Review: Cast of 'Parks and Rec' off to greener pastures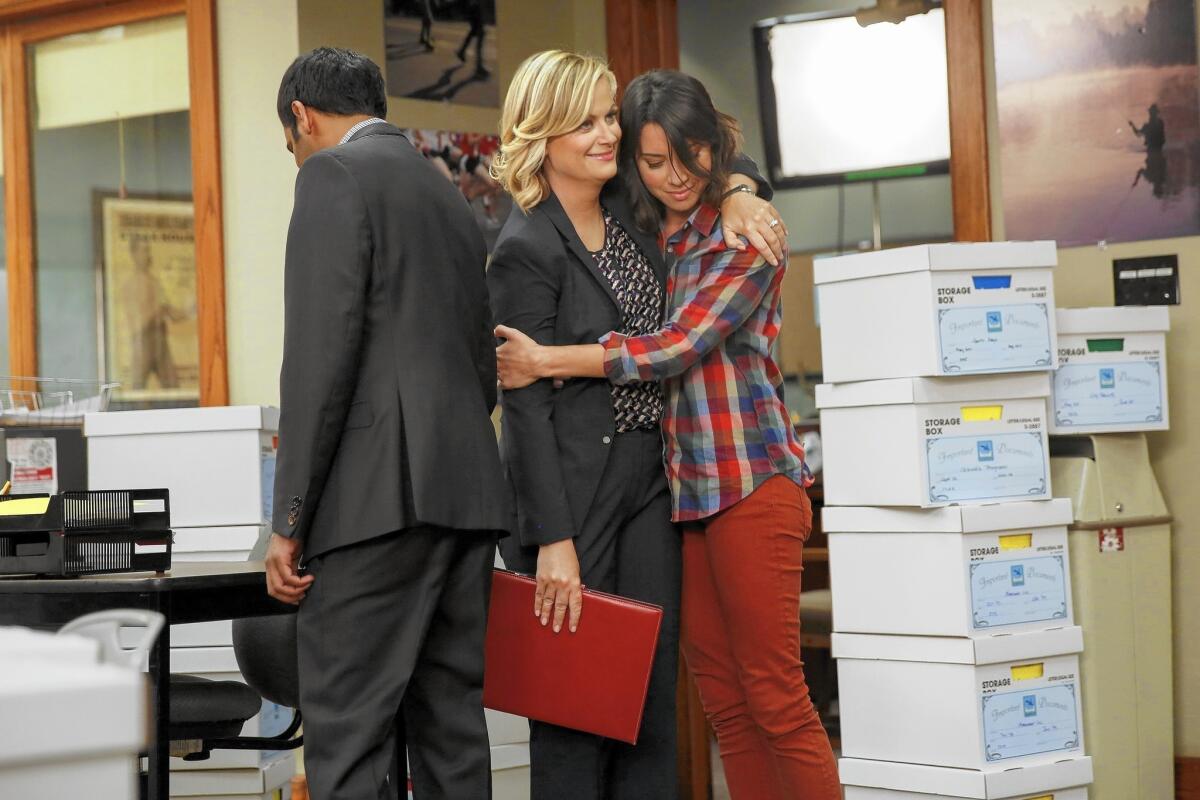 Los Angeles Times Television Critic
Let us now praise "Parks and Recreation," which ends Tuesday night in an effervescence of heart and hope, proof positive that success and significance are not always measured in gold, statuary or otherwise.
The show that gave us Leslie Knope (Amy Poehler), Ron Swanson (Nick Offerman), April (Aubrey Plaza) and Andy (Chris Pratt), that made Retta a household name and introduced non-stand-up aficionados to Aziz Ansari, has yet to win a single Emmy. Co-creators Greg Daniels and Michael Schur miraculously recalibrated a rocky first season into a permanent critics' darling, but low to middling ratings meant "Parks and Rec" faced cancellation for virtually each of its six years.
Even as it ends, with Poehler now a bona fide powerhouse, Offerman's Ron a comedic icon and virtually all its cast ensconced on the A-list, NBC executives chose to halve its seventh and final season, already shortened to 13 episodes, by running two back-to-back shows a night. But then so many of us don't realize what we have until it's gone.
Here's what we had: a very funny, wickedly smart, surprisingly humane and deeply important show that defied all rules, regs and stereotypes to boot television comedy out of a deep and dangerous rut.
In a medium too often canted toward the dark, the jaded and the angsty, "Parks and Rec" was eternally optimistic, rarely mean and never sardonic. Entering a genre that still worshipped at the "Seinfeld" altar of nothingness, it dared to be about something.
It was about lots of things actually, including issues considered too corny for "smart" comedy. Like the importance of community service, the value of government and the necessity of competing view points, not to mention waffles and Galentine's Day.
While the country became divided into red and blue, Leslie and Ron proved not only that the liberal and the libertarian can be friends but that you can hold strong convictions and not be self-righteous or ridiculous.
Together with the rest of the cast, they returned confidence to comedy, and that alone is revolutionary.
TV comedy is overpopulated with two kinds of characters: The absurdly overconfident ("30 Rock's" Jack Donaghy) and the deeply insecure ("30 Rock's" Liz Lemon). Most shows have a mixture of both. Indeed, many characters are a mixture of both, and the tension between the two extremes feeds the jokes.
But Leslie Knope was neither megalomaniacal nor depressive — she was a TV character we had never seen before. She was a woman who took herself seriously, but not at the expense of others.
She had big dreams (first female president) but also the instincts and work ethic to make at least a version of those dreams seem possible. No one, not even the writers, knew quite what to do with her at first.
Debuting as a mid-season replacement in 2009, "Parks and Rec" was inevitably compared, often unfavorably, to "The Office." The two NBC shows had their similarities — both were set in a small towns, were shot in mockumentary style and focused on a mildly strange staff through the eyes of its boss.
Unlike Steve Carell's Michael Scott, though, Leslie was not a delusional buffoon. Instead, her can-do demeanor, list-making efficiency and blue-sky ambition made it too easy to reach for the word "perky."
And, to paraphrase the immortal Lou Grant, we hate perky.
But Leslie wasn't perky; she was energetic, confident and in love with her job — a modern-day Mary Richards, the one from the end of "The Mary Tyler Moore Show" when she was a highly competent professional. Leslie identified, from first to last, as a feminist. If the first season overemphasized Leslie's uneasy crashing of the "boys club" nature of local politics, by the second season, her struggles with sexism occurred on a more individual basis and were offset by supportive men, including and especially Ron.
Between Seasons 1 and 2, Ron grew in confidence and conviction; even his hair took on a greater heft and sense of purpose. An anti-government bureaucrat, Ron was yin to Leslie's yang, yet, miraculously, this did not translate into sexual tension. Leslie was granted a normal and varied dating life, and it did not include Ron.
His misanthropic tendencies did not extend to romantic partners, of which he had plenty — Ron as sexual catnip was a running joke of the series, as was his weakness for insane and dominating women named Tammy (the best of whom was played by Offerman's real wife, Megan Mullally).
"Parks and Rec" did not shy away from silliness — Pratt's Andy was an eternal man-child, Ansari's Tom Haverford a goofy wannabe, Adam Scott's Ben a total geek. Nor did it turn away from comedic contradictions — Plaza's April hated everything but never left, Rob Lowe's Chris Traeger was literally as nice as he was ruthless, and Retta's Donna Meagle knew everything but revealed nothing.
Yet the series offered one of the most hopeful versions of humanity to be found on television. Week after week community was celebrated over narcissism, frankness over spin, service over personal gain, breakfast over all other food groups, and all done in a way that was never preachy or overly sentimental.
In the final season, virtually all of the characters have grown in personal depth and professional stature, especially Leslie. Having met most of her government idols over the course of the show, Leslie is now working for the Department of the Interior, regularly lunching with Madeleine Albright and encouraging her now-husband, Ben, to run for Congress despite the fact that they have triplets. She is still finding time to make her binders and improve life for the citizens of Pawnee, Ind.
The rest of the characters are in similar states of dream-realization. Predictable for a final season, yes, but like everything about this extraordinary show, these happily-ever-afters don't feel rote.
They feel earned, each and every one.
-------------------------------------
'Parks and Recreation'
Where: NBC
When: 10 p.m. Tuesday
Rating: TV-PG (may be unsuitable for young children)
Get our L.A. Goes Out newsletter, with the week's best events, to help you explore and experience our city.
You may occasionally receive promotional content from the Los Angeles Times.