Patton Oswalt's Netflix special 'Talking for Clapping' reveals his flaws ... again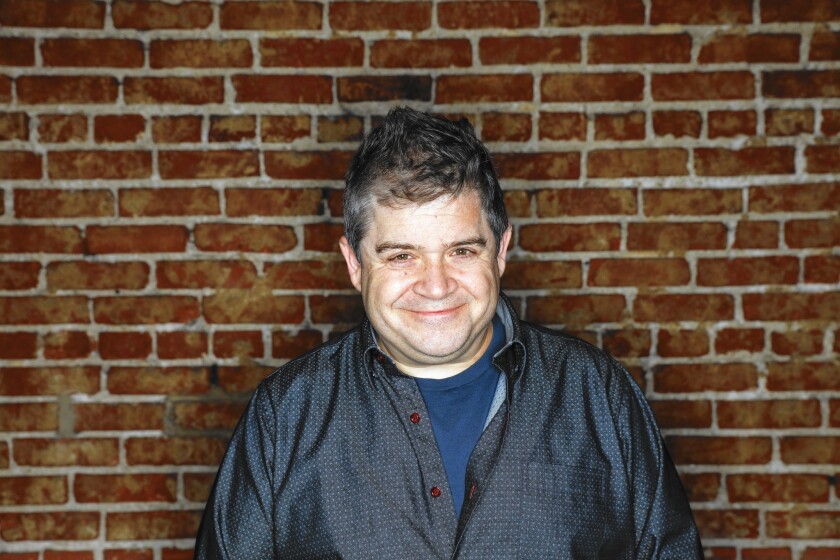 Following a leisurely lunch in Hollywood, Patton Oswalt opened his fortune cookie and read the thin, white strip: "You have the strength to be a leader, not a follower." Frowning quizzically, Oswalt said, "That's not really a fortune, that's more of a chiding."
Perhaps being named after one of the U.S.'s most accomplished generals ("My father had high hopes") leads to a lifetime of trying to measure up to an impossible standard. But leave it to Oswalt to take a harmless bromide and turn it into a withering statement on not meeting one's potential.
Like us on Facebook to watch exclusive live video chats with TV stars from your favorite shows>>
After all, he's made a very good living playing up his supposed shortcomings. In his new Netflix comedy special, "Talking for Clapping," which premieres April 22, Oswalt, 47, laments his lack of basic home repair skills, and how he is presented on his birthday with a mountain bike instead of allowing his desired slide into slothdom. "Sit down, do the crossword, let's start you dying," he says in the special. "That's paradise."
"Talking for Clapping" also serves as the latest installment in his personal time capsule. In past specials, Oswalt has chronicled the end of his bachelorhood, impending fatherhood, parental sleep deprivation and, in 2014's "Tragedy Plus Comedy Equals Time,"the hope to get into good enough shape that he's not the father who shows up years from now at his daughter's high school graduation riding a Rascal scooter.
"I'll keep doing this until my last special is 'I'm Going to Be Dead Soon, and Here's What It Feels Like,'" he quipped.
This time around, his concerns include his 6-year-old daughter's potential mean-girl streak and his septuagenarian mom's pill popping. "If you're trying to be present as a comedian and trying to be honest about both yourself and how you're reacting to your place in your world, there's always going to be some alarm," Oswalt said.
Not to mention disappointment. In another segment, he bemoans that no matter your party affiliation, your politician of choice is going to let you down eventually, and your feeble attempts to defend his or her actions will fail.
But he remains enough of a true believer that the suggestion that a Donald Trump presidency would be a gold mine for comics leaves him aghast.
"I got 10 minutes of material out of George W. Bush and we were torturing people and our money [was] on fire," he said during the interview. "It's not worth the payoff. With Trump, there's even less material. I don't need it to be a 'Mad Max: Fury Road' scenario so that I can have a job as a comedian."
He views filming the special atSan Francisco's Fillmore theater as a victory lap. The Virginia native lived in the Bay Area as a struggling comic from 1992 to '95, taking sex-toy orders over the phone as his day job to pay rent: "I remember the sets I used to have there back in the day and [thinking], 'Oh, what if I could play the Fillmore some day? What if I got that big?' And now I'm back doing the Fillmore. That was a big deal for me."
Oswalt, who voiced Remy the culinary rat hero in Pixar's "Ratatouille," has less time for stand-up these days because he is so in demand as an actor. He's become a go-to character actor who can drop in for a few episodes and leave an impressionable mark on shows as varied as Netflix's animated "BoJack Horseman" and FX's western "Justified." He's also the narrator on ABC's genial coming-of-age comedy "The Goldbergs," making him this generation's equivalent of "The Wonder Years'" Daniel Stern.
"Damn, that's a dream gig," he said. "It takes only an hour a week."
Yet the role he gets recognized for the most, he says, is Spence Olchin, Kevin James' nerdy buddy on "The King of Queens." The sitcom ended its nine-season network run in 2007 but is in heavy syndication. "Spence was very much like me, kind of uncomfortable," Oswalt said.
Oswalt could return as a series regular as early as this fall if the unofficially titled "HR," a Fox pilot in which he plays the eccentric chief executive of a plastics firm (Judy Greer plays a human resources executive) is picked up.
He likes the idea of the steady, local work. "I'll have weekends with my wife and daughter. I'll get to stay home," he said. "Right now, my daughter is excited to see me. In about six or seven years, she won't be, so I'm going to enjoy this now. Then when she's 'Whatever, Dad,' I'm like 'Off on the road…'"
------------
'Patton Oswalt: Talking for Clapping'
Where: Netflix
When: Any time starting Friday
---
The complete guide to home viewing
Get Screen Gab for weekly recommendations, analysis, interviews and irreverent discussion of the TV and streaming movies everyone's talking about.
You may occasionally receive promotional content from the Los Angeles Times.