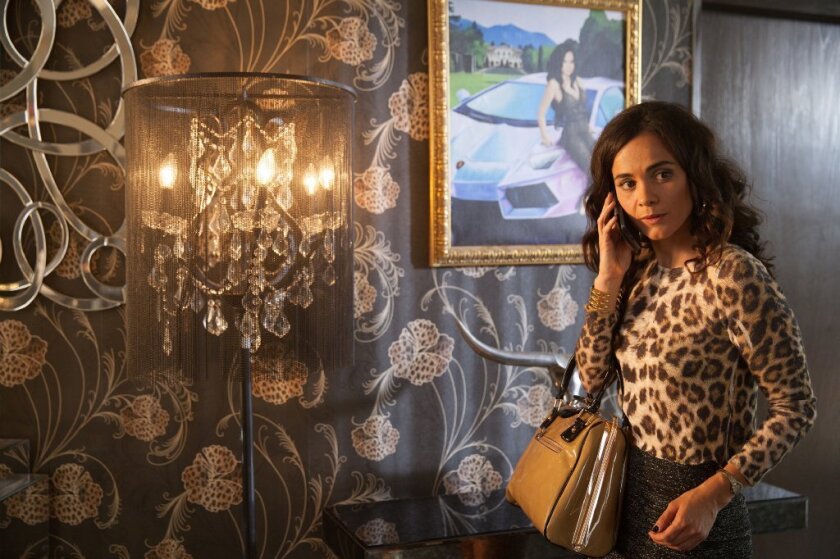 Once upon a time, not that very long ago, a show called "Queen of the South" would have centered on some steel magnolia solving mysteries out of her Charleston bakery. Or perhaps a troubled musician struggling for fame and self-worth in New Orleans.
That was before the revolution. That was before a woman could be her own antihero.
In this case, the title of USA's latest drama refers to a female Mexican drug lord operating out of Texas. Based on Arturo Pérez-Reverte's best-selling novel "La Reina del Sur" and the Telemundo series of the same name, "Queen of the South" follows steel dahlia Teresa Mendoza (Alice Braga) on her journey from cowering money-changer to sleek and deadly cocaine queen pin.
Comparisons to "Scarface," "Narcos" and even "Breaking Bad" ("but with a woman!") are inevitable, but there's a telenovela self-awareness at play in "Queen of the South," an unexpected cultural critique. It's as much anti-Cinderella as feminine "Scarface."
Lifted from dead-end poverty by a kind and handsome drug-runner, Teresa starts off as a starry-eyed romantic, happy with her prince, BFF and high-end shopping. But by the time the first hour (and the only one made available to critics) is through, the fantasy is scorched desert and Teresa hasn't just passed through the fire, she has become the fire.
The premiere is wild ride through a fun house of exposition, crazy escapes and scenario set-ups. A brief and early scene in which an established narco (the always excellent Joaquim de Almeida) discovers that his wife (Veronica Falcon) is unwilling to follow his plans to go legit and run for mayor foreshadows larger themes, but for the most part, the success of the series rests almost entirely on the revelation of its main character.
Fortunately, Braga appears to be all USA could have hoped for, and more
This isn't just a fictional queen of the narcas; Teresa Mendoza is the newest and most highly ranked leader of a group far more powerful and subversive: The female antihero.
Ten years ago, or roughly when "La Reina del Sur" was first published, a sympathetic female drug lord could not have existed on television, at least not as the lead character.
Even during television's vaunted "Golden Age," virtually all the award-winning and prestige dramas have revolved around men for one simple reason: For better or worse, we consider violence, corruption and moral ambiguity to be the hallmarks of dramatic excellence on television. And while networks believed that a male lead could be violent, corrupt and morally ambiguous, a female lead could not.
Books could be written on why this was so. Perhaps our collective opinion of men is so low that we had become hard-wired to forgive male characters all sorts of major sins. Or maybe it was just those double-standards and age-old binaries — Madonna or whore with no room in between.
Whatever the reason, the rise of the antihero kept cutting-edge television, with a few notable exceptions, focused almost exclusively on men. Tony Soprano was a manipulative, murderous thug who we loved; his mother Livia was just a Freudian nightmare. "Mad Men's" Don Draper could take on a new identity, sleep with a million women and be a role model of style, but any female lead character who took on a new identity and slept with a million men was inevitably a prostitute (though some series played with the notion that this was an empowering profession).
Slowly, that has been changing. Glenn Close played the cold-blooded but still hypnotic Patty Hewes on "Damages"; Grace Zabriskie and Chloe Sevigny powered up the sister-wife ethos of "Big Love"; Vera Farmiga raised crazy to a new Norma-Bates-ian level on "Bates Motel." In "House of Cards," Robin Wright made it clear that the female of the species is the more dangerous, ditto Keri Russell on "The Americans" while on "Game of Thrones," Westeros is looking increasingly like radical feminist Mary Daly's vision of an Amazonian warrior state.
But Teresa is a specific breed of antihero: The female crime boss. Most easily traced to Margo Martindale's amazing Emmy-winning performance as Mags Bennett in Season 2 of "Justified," this character is a huge breakthrough for television, if only because it allows the majority of the population a shot at one of the most (again, for better or worse) idolized roles in the modern zeitgeist.
The crime boss remains our most popular way of examining power, its narcotic effect, its personal cost, its cancerous evolution. Historically and culturally, women have a different relationship with power. More often its casualty, even when they exercise some control, they are seen as string-pullers rather than commanders. And those who have lived long without power often deal with it differently; with any luck, "Queen of the South" will not be "Scarface"/"Narcos"/"Breaking Bad" "only with a woman" because every story is different and a new type of lead should offer a new perspective.
Braga's Teresa joins a growing army of non-fairy godmothers: Lena Headey's Cersei on "Game of Thrones," Taraji P. Henson's Cookie on "Empire," Jean Smart's Floyd Gerhardt on "Fargo," Ellen Barkin's Smurf on "Animal Kingdom."
As Hyman Roth so memorably said in "The Godfather Part 2": "This is the business we have chosen."
And now, finally, that business is an equal opportunity employer.
'Queen of the South'
Where: USA
When: 10 p.m. Thursday
Rating: TV-14-DLSV (may be unsuitable for children under the age of 14 with advisories for suggestive dialogue, coarse language, sex and violence)
---