Robin Thede ready to give 'The Rundown' on BET late night
Ask Robin Thede if she's nervous about her upcoming plunge into one of TV's most competitive arenas, and you're likely to see her tremble — with excitement.
A colorful comic, who has scored top writing gigs with Chris Rock, Kevin Hart, Larry Wilmore and others, Thede is entering the late-night arena with "The Rundown with Robin Thede" premiering Thursday on BET.
Few women have successfully navigated the crowded post-prime-time landscape, and the time period has been particularly perilous for anyone who is not a white male. But even though "The Rundown" will be the only late-night entry hosted by a woman of color, Thede appears to be jitter-free.
"It's hard to not be a white man in late night," she quips during an interview at a West Hollywood hotel before adding, "Everyone keeps asking me if I'm nervous, and I just say, 'Should I be?' Because I'm not. I'm just ready to go. My whole career has been leading to this."
"The Rundown" is a weekly half-hour designed to showcase Thede's take on politics and pop culture, with a monologue, short man-on-the-street pieces or sketches, and the occasional "pop up" concert in the streets of New York, where the show is based. Giving the show extra star power is executive producer Chris Rock.
I want more of a black point of view of the week's events. At BET, we have the luxury of not having to talk about Trump. Black people already know he's bad.
— Robin Thede
Says Thede, "When I pitched the show, I said I want to do a lot on pop culture because I feel some of the late-night shows rely too much on hard-core politics, and it comes off as too newsy. I want more of a black point of view of the week's events. At BET, we have the luxury of not having to talk about Trump. Black people already know he's bad."
As she discusses the show, Thede projects a relentlessly energetic and bubbly confidence, laughing often.
"In my world, pop culture and politics have equal weight," she adds. "When Kanye West went to visit Donald Trump I thought, 'Okay this is the world we're living in.' It's okay to think that [Atty. Gen.] Jeff Sessions is going to double the mass incarceration rate in this country. But it's also okay to care that Kim Kardashian is wearing makeup 10 shades too dark. There are hosts who don't care about what Blac Chyna does. But I do."
Thede will join TBS' Samantha Bee and Netflix's Chelsea Handler as the only female hosts in late night. She and Trevor Noah of Comedy Central's "The Daily Show" will also be the only late-night hosts who are people of color.
Thede said those distinctions will give her an edge.
"Being the only black woman in late night will set me apart," says Thede. "It's not just because of my gender and skin tone. I can say things with more authority. When Bill O'Reilly goes around calling black women 'hot chocolate' at Fox News," — as he is alleged to have done in 2008 — "I get to talk about that as a black woman. I'm getting a lot of support from black people who are really excited about seeing themselves represented in late night."
Rock, who met Thede back in 2014 when he hosted the BET Awards, has faith in her ability to break through, praising her comedic sense and organization. He believes she will be a standout performer in the late-night landscape.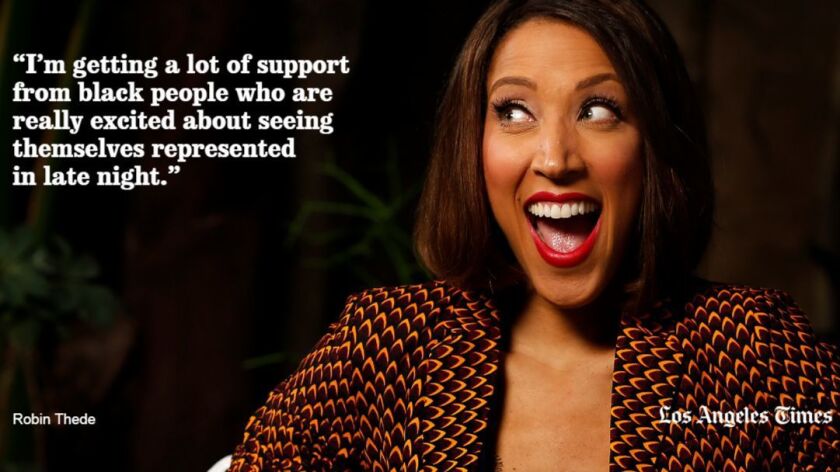 "There are a lot of guys more or less the same age, more or less the same background, more or less the same height and hair," Rock said in a phone interview. "They're all great. I love them all. But they're all telling a different version of the same joke. You have to admit there's a lot of overlap there."
Diversity has not been a hallmark of late night. Comedians who have attempted to enter the fray include W. Kamau Bell, Whoopi Goldberg, Keenan Ivory Wayans, Magic Johnson, Wanda Sykes, Larry Wilmore and Arsenio Hall when he attempted a comeback two years ago.
BET's last attempt at an entertainment series in late night was "The Mo'nique Show," which premiered in 2009 and ran for two seasons before being yanked because of low ratings.
But Thede says she is not discouraged, touting her credentials including serving as head writer of Comedy Central's "The Nightly Show with Larry Wilmore," the only African American woman to hold that position in late night. She wrote for the White House Correspondents Dinner that was hosted by Wilmore in 2016. She's also written stand-up material for Hart and others.
One of the only things that can cast a cloud over Thede's sunny disposition is bringing up the cancellation of "The Nightly Show" in 2016, just a few months before the presidential election.
"I'm still super bitter about that," she says "Getting canceled was super unexpected. We really felt like we were a voice that was needed."
But the experience was ultimately positive because "it was my training ground on how to run and create my own show. And Larry has been a massive mentor and teacher."
She now believes this is her time.
"Being nervous isn't going to help me," she says. "Preparation is the only thing that succeeds. And we're ready."
'The Rundown With Robin Thede'
Where: BET
When: 11 p.m. Thursday
Rating: TV-14 (may be unsuitable for children under the age of 14)
Twitter:@GeBraxton
---
The complete guide to home viewing
Get Screen Gab for everything about the TV shows and streaming movies everyone's talking about.
You may occasionally receive promotional content from the Los Angeles Times.