Created by Ted Tremper and Tim Baltz, who also stars, "Shrink," which began online some years ago, wasn't the first series to play with improvised encounters between a person playing a therapist (Baltz) and a person playing a patient. (Showtime's "Web Therapy," starring Lisa Kudrow, was one.) Now it has been filled out into a fine, full-fledged sitcom on NBCUniversal's comedy-themed streaming service Seeso – a step closer to "regular" television – with a full complement of three-dimensional supporting characters and a satisfying long arc to connect its eight episodes, which are available now.
Baltz, who has been a regular on "Drunk History" and the Seeso reality-show parody "Bajillion Dollar Propertie$," plays David, a recent medical school graduate whose progress toward practicing medicine has been stalled by his not getting a hospital residency.
I don't know how getting to be a doctor works in real life – in Chicago, where the series is set, or anywhere – but as we meet him he is half a million dollars in school-loan debt, living at home, pining for his former girlfriend and, unable to work in medicine, practicing clinical therapy in the garage, as a "default."
"I am required to inform you," David announces to his patients, who have responded to a Craigslist post for "free therapy from a future doctor," "that I am not a licensed psychologist, psychiatrist or a registered therapist but that these therapy sessions are being tape recorded to provide a record of the 1,920 supervised clinical therapy hours required to acquire such a license." It is a sort of theme song, without the music. (The actual soundtrack, which features ruminative piano that sounds as if it were being played a room away, has a haunted feel.)
"It's illegal for me to charge money," he informs a client.
"That's great," says the client. "I wish you were a bakery."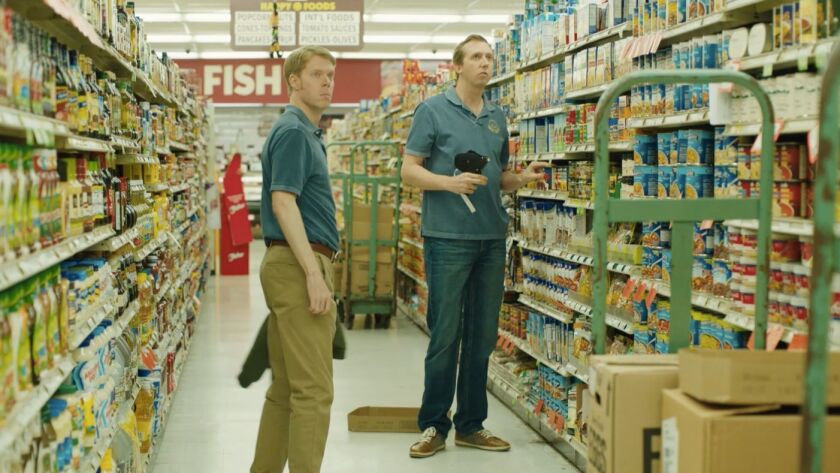 David is a difficult character: angry, self-obsessed, childish, remarkably dense at times. But he is interested in doing good ("I really want to help people," he says, "you know, for money – I mean as a profession") and capable of feeling his clients' pain – though it often inspires him to tell them about his own. Baltz has an Opie-esque boyishness that plays effectively against his floundering and aggression; that he is usually the less compelling character in any situation he's in feels structural and thematic, not a function of his performance.
To the extent the viewer roots for David, it's in the hope that he won't hurt, and may even help the people around him. The superb supporting cast includes Joel Murray (perhaps best known as Freddy Rumsen on "Mad Men") as his stepfather; Meagen Fey (Emma Stone's mom in "La La Land," to grab a glamorous credit) as his mother; Kyle S. More as his antagonistic stepbrother, selling watered-down tanning oil ("I'm going to make bank, son"); and Mary Holland ("Blunt Talk"), as a patient with whom he shares an unethical attraction.
As the therapist David persuades to supervise his qualifying hours, Sue Gillan plays her part with comforting straight authority yet is somehow very funny doing so. And as his old friend Doug, with whom he works nights stocking shelves at a market called Happy Foods, Hans Holsen plays a completely original turn on the amiable, distracted sidekick, at home in the world in a way David is too fretful to be.
Analysis is a kind of improvisation, and its conversational exposition of human frailty and fecklessness does lend itself to comedy as easily as to drama. (Some of David's interchanges with his clients, seen in intercut bits and pieces, do have an improvisational feel.) There is some heavy darkness here, to be sure, but the movement overall is toward the light — "Shrink" has heart, without getting sentimental — and, as do many smart comedies nowadays, it hangs together like an extended indie film. I, at least, came away feeling good.
Follow Robert Lloyd on Twitter @LATimesTVLloyd
ALSO
TV Picks: 'Web Therapy,' 'NTSF:SD:SUV:,' 'Sinbad,' Chinese blogs
---