Q&A: ABC's George Stephanopoulos on the midterms, #MeToo and his future at 'Good Morning America'
ABC News chief anchor George Stephanopoulos remembers a more innocent time with President Trump.
Their paths crossed often in New York as Stephanopoulos made his transition from Clinton White House adviser and communications director to prominent TV journalist in the late 1990s and 2000s.
Perhaps that's why Stephanopoulos, 57, has escaped the personal barbs of Trump, who has called the news media "the enemy of the people." But the "Good Morning America" co-anchor and "This Week" moderator has delivered some significant moments in the ongoing saga of the Trump presidency, including the first sit-down with fired FBI director James Comey. Stephanopoulos also had a 45-minute off-camera chat with Trump's former personal lawyer Michael Cohen after he pleaded guilty to campaign finance offenses and other federal charges. (It was the interview in which Cohen, who had previously said he would "take a bullet" for the president, revealed that his first loyalty is to his "wife, children and country" and not Trump.)
Midterm elections typically get a single hour of coverage on the broadcast networks. But on Tuesday, ABC, CBS and NBC are treating the election as if it were a presidential contest, devoting the entire night to determining which party will take control of the House and Senate. Stephanopoulos, who will lead ABC's coverage, made the case for why this will be a midterm like no other during a recent conversation over lunch near ABC News headquarters on Manhattan's West Side.
We keep hearing this is the most important election of our lifetime. Is that hyperbole at this point?
I don't think it is. I've worked in a lot of campaigns. I have covered more. I think it's undeniable that we have not had a midterm with potential consequences as large as this one, in part because we've never had a midterm where you know that a special counsel [Robert Mueller, who is investigating Russian meddling in the 2016 election] is reporting reasonably soon after the midterms. No. 2: We've had midterms where presidents two years in are challenged by low approval ratings … . We have never had one of those where the president has affirmatively put himself on the ballot. It's never happened before, where he's saying, "I'm making this a referendum on me," which makes it much more of a national election for a midterm than it ever was before … . You are putting that all together and coming out of an election where the president won the electoral college fair and square but lost the popular vote and sparked a strong movement against him in a media environment that is unlike anything anyone has seen before.
What then will we learn from the results?
I'll answer your questions with questions, because one of the things we've all learned, with a huge dose of humility, is to prepare to be surprised. We don't know what's going to happen. I can look at what we know today through a traditional lens, and it leads me in one direction, and then through the lens of 2016 and say I have no idea what's going to happen. And in a world where small adjustments in turnouts, because of the constellation of races up on Tuesday, could make a massive difference, I don't know. One of the things I'm going to be looking at is: Was it a traditional electorate or not? Did they vote like it was a presidential election rather than a midterm election? That question alone will determine how different this is.
FULL COVERAGE: Election day 2018 »
As a New Yorker traveling in some of the same social circles as President Trump, he considered you a friend or an acquaintance.
I've known him a long time. We first met when I moved back to New York in 1997. [It was] at some party, and he invited me down to Mar-a-Lago, to fly me down to the Miss Universe pageant. I said no. In 1999, it was the first time I interviewed him about him running for president. Every few years there would be a flurry of Donald Trump interviews. He paid attention if you were in the New York Post … He'd send [the clipping] over to you with a handwritten Sharpie note on it …. And around "The Apprentice" stuff, we did stories on him. I remember the time he showed me his check from "The Apprentice."
How big was the check?
It was big. It was 10 figures. When he announced [his 2016 campaign for president], it was me and Bill O'Reilly who talked with him on the first day.
So he has a certain comfort level with you.
Yes, for the most part he knows me, and [it's] always never bothered him to have a tough question.
Does he call you to schmooze or just ask, "What do you think, George?"
Not that often. I mean, a few times a year. It was more before he was president. In the campaign, I think I interviewed him something like 40 times. Now it's a bit different.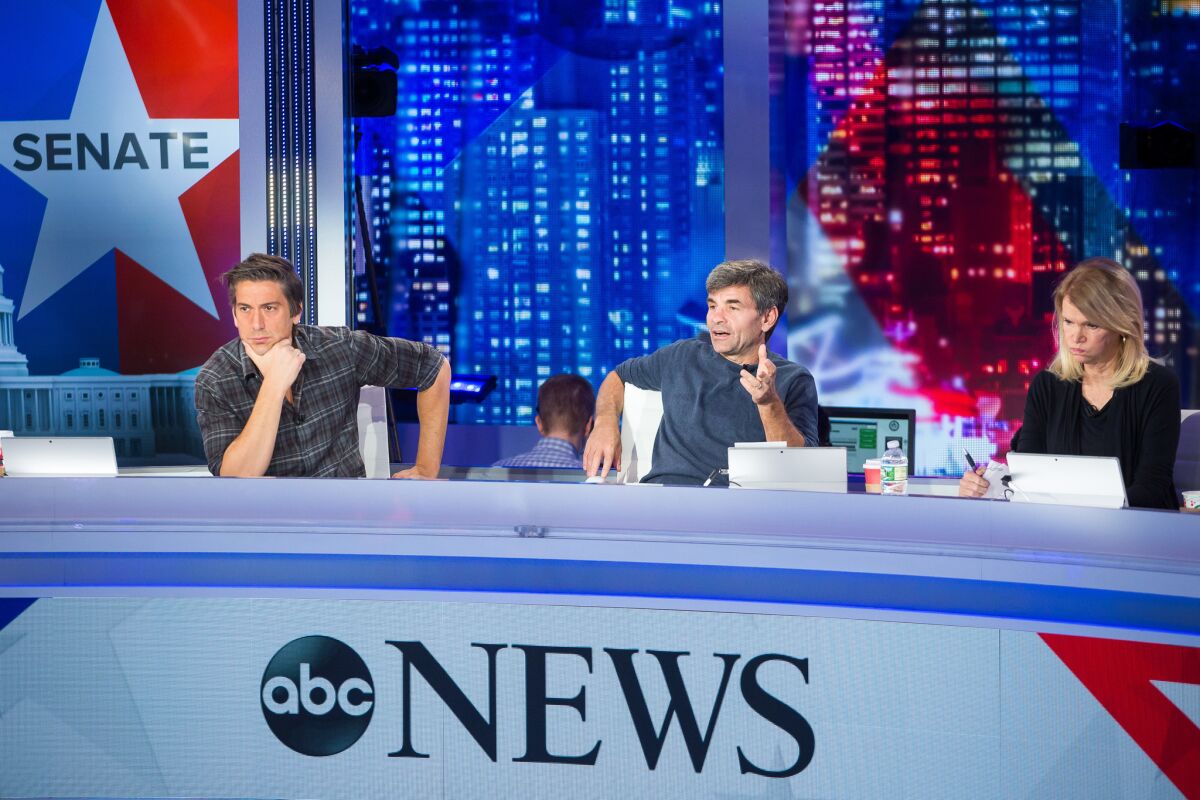 How did you develop the connection to Michael Cohen?
Every time Trump wanted to do interviews, you worked it through Michael Cohen. He would be there. You'd talk to him beforehand, talk to him afterward. And then I would have lunch with him twice a year.
And what is that relationship like now?
I can't answer that on the record. But the results speak for themselves.
What was it like to see your two counterparts at the other networks — Matt Lauer of NBC's "Today" and Charlie Rose of "CBS This Morning" — both lose their jobs inside of a month last year over sexual misconduct allegations?
My wife [comedian and actress Ali Wentworth] certainly paid attention.
What did she say about it?
The joke at home was "Is there anything you're not telling me?" which lost its humor after a while … At the same time, what happened was serious, and you're seeing people you know go through something challenging, and in these cases it certainly seemed deserved. It makes you conscious of how these positions are both precarious and sinecures at the same time. Once you're known to the morning audience …
They develop a relationship with you.
Assuming it's you. But in this culture, in this media environment, where nothing can be hidden anymore, the price of a misstep is very, very high.
What do you think about #MeToo being retroactively applied to analysis of Bill Clinton's behavior?
In the right-wing media now any time I say something about #MeToo, it's, "Well, but what about Bill Clinton?" And they forget, or choose to ignore the fact, that I was one of the most prominent people who came out and said, "This is not OK." In writing.
Your contract with ABC comes up next year.
What's the exact date? [Laughs.]
Have you thought about what you're going to do?
Well, of course.
Anything you want to share?
No.
Well, do you have any discussions at home about how long you want to have the life of a morning show anchor?
This job actually, in a weird way, has been great for our family. Even though I'm not there in the morning, I'm texting and FaceTiming with my kids as they get ready for school. Many days I can be home when they come home from school. We have dinner [as a family] every night, because I can't go out.
---
Get our L.A. Goes Out newsletter, with the week's best events, to help you explore and experience our city.
You may occasionally receive promotional content from the Los Angeles Times.