Steven Bochco, boundary-pushing TV creator behind 'NYPD Blue' and 'Hill Street Blues,' dies at 74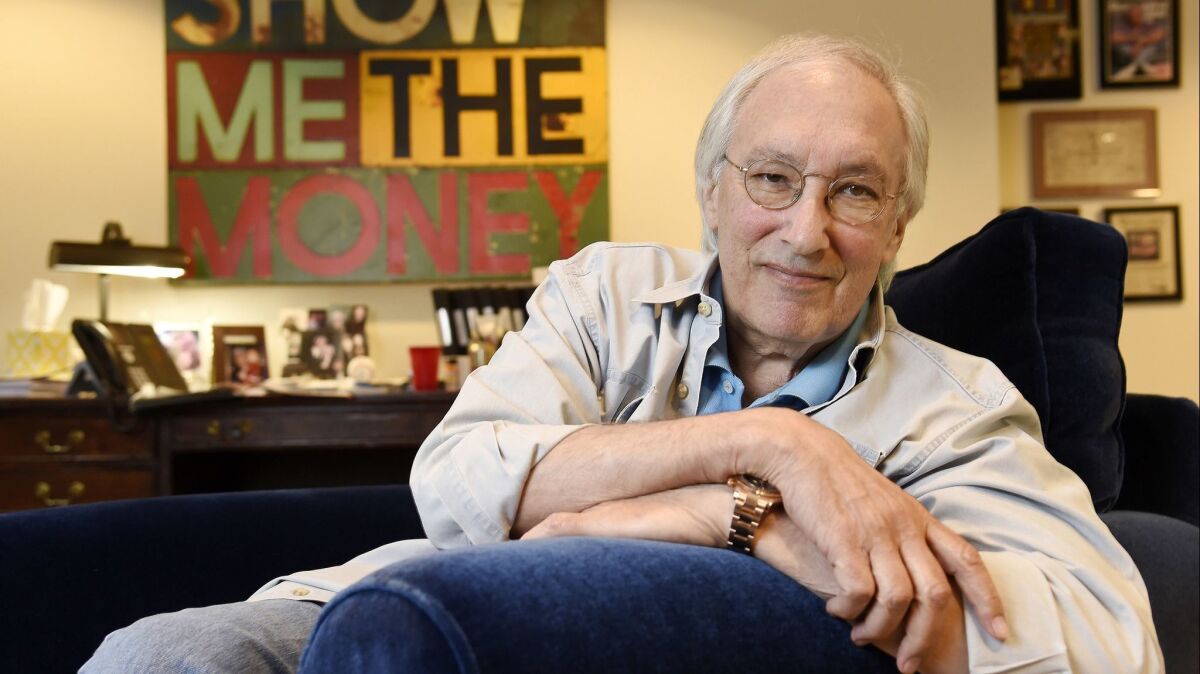 Steven Bochco, the Emmy-winning television writer-producer who brought "Hill Street Blues," "L.A. Law" and "NYPD Blue" to the small screen, died Sunday after a battle with cancer. He was 74.
Bochco was the driving force behind some of TV's most popular series for more than 30 years, with a specialty for serialized dramas with large ensemble casts and edgy plot points. Known for his headstrong ways, the celebrated producer was nominated for 30 Emmys and won 10.
"Steven reinvented the television drama by creating and executive-producing 'Hill Street Blues' [in 1981]," said TV executive Warren Littlefield, who worked with Bochco at NBC. "At first, television wasn't quite ready for this groundbreaking drama, certainly not on a network known for a talking car. Television critics celebrated it and at the Emmy Awards following Season One, a star was born. The DNA for quality drama at NBC was created by Steven Bochco and all of broadcasting would join NBC and covet what Steven was capable of doing."
Still, Bochco's boundary-pushing methods as a producer could make some network executives skittish. But they often deferred to him and were ultimately rewarded with strong ratings and critical kudos, a combination that was less common in the pre-Peak TV era of the 1980s and '90s.
"Even though the network is supposed to be the authority, I always looked at Steven as my teacher, my mentor, the genius that led me to the best decision," said Ted Harbert, who worked with Bochco when he brought "Doogie Howser, M.D." and "NYPD Blue" to ABC.
Bochco, who died in his sleep on Sunday, according to a family spokesperson who talked to the Associated Press, was known to have been battling leukemia for several years. In 2014, he received a stem cell transplant that was credited with prolonging his life.
A New York City native, Steven Ronald Bochco was born Dec. 16, 1943, to a violinist father and a painter-jewelry designer mother. He attended the High School of Music and Art in Manhattan for singing before spending a year at New York University. He graduated from Carnegie Mellon University with a theater degree in 1966.
While attending Carnegie Mellon, he received a fellowship from MCA that both helped him pay for school and landed him summer jobs at Universal Studios his last two years before graduating.
Bochco began at Universal in the mid-1960s, where he earned a reputation for being strong-willed. His refusal to allow the network to dictate his work earned him unprecedented creative control throughout his 50 years in the industry.
In 1987, after Bochco won Emmys for NBC with "Hill Street Blues" and "L.A. Law," CBS legend William S. Paley offered the then-44-year-old the job of president of the network's entertainment division. Instead, Bochco signed a six-year, 10-series deal at ABC, worth about $10 million.
"There will be an awful lot of angry people if I screw this one up," he told The Times in 1987. "I want to justify the enormous commitment they [ABC] have made to me. If I can't do that, I'll kill it for the next person who comes down the road."
It was there that he produced hits such as "NYPD Blue" with David Milch and "Doogie Howser, M.D." with David E. Kelley, as well as some misses, including the musical drama "Cop Rock" and the serialized courtroom drama "Murder One."
At NBC, Bochco expanded the idea of a broadcast television cop show when he created "Hill Street Blues" with Michael Kozoll in 1981, and he did it again at ABC with "NYPD Blue" in 1993.
"What we did with 'NYPD Blue' opened up the world," he told The Times in 2014. "We were certainly aware of advancing the agenda.
"When I left 'Hill Street,' I said, 'I'm never going to do another police show ever' because I couldn't imagine doing one better," he said in 1995. "But a dozen years later [in 'NYPD Blue'], there's everything to wring from that old towel because the prevailing attitudes of the society shift." The series lasted 12 seasons.
In 2014, asked why he has largely been absent from the television landscape after years of being involved in so many series, Bochco quipped, "I'm just old," then added: "I don't actually have the drive I used to have. But working with these people in this environment suits me just fine."
Bochco married three times, the first time to Gabrielle Levin and then to Barbara Bosson, who co-starred in "Hill Street Blues." He later married TV executive Dayna Kalins in 2000. He is survived by his daughter, Melissa, and sons Jeffrey and Jesse.
Twitter: @sonaiyak
---
UPDATES:
7:50: This story has been updated with a quote from TV executive Warren Littlefield.
6:52 p.m.: This story has been updated with additional information about Steven Bochco's life and career.
This article was originally published at 6 p.m.
---
Get our L.A. Goes Out newsletter, with the week's best events, to help you explore and experience our city.
You may occasionally receive promotional content from the Los Angeles Times.