Review: Is Marcia Clark's legal drama 'The Fix' revenge fantasy for O.J. Simpson case?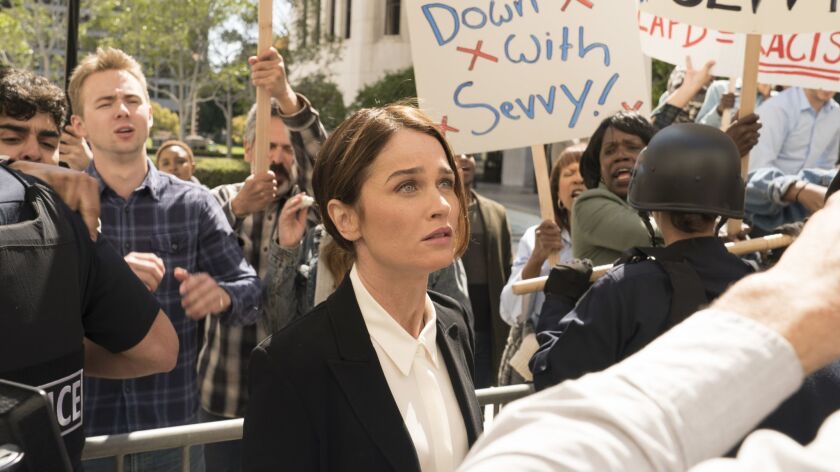 Television Critic
Marcia Clark — whom you may recall as the lead prosecutor in the O.J. Simpson double-murder trial, or more recently as a character played by Emmy-winning Sarah Paulson in FX's "The People v. O.J. Simpson," or from ESPN's Oscar-winning "O.J.: Made in America" — is the co-creator of a new legal drama, ABC's "The Fix." And, obliquely, its subject.
Robin Tunney ("The Mentalist") plays Maya Travis, a former prosecutor in the Los Angeles County district attorney's office who several years earlier lost a double homicide case against a famous black person — Adewale Akinnuoye-Agbaje ("Lost") as Severen "Sevvy" Johnson, described as "a mega movie star."
When Johnson's latest girlfriend is found dead on the beach, Maya, who has been living an anonymous, magazine-spread life in the pines with her hunky boyfriend (Marc Blucas) and their horses, is drawn back into the roiling muck of L.A. jurisprudence.
Maya gets a call from assistant district attorney Matthew Collier (Ada Rayner), an old colleague who, in his mind at least, runs the department while "mediocrity" Dist. Atty. Alan Wiest (Breckin Meyer) rubs shoulders offstage with Cher and thinks only of re-election. ("I love this new look," Wiest tells Maya, a line obviously drawn from Clark's own post-post-Simpson experience.) Soon enough, she is once again leading a case in which Johnson is a suspect. "Miss me?" she asks him, when they come face to face.
Her return raises the hackles of prosecutor Lini Kampoor (Mouzam Makkar), who believes the case should be hers ("Not just because I'm a person of color and it's 2019 and optics matter") and also of investigator and former best friend CJ Emerson (Merrin Dungey), whom Maya ghosted, leaving town without a word, note or text when the case went wrong and she was left "in a thousand pieces."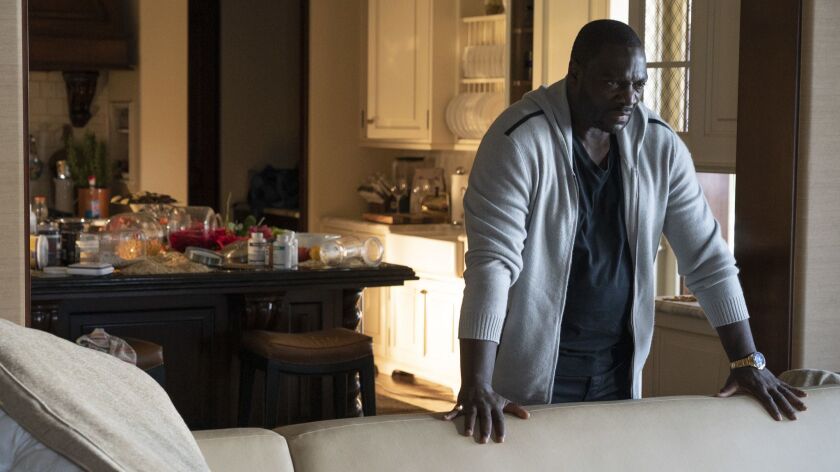 REVIEW: Ricky Gervais gets spiny and squishy in the Netflix comedy 'After Life' »
Opposing her is Johnson's attorney, and Maya's old nemesis Ezra Wolf (Scott Cohen, styled in a way to make you think of Robert Kardashian, or Robert Shapiro, and probably both), who refers to himself as the Wolf, and whom we are to take as less principled than Maya — she believes in evidence, even when it lets her down.
"She's tough, but she fights fair," Wolf says. "That's always been her weakness."
"I'm not going to sink to Wolf's level," says Maya. "I'm going to try my case in court, not the press."
Well, she says that. Things change. (Like most legal dramas, "The Fix" — the title might refer to righting an old wrong, or to "the fix is in" — is a little cynical about the system.)
Clark, whose co-creators are the TV-tested team of Elizabeth Craft and Sarah Fain ("Women's Murder Club"), is doing more than offering inside knowledge of the working of the Los Angeles County district attorney's office; she is participating in a parallel-world sequel, if not actually a re-litigation, of the case that, for better or worse, made her famous. (Even the network has described the show as a "revenge fantasy.")
REVIEW: Which new FBI show to watch? 'The Enemy Within'? 'Gone'? 'Whiskey Cavalier'? »
And while there are plenty of ways in which fiction departs from fact here, the basics of the original case absolutely have been arranged to make you think of Simpson. Even the name "Sevvy Johnson" has been constructed to scan like "O.J. Simpson."
That's not a criticism — criminal justice procedurals rip their plots from the headlines, new or old, as regularly as I eat cold cereal for breakfast. And plots in which an old, imperfectly settled case crashes back into the news are as many as the different cold cereals there are to choose from. Should we not have Crispix simply because Cheerios are also available?
Still, the series does better the less it makes you think of Simpson — which is to say, your own opinion of that case. On the one hand, it's difficult to imagine that Clark is involved in a series that might suggest, even through altered proxies, the innocence of the man she fought so hard to convict. At the same time, for the purposes of serial drama, for the interactive guessing game of the mystery, there needs to be some uncertainty as to whether Johnson is guilty at least of the crime at hand, even if we learn he was guilty of the crimes for which he was earlier found innocent.
REVIEW: 'Turn Up Charlie' stars Idris Elba as you've never seen him, a manny »
And we will be whipped back and forth on this point; Maya will seem very sure of herself and then less sure and then more and so on. She will question her motivations if only in passing. As to Johnson, the writers drop enough crumbs in the two episodes available for review for us to wonder whether there might be something in his repeated claims of innocence. (All claims here are repeated claims; it is not a subtle show.) For these early, busy episodes, at least, they have backed up a truck to the narrative fish market and filled it full of red herrings.
That "The Fix" is a melodrama where no point can be made too bluntly nor any emotion too forcefully expressed can't exactly be called a failing, since that does seem to be the intention. It's a show where characters say things like, "This time he's not going to get away with it — I'm going to get justice" and "Next time, it'll be the face," and a representative of the Los Angeles legal system goes about official business in a tank top (add leather jacket for more formal occasions).
But I like Tunney, whose years playing an FBI agent on "The Mentalist" have toughened her for playing a prosecutor here; Akinnuoye-Agbaje is a fine actor who is nothing like O.J. Simpson;, and Cohen is obviously enjoying himself as a creep in an expensive suit.
"Am I terrible person?" he will wonder.
"We're people of our time," says his media consultant, "and it's a terrible time." (So, yes.)
'The Fix'
Where: ABC
When: 10 p.m. Monday
Rating: TV-14-L (may be unsuitable for children under the age of 14 with an advisory for coarse language)
Follow Robert Lloyd on Twitter @LATimesTVLloyd
---
The complete guide to home viewing
Get Screen Gab for weekly recommendations, analysis, interviews and irreverent discussion of the TV and streaming movies everyone's talking about.
You may occasionally receive promotional content from the Los Angeles Times.