Will 'The Mindy Project' redefine 'happily ever after' with its final season?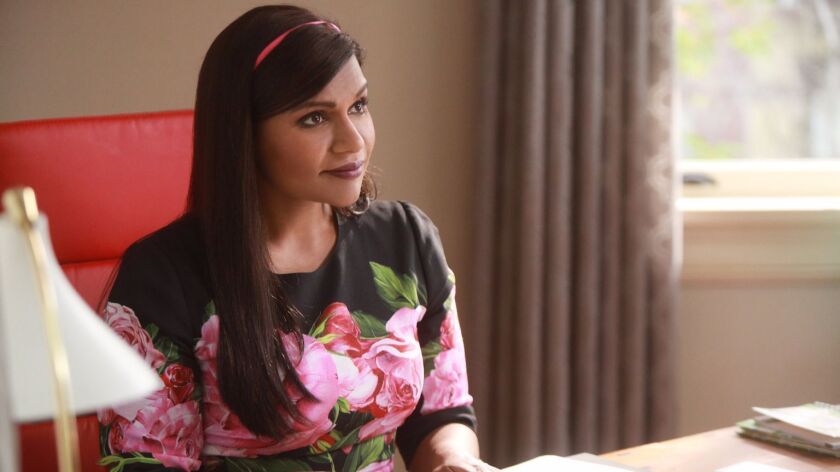 Mindy Kaling realizes the setting is somewhat fitting, if not a little depressing. She's sitting in the sterile hospital waiting room — an inherently fraught place — that's part of "The Mindy Project" set on the Universal lot as she reflects on the series reaching its finish line.
"This is a fun, festive place to talk about the end of the show isn't it?" she says during a break from production. "I promise the final season won't be this drab."
It's an otherwise busy Thursday afternoon on Stage 41, with production in full swing on the penultimate episode of the comedy that follows Kaling's Mindy Lahiri, a pop-culture-obsessed, neurotic gynecologist who is looking for love — and the high jinks of her quirky co-workers. Over six seasons, the series has transitioned from a low-rated network comedy to a canceled network comedy to a streaming service success story with a planned ending. The final 10 episodes begin Tuesday on Hulu.
"I don't think there was ever a moment where I knew definitively that I wanted it to end or that it needed to end, because I love the show so much," Kaling says. "It's one of those things where it felt natural both for the character and me. There's other things in my life where it felt like it was time."
It's one of those things where it felt natural both for the character and me. There's other things in my life where it felt like it was time.
Mindy Kaling
For Kaling, those other things include embarking on motherhood — yes, her baby bump was visible on set, but she kept mum on becoming a mom — and fielding other projects. She'll appear in Ava DuVernay's "A Wrinkle in Time" and take part in the female-fronted "Ocean's 8." She is also the executive producer and will recur on the new NBC comedy "Champions," which was ordered to series this spring.
As for Mindy Lahiri, well, she has done her own growing. When the series began, the romantic-comedy-loving character was single and trying to find her happily ever after in New York City. Now she has a kid and is married with a step-daughter and realizing the fantasy isn't what she thought it would be.
"As far as big moves for what a romantic comedy show can do, we did them," says executive producer and showrunner Matt Warburton by phone. "We had the big couple get-together, we broke them up; we had our main character have a baby; we had our main character get married — we did them crazily out of order, but we still did all of them. It was sort of like — without sending her to space — we didn't have any big classic romantic comedy moves left except to end it in an interesting way."
Whether it's a storybook ending is open to interpretation, but Kaling thinks fans will find it true to Mindy Lahiri.
"There's a nice surprise that happens to her where you're, like: OK, the part of her that we love isn't dead — the part of her that's optimistic and believes in romance," Kaling says.
But on this particular day, Mindy Lahiri is more concerned with fondue. Rehearsal is starting on a scene set at Jeremy's (Ed Weeks) apartment, where a baby shower is unfolding. There are scores of baby bottles filled with rosé and a humming fondue machine on the table where Kaling's character will eventually forage for food as her co-workers have a discussion.
"What is that noise?" Kaling asks.
"We have to keep the fondue machine running in between takes or it solidifies," a crew member replies. A response Kaling finds amusing.
For some cast members, it's the last day ever of filming — making it hard not to be a little sentimental. Almost all pointed to the final table read in late August as the moment the end was in sight. There, Kaling gave a heartfelt speech in which she talked about how the show has been great training as she prepares for motherhood.
People forget that not all shows are in control of when to hang it up. So, we're grateful for that.
Ike Barinholtz
"This show has had quite the ride," says Ike Barinholtz, who plays goofy nurse Morgan and has written for the show in past seasons. "People forget that not all shows are in control of when to hang it up. So we're grateful for that."
When it debuted on Fox in the fall of 2012, "The Mindy Project" faced high expectations. Fans of Kaling, then best known for her work as a writer and cast member on "The Office," had become a role model of sorts to women through her Twitter musings, blog postings and her first collection of comic essays, "Is Everyone Hanging Out Without Me?"
It opened to about 4.6 million viewers, and its numbers dipped from there. While it performed well on DVR and in online viewing, the show's forecast on Fox looked bleak. Not helping matters was that it was produced by an outside studio, Universal Television. In that time, the series weathered some casting changes and criticism over the show's lack of diversity — particularly Mindy Lahiri's dates — despite being produced by a woman of color.
All signs pointed to the series ending after its third season after Fox passed on moving forward. But Universal Television began talks with Hulu, which had previous seasons of the show on its streaming service and was also beginning its own push into original programming.
"The show is incredibly meaningful to us," said Craig Erwich, senior vice president of content at Hulu. "We knew our subscribers loved the show, so the opportunity for us to keep our viewers happy and engaged was a no-brainer [after Fox canceled it]. It was a very easy business decision." (Hulu doesn't share viewership data, but Erwich says the show's fans watch "bucketloads" of the show.)
The save made "The Mindy Project" one of the first shows to be part of the class of programs rescued by a streaming service. Others, at the time, included "Community," which moved to Yahoo Screen from NBC, and "Unbreakable Kimmy Schmidt," which jumped to Netflix after NBC passed on the series before it premiered.
The move also made "The Mindy Project" the only surviving comedy from the class of 2012.
"We're at that point where we're just trying to savor it before we have to say goodbye," Barinholtz says.
But, in this era of television, does one ever really say goodbye to their television personas? Could "The Mindy Project" make a return a decade from now?
"We shoot right across where 'Will & Grace' is," Kaling says, referring to the soundstage that serves as home base for the revival of the NBC comedy. "When they announced it was coming back I was, like, has it even been off the air long enough?"
"She told me to keep my [stuff] tight just in case," Barinholtz interjects as the two walk toward their trailers.
"Everyone has other stuff they're working on," Kaling continues. "But I love this cast so much. And I love this character — and I really love her clothes. It would be wonderful to come back and do this again."
'The Mindy Project'
Where: Hulu
When: Anytime, starting Tuesday
Rating: TV-14 (may be unsuitable for children younger than 14)
The most-read Entertainment stories this hour »
Twitter: @villarrealy
ALSO:
Paley Center to host exclusive 'Mindy Project' costume exhibit
Is a happily ever after coming to 'The Mindy Project'?
Syndicated and vindicated, 'The Mindy Project' marks 100th episode
---
The complete guide to home viewing
Get Screen Gab for weekly recommendations, analysis, interviews and irreverent discussion of the TV and streaming movies everyone's talking about.
You may occasionally receive promotional content from the Los Angeles Times.