Review: 'The Red Line' will move you to tears and make a star of Aliyah Royale
Television Critic
A beautifully modulated performance by Aliyah Royale as a Chicago teenager at the axis of multiple hot-topic storylines makes "The Red Line," a limited series beginning Sunday on CBS, something to see.
Its eight episodes will appear two by two over four weeks, either for maximum event appeal, to move it out of the way before the summer rolls in, or because programmers weren't sure it could sustain a weekly viewership over two months. Or, all of the above.
The police shooting of an unarmed black man is the event from which the series proceeds, but there are also timely nods to generational differences in Democratic politics (Chicago politics are essentially Democratic politics, though just what that means has changed over the years) and to high school students walking out of class when grownups can't do their job.
Created by Caitlin Parrish ("Supergirl") and Erica Weiss, with Ava DuVernay and Greg Berlanti as big-name executive producers, it has the flavor of an HBO miniseries with CBS production values and broadcast-friendly language and situations — issue-oriented family viewing, perhaps a little too obviously thought-provoking, but thought-provoking all the same.
The Chicago setting, the occasional presence of attorneys and a story reflecting current events bring to mind the network's "The Good Wife"/"The Good Fight," wrapped around a heartwarming family drama. It will put a lump in your throat or die trying.
Dr. Harrison Brennan (Corey Reynolds, all too briefly), who has begun the series by saving a life in an emergency room — that of a white person, semi-significantly — is stopping for milk on the way home when he is mistaken for a robber and shot by officer Paul Evans (Noel Fisher). High school history teacher Daniel Calder (Noah Wyle) is left a widower, and their African American adopted daughter Jira (Royale) without the dad who looks like her.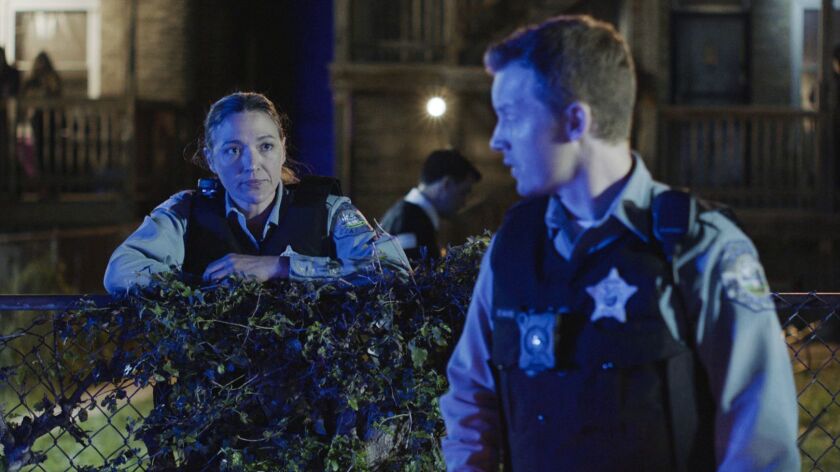 In the aftermath of this loss, Jira determines to find her birth mother, because "I want more family," and because Daniel is, after all, white, and can only understand her blackness from the outside. That woman, we will soon learn, is Tia Young (Emayatzy Corinealdi, the star of DuVernay's "Middle of Nowhere"), who is challenging a veteran South Side politician (Glynn Turman) in a race for alderman.
"How's a girl with a masters in economics end up married to public transit?" he asks Tia. Her husband Ethan (Howard Charles) drives a train on the city-long rail line from which the series takes its name. (They have a little boy who gives a plug to Berlanti's CW series "Black Lightning.")
"We grew up together."
"So you came back for him."
"I came back for the neighborhood; I was lucky he was still here."
Meanwhile, the city declines to file charges against Evans, which is how things usually seem to happen, but the threat of a lawsuit keeps him from feeling any real relief. The series spends a lot of the time with Evans on the police side of the thin blue line, and Fisher's fine, dazed performance keeps him, if not quite a victim, something less than a villain. (Elizabeth Laidlaw plays his supportive partner.) He's on a journey, and the point he's being used to make — that even people who aren't "racist" can make quick assumptions based on race — is one worth making, and often overlooked, if not actively avoided. Goodwill isn't always enough.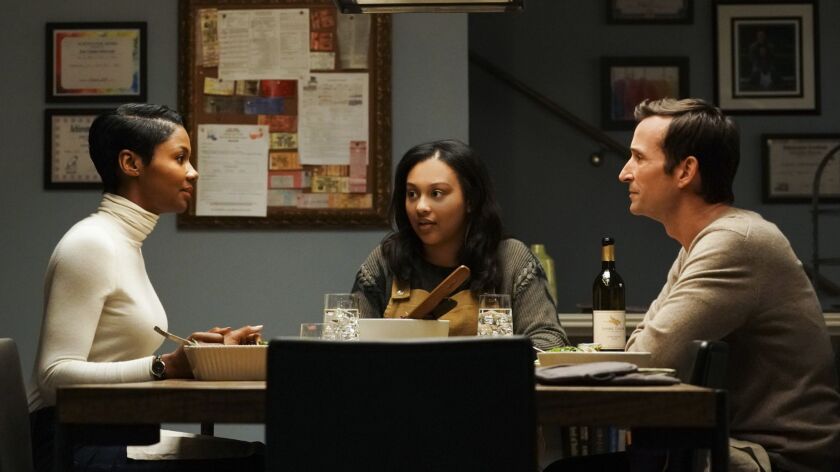 It's commendable, in a social sense, that the series opts for uplift in a dark time; episode titles, drawn from the work of Chicago writers, poets and rappers, give a flavor of that intention — "We Are Each Other's Harvest" (Gwendolyn Brooks), "For We Meet by One or the Other" (Carl Sandburg)," "We Need Glory For a While" (Chance the Rapper), "We Turn Up this Music Louder than a Mother's Cry" (Malcolm London), "This Victory Alone Is Not the Change We Seek" (Barack Obama).
Dramatically, however, the series can be something of a dogpile of worthiness and uplift: "You are the direct result of every decision ever made by every person who's ever come before you," Daniel tells his class early in the series. "We are all the children of a million hopes and it's our responsibility to act upon our own hopes." (The series actually ends with a speech: "Call me a crazy optimist but if we can get Chicago right then maybe we can get America right.") More than one genuinely moving moment has to fight against an inspirational pop song creeping in from below, in case you do not feel sufficiently inspired.
And both Tia's reluctance to meet Jira, for fear it will endanger her campaign ("No more economics genius, just a hood rat who got pregnant at 15"), and Daniel's resistance feel cooked up only in order to be overcome: "I'm going to keep you away from the one person who didn't want you," he tells his daughter, jumping a little out of character. (It's also just a terrible thing to say about adoption.)
But amid the sometimes overheated hubbub there is Royale, who brings the temperature back to normal. Even when a scene feels too obviously constructed, she moves around in it like an organic space, a real person among people in a movie. In a sense, she's not doing much more than not doing too much, and yet a whole, imperfect heroine emerges.
'The Red Line'
Where: CBS
When: 8 p.m. Sunday, April 28
Rating: TV-14-L (may be unsuitable for children under the age of 14 with an advisory for coarse language)
Twitter: @LATimesTVLloyd
---
Inside the business of entertainment
The Wide Shot brings you news, analysis and insights on everything from streaming wars to production — and what it all means for the future.
You may occasionally receive promotional content from the Los Angeles Times.