'Twin Peaks' holds gala premiere with trees, stars, cherry pies and (ssshhhh!!)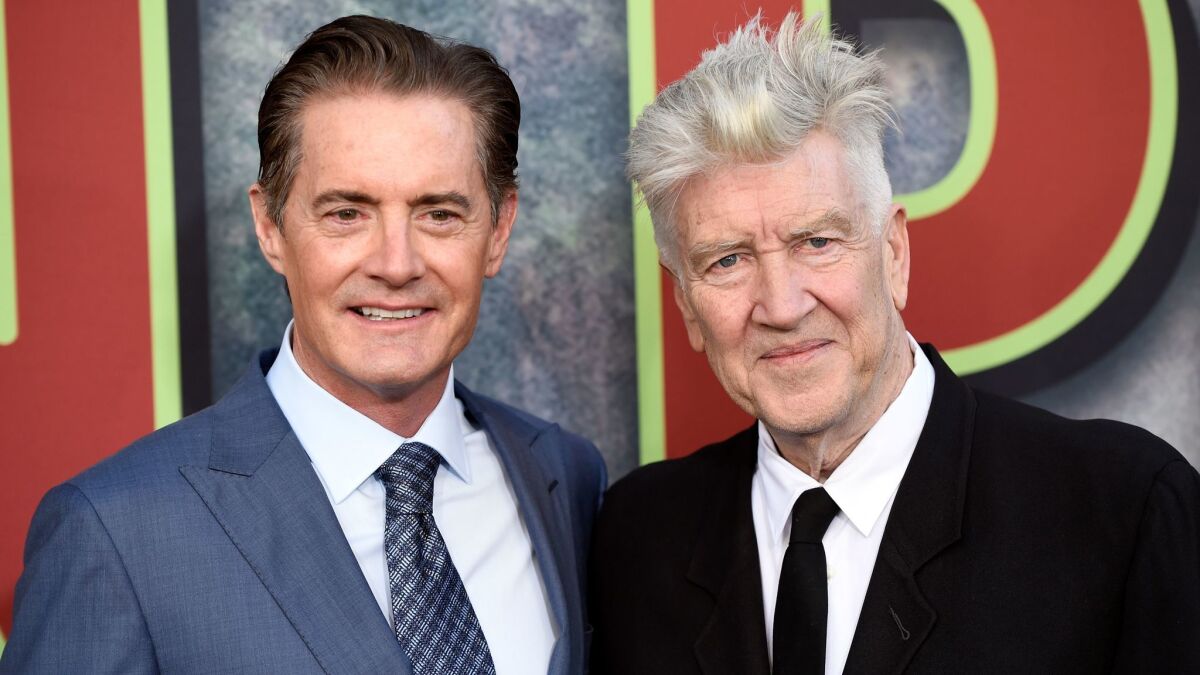 Hundreds of people got decked out Friday night and headed downtown to watch a television show. Shrubbery and trees were everywhere. David Lynch spoke of his love of trees.
The event was the world premiere of "Twin Peaks," the reboot of David Lynch's twisted and strange tale set in the Pacific Northwest, which became a brief phenomena when the original premiered in 1990. The drama has been elevated to cult status in its afterlife, and is still worshiped by legions of fans all over the country.
Showtime has spent more than a year trumpeting the return of "Twin Peaks" as a major event; the first two episodes air Sunday.
But Friday's screening was the true kickoff as Lynch, fellow "Twin Peaks" creator Mark Frost and dozens of performers from the massive 217-member cast and members of the crew descended on the Theater at Ace Hotel on Broadway to celebrate the return.
"We're finally here," Showtime CEO David Nevins said as he took the stage before the screening. He announced that it truly was a "world premiere" and that only a handful of folks at Showtime had seen even a little of the new "Twin Peaks." When some in the audience chuckled, he said, "You think I'm kidding," making it clear he was not.
He reminded the audience that the cloak of secrecy shrouding the project since its official announcement in 2014 had not lifted. He said he didn't want anyone to spoil even one detail of the episodes for viewers on Sunday.
Crew members and producers were thanked. When Nevins asked cast members to stand, it appeared that a quarter of the packed orchestra section stood. Among them was Kyle MacLachlan, who played FBI Special Agent Dale Cooper, dressed sharply in his aisle seat near the middle of the auditorium.
Finally, Nevins introduced David Lynch to a standing ovation. "I love trees and I love wood," Lynch said quietly in his brief remarks referring to his love for the quiet and beauty of Douglas fir. He concluded, "Welcome back to the world of 'Twin Peaks.'"
Then the screening began.
And that's all I will say, other than the audience response at the roll of the end credits was, in a word, enthusiastic.
The audience stepped out to see a huge logging truck on Broadway. They trekked a few blocks to Clifton's Cafeteria. The kitschy establishment had been transformed into a lush "Twin Peaks" universe, complete with upside-down trees and chandeliers that hung from oversized branches. Guests munched from a mac 'n' cheese buffet and were given gift bags containing "Twin Peaks" mugs and miniature cherry pies (spoons included).
About an hour into the proceedings, MacLachlan, along with fellow stars Madchen Amick and Dana Ashbrook, stood in front of an enormous tree inside the restaurant and addressed the audience.
"Whatcha guys think?" Amick asked. She smiled when she heard loud cheers. "Mind blowing, huh?"
MacLachlan then introduced Chromatics, a band from Portland, Ore., whose songs that echo the eerie stripped-down sound of Lynch favorite Julee Cruise.
As the band played and singer Ruth Radelet swayed expressionless on top of a tree stump, Lynch sat nearby. His expression was intense.
He seemed very pleased.
Twitter:@GeBraxton
---
The complete guide to home viewing
Get Screen Gab for everything about the TV shows and streaming movies everyone's talking about.
You may occasionally receive promotional content from the Los Angeles Times.