Review: Lavish 'Tyrant' is toppled by stereotypes, preconceptions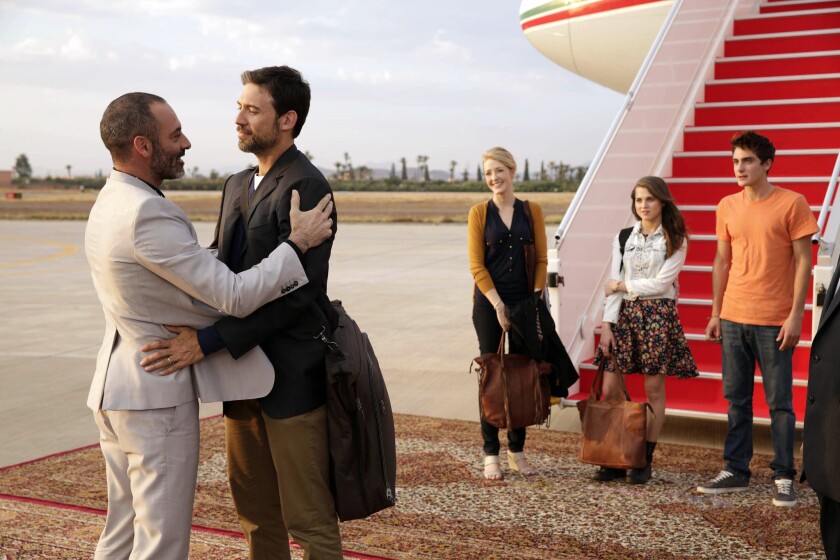 And now for something completely different. Maybe.
After enveloping us in "Fargo's" sub-zero snow scape for 10 weeks, FX whisks viewers to the Middle East where the Westernized son of a dynastic dictator has reluctantly become embroiled in the conflicts of his country once again.
Amid all the cop shows, medical shows and post-apocalyptic dramas, "Tyrant," which premieres Tuesday, certainly stands out as bold and possibly daring. But in the gorgeously produced pageantry of the pilot, directed by "Harry Potter's" David Yates, more than a few red flags are visible. In attempting to mix West with Middle East, the show too often seems content with stereotyping both.
As the series from "Homeland's" Gideon Raff and Howard Gordon progresses, one can't help but wonder if Gordon has bitten off more than he can chew. After all, the prolific executive producer is currently mid-hat trick with "Tyrant," a re-boot of "24" and the upcoming "Legends."
Having fled fictional Abbudin as a teenager, Bassam Al-Fayeed (Adam Rayner) is now Barry, a SoCal pediatrician so Americanized that he jogs around the Rose Bowl and has a blond wife named Molly (Jennifer Finnigan). Although she's been married to him for 19 years, Molly just doesn't understand why Barry is so resistant to the idea of returning home for the royal wedding of his nephew. (Me, I've just met Barry, and I understand completely.)
Wouldn't this be a great opportunity for him to finally face his father, she asks, just as if her father-in-law were some Eastern Seaboard autocrat and not, you know, an actual dictator. Their teenage son, Sammy (Noah Silver), also appears woefully ignorant of world affairs; he thinks it will be very cool to be treated like royalty.
Sister Emma (Anne Winters) is, in fact, the only member of this branch of Al-Fayeed family who has a clue. "They're burning pictures of Grandpa in the streets," she says, before announcing that she's not going.
Ah, if only they had listened to Emma, or Barry's own troubling flashbacks to a violent past in which older brother Jamal is clearly the chosen son. Ignoring both, Barry reluctantly brings his family to the terrorism-plagued, officially Muslim, entirely fictitious Middle Eastern dominion.
There, he is reunited with his quietly menacing father Khaled Al-Fayeed (Nasser Faris) and Jamal (Ashraf Barhom), now a prince so bestial he is introduced mid-rape. More important, Barry meets up with former best mate Fauzi (Fares Fares), now a journalist.
In the pilot's most touching and promising scene, Fauzi berates Barry for abandoning his nation. As a member of the ruling family, Barry is the only one who could, perhaps, loosen the iron grip of his father's rule.
So dad is old, brother psychotic, nation on brink — it's pretty clear where this is going. Soon enough, Barry is accepting that he is an Al-Fayeed and attempting to bring Abbudin up to date, in terms of democracy and the importance of not committing atrocities that could go viral on YouTube.
Here's the thing. The Geneva Conventions may well have included a clause allowing German, Russian and even British officials to be depicted as uniformly corrupt on American television, but similar representations of Middle Eastern leaders feel much more incendiary, possibly because there are so few Muslim/Arab characters on shows that do not deal with terrorism in one form or another.
This shouldn't make Middle Eastern dictators and their kin off limits, but any hopes that Israeli-born Raff and his writers would choose complexity over stereotype dim in the face of the scruffy, digit-threatening Jamal and his sinuous, inscrutable-glance-throwing wife.
To be fair, the Americans are just as bad. When the dung hits the fan, Barry tries to get his family back to the United States. Molly chooses that time to have ye old relationship talk ("I feel like I hardly know you," she whines while Barry is physically willing the plane off the ground).
Rayner's Barry is, of course, the show's central cipher, and behind his blue-eyed stare, flashbacks reveal anti-hero possibilities. What's missing is any real feeling for home and family. There is much footage of teeming markets and the marble stillness of the palace but no sense of what those sights mean to Barry, who increasingly seems more blank than enigmatic.
As television has proved time and again, you can tell any kind of story any way you want. You can offend people with stereotypes and frustrate them with absurd plotting, if only you give them characters they really care about.
The creators of "Tyrant" seem so concerned with politics, pageantry and preconceptions they forgot the most important thing: People.
---------------------------
'Tyrant'
Where: FX
When: 10 p.m. Tuesday
Rating: TV-MA (may be unsuitable for children under the age of 17)
---
Inside the business of entertainment
The Wide Shot brings you news, analysis and insights on everything from streaming wars to production — and what it all means for the future.
You may occasionally receive promotional content from the Los Angeles Times.