Everybody loves to hate 'Veep's' Jonah, but Timothy Simons digs the spirit of his blundering character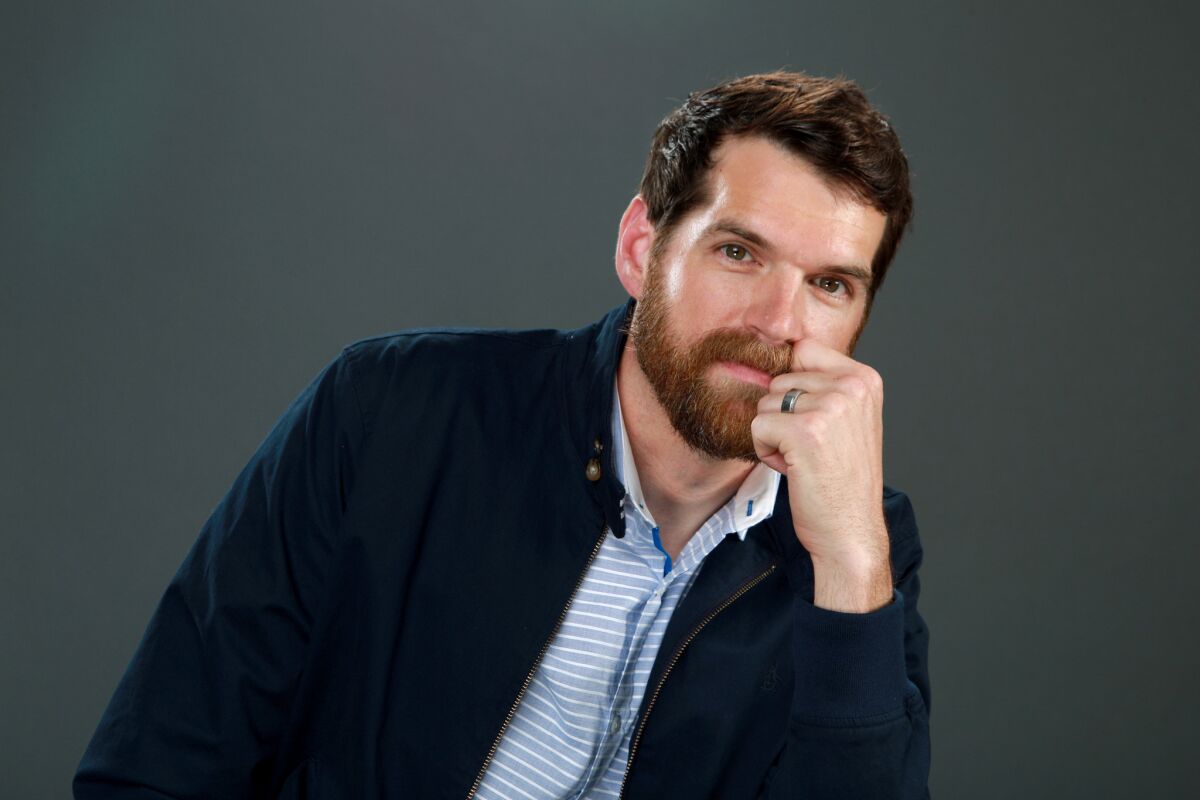 Even on a show known for caustic, chronically unlikable characters, "Veep's" Jonah Ryan stands out -- and not just because the actor who plays him, Timothy Simons, is a rangy 6 feet 4.
The smug, self-interested former White House staffer has become the poster boy for failing upward, ascending the D.C. ranks despite being deeply unpopular with his peers. In the process, he's become a character fans love to hate, a combination of Eddie Haskell and Joffrey Baratheon.
Season 5, which concludes Sunday on HBO, has seen Jonah stumble to ever-greater heights, running for Congress in his home state of New Hampshire against an elderly widow who also happens to have been his second-grade teacher. Jonah's chances appear doomed until he (literally) shoots himself in the foot and becomes an NRA darling.
Early signs do not point to a distinguished career for the newly sworn-in representative from the Granite State, who barely made it to the Capitol in time to cast a historic vote because he was busy hooking up with a high school student (and couldn't hail an Uber because his user ratings were too low.)
"There is something lovely about his tenacity," said Simons on a recent afternoon. Sporting an off-season beard and navy windbreaker, the actor, 38, looked decidedly more stylish than his onscreen counterpart, who's prone to drab sweater vests and ill-fitting suits. "He has self-confidence, he has a lot of drive. A lot of Jonah's qualities would be good in a smarter, more self-aware person."
Simons thinks of his character as a Ted Cruz type. "His own party doesn't like him but somehow he has found himself in a position of power," he said of the Texas senator, who has been subject to ridicule straight out of a "Veep" script (e.g. Sen. Lindsey Graham joking that "if you killed Ted Cruz on the floor of the Senate, and the trial was in the Senate, nobody would convict you.")
It's hard to imagine the genial Simons inviting similar rancor, perhaps because his professional ascent came after years of hard knocks. While an undergraduate at the University of Maine, Simons turned to acting once he realized he wasn't cut out for a career as a physicist. After graduation, he spent a few years in Chicago, auditioning for commercials and whatever film or TV series happened to be shooting in town. His first part in a movie, the Will Ferrell vehicle "Stranger Than Fiction," was cut before it was even filmed because the day ran long.
Simons and his wife, a public-school teacher, moved to Los Angeles in July 2008, just in time for the economic crisis. He worked an assortment of odd-to-humiliating showbiz-adjacent jobs, posing as a fake photographer at a "Simpsons" party, running props for the L.A. Opera and, perhaps most impressive of all, catering Frances Bean Cobain's death-themed 16th birthday party. "I was like, restocking chicken fingers but I had my face painted like a zombie," he said.
A gig as a casting session director led to an audition for "Veep," created by Armando Iannucci, the Scottish satirist behind the cult British series "The Thick of It" and "Knowing Me, Knowing You With Alan Partridge" and the Iraq war satire "In the Loop." Previously unfamiliar with Iannucci's work, Simons quickly became obsessed, buying a region 2 DVD player so he could catch up. When time came for the audition, "I was like, I'm going to be crushed if I don't get this job," Simons recalled.
Though he'd starred in a handful of commercials, "Veep" marked Simons' first series role of any size. Near the end of production on the first season, Simons was thrown a curveball. His wife, pregnant with twins, developed preeclampsia -- just like Lady Sybil on "Downton Abbey," points out Simon, always quick with a pop-culture allusion -- and gave birth 10 weeks early. The newborns spent 2 1/2 months in the neonatal intensive care unit. "I had gone from set world where everything is taken care of for you, where I was essentially a child, and had been thrown all of this responsibility. It was a very scary, jarring thing."
It helped that Iannucci, who stepped down from his role as show runner at the end of last season, was willing to write around Simons' absence.
Alas, the Selina Meyer White House is a far less collegial environment. Like many of Iannucci's series, "Veep" is known for its fantastically crude insults, a disproportionate number of which are lobbed in Jonah's direction. In a standout moment from Season 4, a secret list of nicknames created by his colleagues ("The 60-Foot Virgin," Spewbacca," "Guyscraper") was read aloud during a congressional hearing.
Though he winced during a recent scene in which Jonah's appearance was likened to "melted Play-Doh over a flagpole," Simons said he's generally immune to the verbal abuse. "It's only bad if you don't have a good sense of humor about it."
If only folks inside the Beltway maintained such a healthy attitude. "Veep," which wrested the comedy series Emmy from "Modern Family" last year, has brought Simons into contact with many real-life politicians, and the encounters have been eye-opening. A diminutive congressman recently asked the actor to pose for a picture, yanking Simons downward just as the photo was being taken -- "as if my responsibility to be in a picture with him that I didn't ask for was to make him look good," he said.
On "Veep," politics is about vanity and self-preservation more than ideology, making the show strangely bipartisan in its appeal. "There is one constant," Simons said. "Every politician we have met believes that the show is making fun of everybody but them."
'Veep'
Where: HBO
When: 10:46 p.m. Sunday
Rating: TV-MA (may be unsuitable for children under the age of 17)
ALSO:
Tony Hale plays 'Gary-oke' with the characters from 'Veep'
'Veep' can't get crazy enough to satirize real-life politics, cast says
Hulu announces premiere dates for 'The Mindy Project' and newcomers 'Chance' and 'Shut Eye'
---
Get our L.A. Goes Out newsletter, with the week's best events, to help you explore and experience our city.
You may occasionally receive promotional content from the Los Angeles Times.