White House Correspondents' Dinner goes on, successfully, without Trump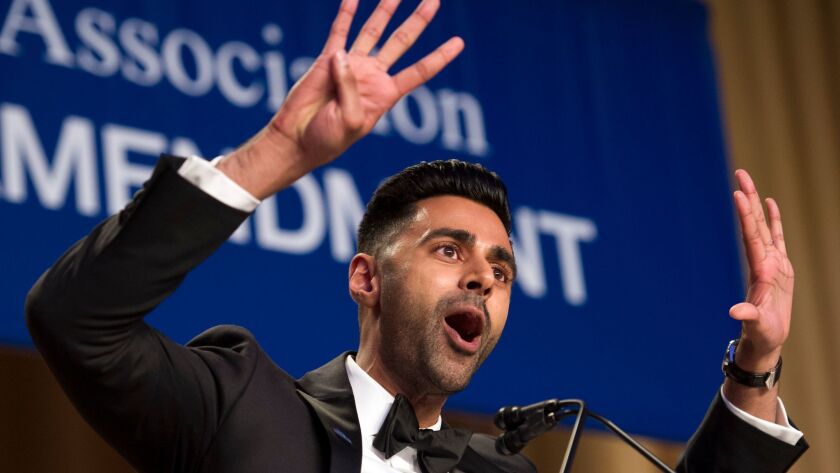 Television Critic
No one had a harder gig Saturday than comedian Hasan Minhaj, except perhaps for the poor soul who had to tell President Trump that Minhaj didn't blow it roasting the commander in chief onstage at the White House Correspondents' Dinner.
The senior correspondent for "The Daily Show with Trevor Noah" was the latest in a long line of hosts including Seth Meyers, Rich Little and Bob Hope at the annual Washington black-tie event. All have roasted the press and presidents alike.
But unlike those big names, the lesser-known political satirist Minhaj, 31, had to fill a gaping hole in the festivities while making stiffs like Wolf Blitzer laugh.
That's because Trump wasn't there. He's the first president since Ronald Reagan in 1981 to bow out of the annual event (and Reagan was recovering from an assassination attempt). Trump instead had his own rally earlier in the day, in front of supporters in Pennsylvania, where he called news outlets like the New York Times and CNN failing, incompetent and dishonest.
"We've got to address the elephant that's not in the room," said Minhaj near the jittery beginning of his monologue. "The leader of our country is not here. And that's because he lives in Moscow, it's a very long flight. As for the other guy, I think he's in Pennsylvania because he can't take a joke."
C-SPAN broadcast the dinner in its entirety, as they did a march in Washington earlier Saturday where an estimated 200,000 people protested Trump's climate policy. In between the march and the dinner programming was a broadcast of Trump's pep rally in Harrisburg.
It was a C-SPAN trifecta of political tension, rancor and laughs.
"A large group of Hollywood actors and Washington media are consoling each other in a hotel ballroom in our nation's capital right now," said former Hollywood celebrity Trump of the dinner.
He noted that the press's "priorities are not my priorities, and not your priorities" and said "If the media's job is to be honest and tell the truth, then I think, we would all agree, the media deserves a very, very big fat failing grade," said Trump, whose own approval rating is at 43%, the lowest of any president at this point in his term since 1953.
All of it happened on Trump's 100th day in office, a tenure that's been one of the most contentious and rocky — particularly regarding the president's relationship with the press — in modern memory. Trump also asked that his White House staff not attend the dinner.
The event at the Washington Hilton, which is sponsored by the White House Correspondents' Assn., kicked off with the theme of speaking truth to power. Washington Post Watergate reporters and "All The President's Men" authors Bob Woodward and Carl Bernstein were the guests of honor.
Minhaj initially appeared out of his depth at the podium after such heavyweights, but gradually began to win over a crowd hesitant to laugh at Trump jokes without the president in the room dishing it back as other presidents historically have.
"I would like to say it's an honor to be here, but that would be an alternative fact," he said. "No one wanted to do this so, of course, it landed in the hands of an immigrant. That's how it always goes down."
Minhaj, who called the gig "one of the strangest events I've ever done in my life," loosened up with the crowd and midway through, finally prevailed over one of the most awkward televised correspondents' dinners ever.
I would like to say it's an honor to be here, but that would be an alternative fact.
Hasan Minhaj, host
"In the age of Trump, I know that you guys have to be more perfect now, more than ever, because you are where the president gets his news," he joked. "That's why you've got to be on your game. You've got to be twice as good. Because when one of you messes up, he blames your entire group. And now you know what it feels like to be a minority."
By the close of his 20-plus-minute monologue, Minhaj – who is usually steadfast and controlled in his duties as a "correspondent" on "The Daily Show"— became impassioned as he spoke about the role the press now plays in keeping American democracy alive.
"I was asked not to roast the president and the administration in their absentia," said Minhaj. "We are in a very strange situation where there is a very combative relationship between the press and the president. But now that you guys are minorities, just for this moment, you might understand the position I'm in. It's the same position a lot of minority kids feel in this country. Do I come up here and just try to fit in and not ruffle any feathers? Or do I say how I really feel because this evening is about celebrating the 1st Amendment and free speech?
"Free speech is the foundation of an open democracy, from college campuses to the White House," he said. "Only in America can a first-generation, Indian American Muslim kid get on this stage and make fun of the president. The Orange Man behind the Muslim ban. It's a tradition that shows the entire world that the president is not beyond the reach of the 1st Amendment."
He continued, "But the president didn't show up because Donald Trump doesn't care about free speech. The man who tweets everything that comes into his head refuses to acknowledge the amendment that allows him to do it. [Hours from now] Donald Trump will be tweeting about how bad Nicki Minaj bombed at this dinner … and that's his right. I'm proud all of us are here to defend that right, even if the man in the White House never would."
To read the article in Spanish, click here
ALSO
Protest over climate change, and Trump's rejection of issue, stoke rallies
Trump promised he'd achieve a lot in his first 100 days. Here's where his campaign promises stand
Samantha Bee celebrates (some of) the press at 'Not The White House Correspondents' Dinner'
---
The complete guide to home viewing
Get Screen Gab for weekly recommendations, analysis, interviews and irreverent discussion of the TV and streaming movies everyone's talking about.
You may occasionally receive promotional content from the Los Angeles Times.