YouTube Red launches slate of original children's programming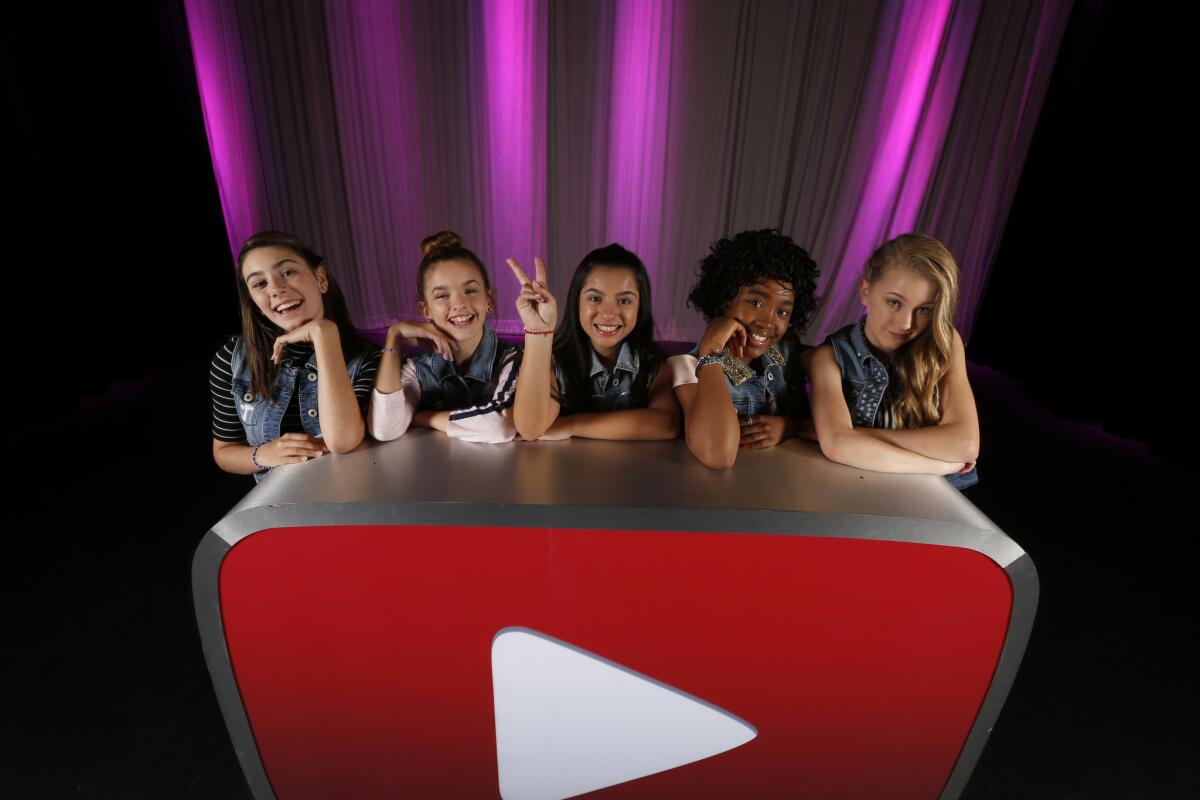 YouTube is taking a bold step to capitalize on its popularity among swipe-savvy kids — and become a bigger player in the entertainment industry.
The Internet's dominant video platform said Monday that it was launching its own slate of original TV shows aimed at children and families in the coming months.
The new series expand the roster of original productions under the global streaming giant's monthly subscription service, YouTube Red, which launched in October 2015. The first batch of programming — four shows whose premieres will be spaced out — will start rolling out in April.
With rising competition for eyeballs, YouTube can no longer rely on amateur videos and user-generated content to generate traffic and advertising revenue. So the Google-owned video site has begun investing in and distributing original shows targeting young viewers — starting with teens and young adults — who are increasingly bypassing traditional television and movies. The push into kids programming is an extension of that strategy.
The new shows, aimed at children ages 12 and under, will be available through the mobile app YouTube Kids, as long as pint-sized users (or their parents) subscribe to YouTube Red. The app launched two years ago and helped pave the way for the children's programming.
"We're now in a place where it really makes a lot of sense to have even more inspired and creative content to reach our audience," said Malik Ducard, head of YouTube Family and Learning. "It's been a storied evolution, and we're happy it's one of our next phases."
YouTube executives would not disclose how much they're investing in the new kids shows.
Analysts said YouTube's latest move is a logical step, but the company also faces the difficulty of convincing younger users that they should pay for entertainment they used to get for free.
"YouTube is in a unique spot," said Paul Verna, a senior analyst at digital media research firm EMarketer. "For so long, people looked at it as a place to get free content. I don't know if this will help them overcome that challenge."
One advantage for YouTube is that it already has the attention of youngsters — 81% of 6- to 12-year-olds say they use YouTube, according to an annual study on kids' digital behavior from market research firm Smarty Pants. What's more, YouTube has unparalleled reach, with more than 1 billion unique visitors monthly.
And with many of the most popular channels on the platform already aimed at and consumed by children, the progression into original kids content was inevitable. Some might even say it's overdue.
Phones and tablets play a big role in the lives of tykes and tweens. And the battle to be the source of their continued attention has stretched beyond stalwarts such as Nickelodeon, PBS and Disney Channel. The kid and family space has become a key genre for digital services such as Netflix, Amazon and Hulu, all of which have clamored to acquire or create as many children's and family-friendly television shows as possible in recent years because such programming is a crucial draw for parents to subscribe.
"Our kids app has been out for two years, and that's given us the time to make shows we're very proud of," said Nadine Zylstra, head of Family Entertainment and Learning for YouTube Originals. "I certainly don't feel like we're playing catch-up. We're doing our thing and having a lot of fun doing it."
In keeping with YouTube's eclectic selection of videos that keep kids occupied — who hasn't seen a kid mesmerized by the unwrapping of a toy egg? — the digital service's forthcoming original shows are wide-ranging and feature popular creators DanTDM, Joe and Cody of the Atlantic Craft, tween music act L2M and Fruit Ninja.
The animated series "Fruit Ninja: Frenzy Force" is based on the mobile game and follows four Fruit Ninjas who fight evil forces using their fruit-slicing skills. "The Kings of Atlantis" chronicles two young monarchs (voiced by Cody and Joe from the Atlantic Craft channel) as they seek to overthrow the brutal usurper of their kingdom.
"Hyperlinked" is a live-action series about a group of middle-schoolers (played by young girl group L2M) who create and code a website for girls. "DanTDM Creates a Big Scene," meanwhile, is a mix of live-action and animation. It gives viewers a behind-the-scenes look at the popular YouTube personality and professional gamer as he and his animated friends put together a live show.
"Because YouTube is new to creating original family and kids content, they were really open to hearing our vision for the show," said Juliette Brindak Blake, whose own life story inspired the series "Hyperlinked," which she created and executive produces. "They weren't stuck in the traditional standards, because they had never done this before."
Each series has an individualized release schedule. Some are releasing episodes week by week and others all at once, depending on the creator and fan base, Zylstra said. The run time for the shows will also vary — anywhere from 11 to 22 minutes.
"We're in such an incredible moment in media," Zylstra said. "Kids can find videos for their very specific interests. And the beauty of our [YouTube] world is you can self-direct and pick the things that you are interested in. Whether it's our originals or user-generated videos."
Other shows in the pipeline include a project with Dan and Lincoln Markham, the father-son team behind the popular YouTube channel What's Inside?, in which they investigate what's inside everything from a lava lamp to a rattlesnake's rattle. The show "What's Inside Our World?" finds them traveling the globe and continuing their investigations.
Augmenting the content available on the app with exclusive originals could further strengthen YouTube's ties with children.
YouTube Kids, which features videos selected from the main site through algorithms set to pick child-related content, is available in 26 countries and has more than 8 million weekly active users, according to the company.
YouTube Kids will also soon be available for download on Internet-connected LG and Samsung SmartTVs, the company said.
YouTube Red, which costs $9.99 a month, has thus far consisted of TV series, films and documentaries largely aimed at teens and young adults — in addition to access to YouTube videos offline and Google Play music.
"We're really happy to be putting the kids and family lens on that," Ducard said.
The most-read Entertainment stories this hour »
Twitter: @villarrealy
---
UPDATES:
6:00 p.m.: This article was updated with additional details and reaction to YouTube's new kids shows.
This article was originally published at 8:10 a.m.
Get our L.A. Goes Out newsletter, with the week's best events, to help you explore and experience our city.
You may occasionally receive promotional content from the Los Angeles Times.