11 Images
'Today's' twists and turns
By Deborah Netburn, Patrick Day and Jevon Phillips, Los Angeles Times Staff Writers
NBC recently announced that
Kathie Lee Gifford would be returning to morning television as the co-host of the fourth (!) hour of the "Today"
show, joining current host Hoda Kotb in the 7-month-old spot.
The Gifford hire is just the latest twist in the ongoing narrative of the "Today" show, which is the most successful and long-running of the morning shows. Almost from its inception in 1952, the show created news around itself even as it covered the news (some of it serious, some of it incredibly light).
In case you haven't had time to follow the complete "Today" story, here's our SparkNotes version of the highlights.
(Peter Kramer / Associated Press)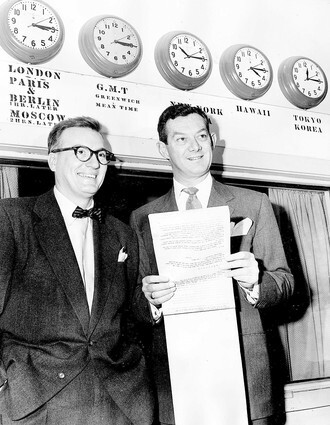 Leader of the pack
"Today" premiered in January of 1952 and was the first television show of its kind. The idea came from Pat Weaver (pictured right) who would later become NBC's president. Weaver envisioned a show that would blend hard news and light features and would be hosted by a "communicator" who would do interviews, report stories, and moderate conversations, using his charm and wit to blend it all into a seamless whole. The first "communicator" was relaxed (on air, at least) TV personality Dave Garroway (pictured left).
(Los Angeles Times)
The first ratings stunt: The J. Fred Muggs years
One year after "Today" launched the show looked like it might tank, so to increase the ratings NBC brought on a co-host/mascot for Garroway : A young J. Fred Muggs, a chimpanzee who would stay on the show for four years, boosting ratings big-time. Unfortunately for Garroway, Muggs was reportedly a nasty little monkey, prone to throwing tantrums. He stuck with the show for four years, and later starred on his own short-lived show (!!) "The J. Fred Muggs Show" out of New Jersey.
(Associated Press)
Walters lite?
The venerable Barbara Walters started off at "Today" as a researcher and writer in 1961, but soon graduated to an on-camera position. She was only allowed to cover non-important "fluff," and was not to ask questions of the guests. The move was considered by many a stunt to improve ratings. But she gradually worked her way in, and though she filled the duties of co-host, did not receive the title until 1974.
Two years later, she became the first female to anchor a network newscast, and has asked a lot of questions since then.
(Associated Press)
Follow that studio!
"Today" moved studios several times over its 56-year history. It was originally filmed in a street-side studio on 49th Street in the RCA Exhibition Hall. A functioning newsroom helped make up the set, but was gradually moved behind the scenes. The show moved at least four times over the next 20 years, and in 1994, after another series of moves and a longtime stint at 30 Rockefeller Plaza, "Today" set up shop in another glass-walled, street-side studio on the corner of 49th Street and Rockefeller Plaza.
(Associated Press)
Gumbel's fateful mistake, AKA "Memogate"
In 1989, then "Today" show co-host Bryant Gumbel wrote an uncomfortably honest letter to his producer Marty Ryan in which he criticized just about every member of the "Today" team (only Jane Pauley escaped unscathed). He claimed Willard Scott "holds the show hostage to his assortment of whims, wishes, birthdays and bad taste," called consumer reporter David Horowitz "a walking cliche" and said film critic Gene Shalit's reviews were often late and his interviews were no good. The memo, written in response to Ryan's request for open and frank conversation, was meant to be private, but was leaked to the press. There was lots of bad feelings for a while, but Gumbel and Scott eventually made up. On air.
(CBS)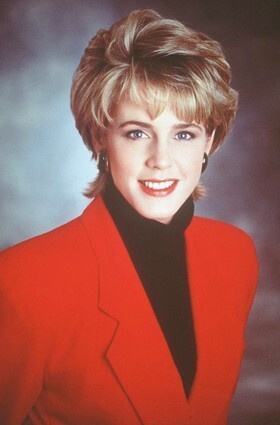 The other woman
After 13 years as co-host atop the morning show pack, Jane Pauley announced her departure from the program in 1989. Her replacement would be the show's news anchor, 32-year-old Deborah Norville. Despite Pauley passing the title to Norville on-air, rumors quickly began to circulate that Norville had engineered Pauley's departure, breaking up the beloved TV marriage of Bryant Gumbel and Pauley. Matters did not improve after Norville failed to generate chemistry with Gumbel.
(Craig Blankenhorn / CBS)
Norville's departure and the rise of perk
With angry viewers defecting to ABC's "Good Morning America" and ratings sinking, Deborah Norville's role on "Today" was steadily diminished until she went on maternity leave in February 1991. In her absence, national political correspondent Katie Couric was named temporary co-host. Ratings began to rise again when viewers responded favorably to Couric's sunshiny persona. Midway through her pregnancy leave, in April 1991, NBC announced that Norville would not be returning to "Today." She went on to replace Bill O'Reilly as host of the syndicated news show "Inside Edition."
(Gerardo Somoza)
Feud brews
As Katie Couric neared the end of her contract with NBC, executive Jeff Zucker said that he hoped she would be at the network "for many, many years to come." Well, with co-hosts bickering behind the scenes, that hope was too optimistic.
Reports circulated in the celebutabs that Couric and Matt Lauer were not too chummy. Though the two remained mum on their alleged strained off-screen relationship.
Pictured:
Couric's last day. Lauer moves back while Katie and Ann Curry partake in a farewell smooch.
(Richard Drew / Associated Press)
Couric moves on
On her 15th anniversary as permanent co-host of "Today" in 2006, Couric announced her decision to leave the network and become the anchor of the CBS Evening News. The move made her the first female to solo anchor an evening network newscast in history. She also received a salary that kept her the highest paid anchor on TV and was central in the redesign of CBS' newscast. However, her tenure on the show was met with steadily sinking ratings. Meredith Viera, formerly of ABC's "The View," became Couric's replacement.
(John Paul Filo / CBS)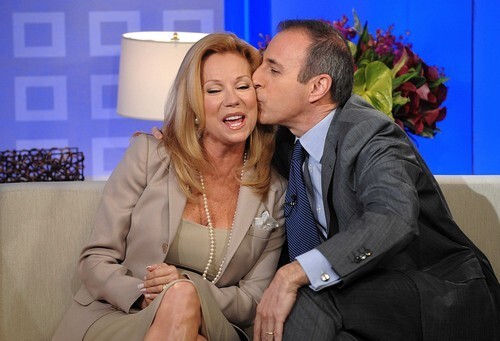 'Today' gets longer and longer
In late 2000, NBC canceled the post-"Today" show "Later Today" and replaced it with a third hour of "Today." ABC countered in 2007 by adding a third hour of "Good Morning America" available only on its website. In 2007, NBC continued the buildup by announcing a fourth hour of "Today." In early 2008, Kathie Lee Gifford was announced as the new co-host of "Today's" fourth hour.
(Peter Kramer / Associated Press)