11 Images
Favorite TV MDs
Hugh Laurie "House" (2004-2012)
Pre-Op:
Laurie joined the Cambridge Footlights troupe at
Cambridge University
where he met
Emma Thompson
, who introduced him to his future comedy partner,
Stephen Fry
. After their annual revue, "The Cellar Tape," scored a big success - a TV version aired in 1982 - Laurie, Fry, Thompson and others were hired to write and appear on a sketch comedy series, "Alfresco," which ran for two seasons. Fry and Laurie are best known for their sharp, sophisticated "A Bit of Frey and Laurie" sketch comedy series and for the delightful adaptation of P.G. Wodehouse's stories, "Jeeves and Wooster," which aired on "Masterpiece Theatre in the 1990s. Laurie also appeared in "Sense and Sensibility," the live-action "101 Dalmatians," the remake of "The Flight of the Phoenix" and the "Stuart Little" films.
Scrubs:
Laurie has turned into yet another thinking woman's sex symbol on
Fox
's popular medical series as the acerbic, emotionally troubled and physically crippled attending physician
Dr. Gregory House.
He also sports the most perfect stubble on his face. He recently continued his dramatic ways as
Keanu Reeves
' boss Captain Biggs in
"Street Kings"
and voiced the mad scientist Dr. Cockroach in "
Monsters vs. Aliens
."
(Fox)
Patrick Dempsey "Grey's Anatomy" (2005-)
Pre-Op:
Dempsey, 43, was a teen dream 20 years ago in such hit comedies as "Can't Buy Me Love" - at 21 he also married a 48-year-old woman. But his feature film career cooled in the early '90s. Though he did an occasional feature role, including the Reese Witherspoon comedy "Sweet Home Alabama," Dempsey mainly appeared on TV including the 1993 miniseries "JFK Reckless Youth" and guest shots on "Will & Grace," "Once & Again" and the HBO movie "Iron Jawed Angels."
Scrubs:
Two decades after he became a sex symbol to tweenies, Dempsey has been making women swoon yet again on the top-rated ABC medical series as the ultra hunky surgeon Dr. Derek Shepherd, who is considered such a catch at Seattle General that he's been nicknamed McDreamy. His emergence as a leading man on "Grey's" has also led to more feature films roles, including playing Hilary Swank's spouse in "Freedom Writers" and the romantic lead in both "Enchanted" and "Made of Honor." Next, he will costar alongside a long list of A-listers, like Anne Hathaway, Jessica Biel and Jamie Foxx in the romantic comedy "Valentine's Day."
(Karen Neal / ABC)
Rick Springfield "General Hospital" (1981-83; 2005-08)
Pre-Op:
Born in Sydney, Australia, Springfield, 58, began playing piano at age 9 and starting writing songs at 14. He dropped out of high school to become a singer/guitarist with the band Rock House.
He went solo in 1971, and had a No. 1 single with "Speak to the Sky." At 22, he relocated to Hollywood. His subsequent albums didn't do as well and he spent the decade singing in clubs and appearing in guest roles on "The Incredible Hulk" and "The Rockford Files." He also had a small role on the CBS daytime soap, "The Young and the Restless."
Scrubs:
He became an "overnight" sensation when he joined the ABC daytime drama as the gorgeous Dr. Noah Drake. He also had signed a contract with RCA and his first single, "Jesse's Girl," hit the charts soon after his stint on "General Hospital."
Post-Op:
His first starring role in a feature, 1984's "Hard to Hold," tanked with audiences and critics. He took time off to be with his young sons. Then in the 1990s he returned to recording, touring and appearing on TV in the short-lived series "Human Target" and "High Tide." And in 2005, he returned to "GH" on a recurring basis as Dr. Drake. His latest gig? A guest starring role on Showtime's "Californication," playing a hedonistic version of himself.
(ABC)
Zach Braff "Scrubs" (2001-2010)
Pre-Op:
Braff, who was diagnosed with obsessive-compulsive disorder at 10, wanted to be a filmmaker from his earliest years. While still a teenager, he attended Stagedoor Manor Performing Arts Training Center in New York, and he graduated with a degree in film from Northwestern University. He began his professional career doing Shakespeare at New York's Public Theater and appeared in
Woody Allen
's 1993 film "
Manhattan
Murder Mystery."
Scrubs:
Braff, 34, hit paydirt in 2001 as the offbeat charming intern John J.D. Dorian on the quirky
NBC
comedy series (now on
ABC
). Braff has been nominated for three
Golden Globes
and an Emmy. Though not traditionally handsome, he has an endearing cuteness that has made many a young woman's heart flutter. And he's parlayed his starring role into an acclaimed film career. He won a Film Independent Spirit Award for 2004's
romantic
comedy "Garden State," which he starred in, wrote and directed. He also won a Grammy for "best compilation sound track for a motion picture" for the film. However, two starring vehicles, "The Last Kiss" and "The Ex," were not well-received.
(NBC Universal)
Richard Chamberlain "Dr. Kildare" (1961-66)
Pre-Op:
Chamberlain appeared in two forgettable movies, "The Secret of the Purple Reef" in 1960 and "A Thunder of Drums" in 1961, before landing the plum role of Dr. James Kildare in the NBC medical drama.
Scrubs:
Kildare was a noble young intern at the large Blair General Hospital who was trying to help his patients while winning the respect of his crusty mentor, Dr. Leonard Gillespie (Raymond Massey). Tall and handsome, Chamberlain became an overnight heartthrob especially with teen girls. During the run of "Kildare" he became a popular recording artist and starred in the 1963 legal drama "Twilight of Honor" and the 1965 romantic drama "Joy in the Morning."
Post-Op:
He went to Broadway after the end of "Kildare" to star in the ill-fated 1966 Broadway musical version of "Breakfast at Tiffany's" with Mary Tyler Moore, which closed in previews. Heading to England, though, he found success in many British films, such as "The Music Lovers," "The Three Musketeers," and "The Four Musketeers." He also ventured to Australia to star in Peter Weir's landmark 1977 thriller "The Last Wave." Chamberlain, though, made his biggest impression in the acclaimed TV productions and miniseries, especially "Shogun" and "The Thorn Birds," that he made in the 1970s, '80s and '90s. His more recent work includes the Adam Sandler comedy "I Now Pronounce You Chuck and Larry" and a guest role as Lynette's stepfather on "Desperate Housewives."
(Gary Friedman / Los Angeles Times)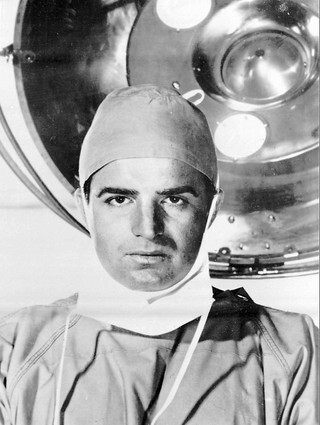 Vince Edwards "Ben Casey" (1961-66)
Pre-Op:
Born in 1928, Edwards was a champion high school swimmer and attended Ohio State University on an athletic scholarship. Edwards studied acting at the Academy of Dramatic Arts. In 1950, he was signed to a contract at Paramount where he made his film debut in 1951's "Mr. Universe." He appeared in several movies in the 1950s, most notably the snappy 1958 noir, "Murder by Contract." But he didn't hit superstardom until "Ben Casey."
Scrubs:
Virile, handsome and extremely hairy, Edwards played the ace young resident surgeon on the popular hourlong drama set in County General Hospital. Sam Jaffe was his mentor, Dr. David Zorba. Produced by Bing Crosby, the series didn't shy away from controversial subjects or supplying romance for the good doctor. During the series, Edwards recorded several albums and performed at sold-out concerts. He also directed episodes of "Ben Casey."
Post-Op:
He landed starring roles in 1968's "The Devil's Brigade" and "Hammerhead," but neither did anything to help his feature status. Until his death of pancreatic cancer in 1996, he continued to work in TV and low-budget features, as well as directing episodic TV.
(Associated Press)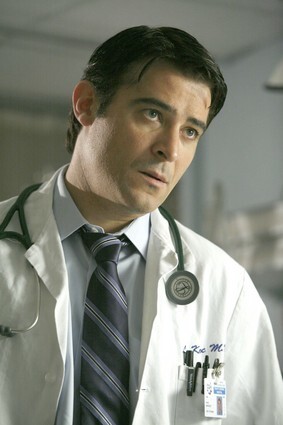 Goran Visnjic "ER" (1999-2009)
Pre-Op:
The tall, rangy 36-year-old actor appeared in plays as a youngster and made his film debut at age 16 in a Yugoslavian movie. After a stint with the Croatian Army, he attended the Academy of Dramatic Arts in Zagreb and became the youngest actor to play the role of "Hamlet" in the Dubrovnik Summer Theatre Festival. He went on to play the role during the summer for seven years. He had small roles in "The Peacemaker," "Committed" and "Practical Magic." But it was his role as a Bosnian driver in "Welcome to Sarajevo" that led to him being cast on "ER."
Scrubs:
As Dr. Luka Kovac, Visnjic took over the reins as series heartthrob when George Clooney left. He kept busy during his off hours while on "ER," appearing in films such as "The Deep End." He was even a finalist to play James Bond. Visnjic's indie flick "Helen" debuted at Sundance in 2009 and he recently starred alongside Anna Paquin in the television drama "The Courageous Heart of Irena Sendler."
(Greg Gayne / NBC Universal)
James Brolin "Marcus Welby, M.D." (1969-76)
Pre-Op:
Brolin, 68, began acting on TV in 1961 and guest-starred in several series. He was put under contract to 20th Century Fox, where he had small roles in such films as "Take Her She's Mine" and "Fantastic Voyage."
Scrubs:
His Emmy Award-winning performance as the young physician Dr. Steven Kiley on the ABC medical series certainly boosted his career. Dr. Kiley was a handsome, caring physician who came to work with an older doctor, Marcus Welby (Robert Young). The two had perfect chemistry and the series won the Emmy for best dramatic show in its first year. Besides earning an Emmy for his work on the series, Brolin also won two Golden Globes.
While the series was on the air, Brolin appeared as a killer in the 1972 thriller "Skyjacked" and opposite Yul Brynner in Michael Crichton's acclaimed 1972 chiller "Westworld." He also had the misfortune of starring in the ill-fated 1976 turkey "Gable and Lombard."
Post-Op:
He appeared in several films in the late 1970s and early 80s, including the hits "Capricorn One" and "The Amityville Horror." Brolin returned to series TV in 1983 in the popular prime-time soap "Hotel," which continued through 1988. Subsequently, he's appeared in several movies and short-lived TV series including "Angels Falls" for CBS and "Pensacola: Wing of Gold" for syndication. In 2003, he received an Emmy nomination for his performance as Ronald Reagan in the controversial miniseries "The Reagans," which aired on Showtime. Now he spends much of his time guest starring on shows like "Monk," "Law and Order: SVU" and "Psych."
He has been married for nearly a decade to his third wife, Barbra Streisand, and his son Josh Brolin has worked in films over the past two decades, most notably in "No Country for Old Men" and "W."
(Fox)
Alan Alda "MASH" (1972-83)
(seated)
Pre-Op:
Born Alphonso Joseph D'Abruzzo- his father was noted actor Robert Alda - the 73-year-old actor began his career in the 1950s a member of the Compass Players comedy revue and even appeared in a episode of the old "Sgt. Bilko" show with Phil Silvers. He received a Tony nomination for best actor in a musical in 1967 for "The Apple Tree." He made his feature debut in 1963's "Gone are the Days" and played George Plimpton in the acclaimed 1968 feature comedy "Paper Lion."
Scrubs:
It was a perfect marriage of actor and character when Alda was cast as the cynical, womanizing Korean War surgeon Hawkeye Pierce in the long-running CBS comedy series based Robert Altman's 1970 hit film. Alda soon became the thinking woman's sex symbol. During the series' 11 seasons, Alda wrote 13 episodes - he won his first Emmy for the series as a writer - and directed 32 episodes, including the 1983 finale which 25 years later is still the single most watched episode of a TV series. His film career also exploded during this time period, when he appeared in such popular films as "Same Time, Next Year" and "California Suite." He penned the well-received 1979 drama "The Seduction of Joe Tynan" and wrote and directed the 1981 box office hit "The Four Seasons."
Post-Op:
Though he never has regained his superstar TV status from the "MASH" era, Alda continues to do excellent work in theater ("Jake's Women"), TV ("The West Wing," "ER," "And the Band Played On," "30 Rock") and in movies, receiving his first Oscar nomination for supporting actor for 2004's "The Aviator." He's also penned two personal memoirs, "Never Have Your Dog Stuffed" and "Things I Overheard While Talking to Myself."
(FOX)
Denzel Washington "St. Elsewhere" (1981-88)
Pre-Op:
The 54-year-old Washington studied acting at Fordham University and was given a scholarship to attend graduate school at San Francisco's American Conservatory Theater. He stayed for one year and then set out for New York to become a professional. He made his pro acting debut in the 1977 TV movie "Wilma" and then made his feature debut in the dreadful 1981 comedy "Carbon Copy," playing George Segal's son.
Scrubs:
Though the NBC series "St. Elsewhere" was never a ratings success, the well-acted drama had a strong and loyal core following, especially for Washington's resident Dr. Phillip Chandler. While making the rounds on "St. Elsewhere," Washington appeared in the Oscar-nominated 1984 film "A Soldier's Story" - he also appeared in the theatrical version at the Mark Taper Forum - and received his first Oscar nod for supporting actor as Steve Biko in 1987's "Cry Freedom."
Post-Op:
Washington has become one of the most successful stars currently on screen, winning an Oscar for supporting actor for 1989's "Glory" and for best lead actor for 2001's "Training Day." He has directed two films, "Antwone Fisher" and "The Great Debaters" and was recently seen in "American Gangster" and "The Taking of Pelham 123."
()
George Clooney "ER" (1994-99, 09)
Pre-Op:
The nephew of singer Rosemary Clooney had been kicking around Hollywood nearly a decade doing TV series after TV series, including a stint as a character named Ace on a 1984-85 CBS sitcom ironically called "E/R," and some bad low-budget films before he put on the stethoscope as Dr. Douglas Ross on the long-running NBC medical series.
Scrubs:
Women always love "bad boys" and they didn't get much badder - at least for the first few seasons - than Clooney's charming, womanizing pediatrician. In one episode, a one-night stand died while with him. He didn't even know her name. Ross, though, tried to redeem himself on numerous occasions, eventually being put on probation when he tried to help a dying young boy end his life. When Dr. Ross returned to the show in 2009 for just one episode after a decade hiatus, he was no longer the bad boy. Instead, he was living in Seattle with his wife Carol Hathaway (Julianna Marguiles).
Hollywood quickly came knocking. Clooney made several films while on the series, including "From Dusk Till Dawn," "The Peacemaker," the dreadful "Batman & Robin" and "Out of Sight," his first film with a frequent collaborator, director Steven Soderbergh.
Post-Op:
One of Hollywood's major players - and noted humanitarians - Clooney picked up the Oscar for supporting actor in "Syriana." The same year, he also received nominations for directing and co-writing his historical drama "Good Night, and Good Luck." He received his first Academy Award nomination in the lead actor category for 2007's thriller "Michael Clayton." Although his screwball football comedy "Leatherheads" flopped, he's back on top with two new comedies, "Up in the Air" and "Men Who Stare at Goats."
(NBC Universal)