11 Images
Who roots for the 'Idols'?
"American Idol" is a singing competition, a national phenomenon, the most successful show on television, and at its heart, an election. The candidates may be called contestants, but they are all vying to win the title of "American Idol" in the same way that a bevy of Democrats are currently vying for the title of President of the United States. And like these political candidates, "Idol" candidates will be chosen not only based on who will do the best job, but by the size of the constituency to which they appeal.
(Phil McCarten / AP)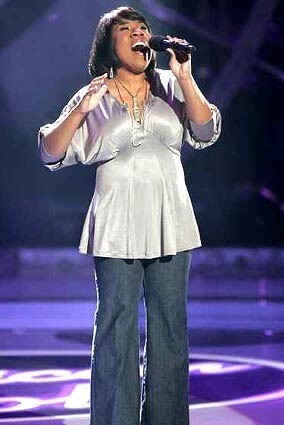 Melinda Doolittle: the over 25 Set
Melinda Doolittle is the most talented contestant on the show. Does that mean she will win it? Not necessarily. She's not sexy or edgy. She's not young or hip. Her only hope is that while the show's young fans choose between Sanjaya and Chris Richardson, Blake and Jordin, their parents who are watching with them privately send in a call or 5 for Doolittle. She's the adult choice.
(Fox)
Lakisha Jones: being too good
We do not predict great things for Kiki Jones, even though we do think she's awfully talented. All she brings to the table is her massive voice and surprisingly compelling stage persona, which should be enough, but isn't. She's not "likeable" and as all political candidates know, it's not how good you are that gets you elected. It's whether the voters think you'd be cool to hang out with. Jones will have to show a softer side if she wants to have any hope of winning.
(Fox)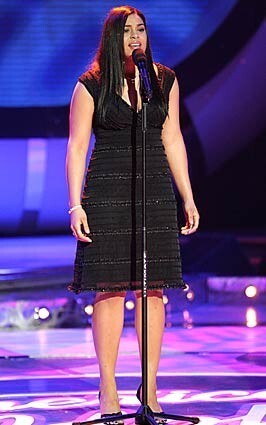 Jordin Sparks: the Average American
Sparks has the ability to win this thing. Like any great candidate she will persevere not because she appeals to one constituency in particular, but because she is so inoffensive that she wouldn't not appeal to anybody. Sweet, young, pretty, talented. This girl has "American Idol" written all over her.
(Fox)
Blake Lewis: boy band fans in the know
Lewis is no longer splitting the boy band fans with Chris Richardson. He is a good dancer, and he can do that beat box thing. His best bet is to keep his performances young and interesting.
(Fox)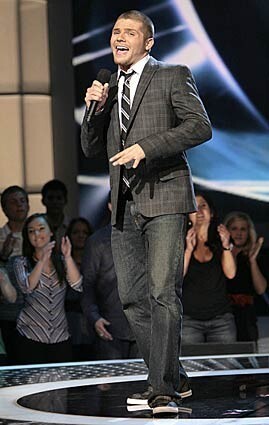 Chris Richardson: the all American girl
Chris Richardson found himself in the bottom three last week even as the judges praised his stripped down acoustic performance. He's going to have to try a different tact this week to keep the boy band girls from siding with Blake Lewis. More booty shaking might help, but he'll have to walk a fine line. It's his clean-cut image that can help him slide ahead of the more talented Lewis.
(Fox)
Gina Glocksen: the Hot Topic Crowd
There are a lot of kids in the suburban wasteland of America with dyed hair, body piercings, chain necklaces they bought at the mall and a CD shelf filled with Avril Lavigne and Good Charlotte albums. Those kids are voting for Gina Glocksen. Are there enough of them though? Only time will tell.
(Fox)
Sanjaya Malakar: vote the worst and tweens
He may be the least talented person in the top ten, but Malakar has two voting constituencies that could take him far. His wide smile, pretty looks, and shaggy do have earned him a following with the budding tween set, and his laughable vocal stylings have inspired him to be this year's pick for the vote-the-worst component. If he keeps smiling and singing poorly he may go straight to the top.
(Fox)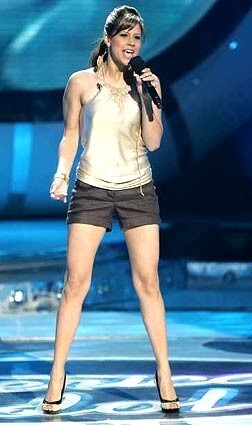 Haley Scarnato: Big Tex and Sex
The hometown/home state vote is not to be discounted, which means if you come from a mega state like Texas it is going to help your numbers big time. And the lovely Miss Scarnato is a Texas native through and through. Wearing a skimpy outfit like she did last Tuesday also helps. More backless tanks and an extra twang in her voice will keep Scarnato singing.
(Fox)
Phil Stacey: the military
Presidential hopefuls need to start planning their campaigns years in advance, amassing the appropriate sympathetic life experiences, remaining neutral on most issues, keeping drug use and affairs to a minimum (or at least very, very private). Similarly, Phil Stacey's first step to an "American Idol" bid came when he signed up to join the military after 9/11. Who cares if his performances are mediocre at best? He's positioned himself as the biggest patriot of the bunch and has got the military vote. We expect it will take him far.
(Fox)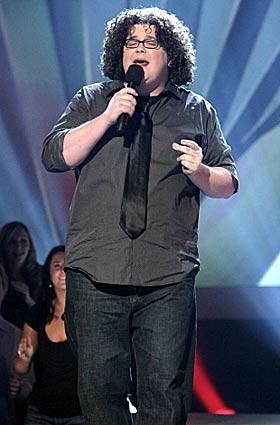 Chris Sligh: the Christian vote
Chris Sligh has managed to stay out of the bottom three thus far because he is a hardcore Christian. He's the son of missionaries, educated at a fundamentalist university, the whole shebang. And as we learned from our most recent presidential election, having the Christian vote is extremely valuable. What's difficult is keeping it. There have already been rumblings in the Christian community that Sligh's song choices are not Christian enough.
(Fox)