12 Images
Don Hewitt | 1922-2009
Don Hewitt, left, and Walter Cronkite hold an informal meeting in 1958 before an evening broadcast of the CBS news.
(CBS)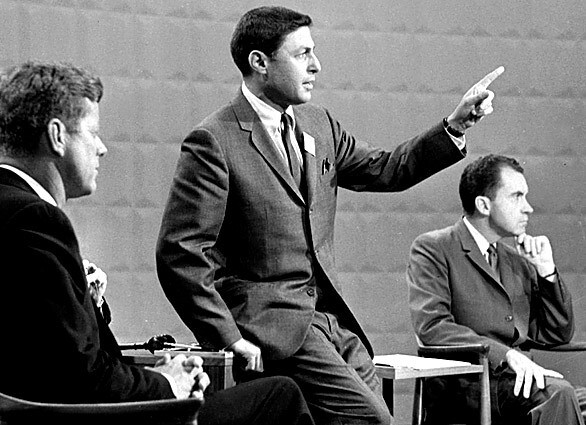 FILE - In this Sept. 25, 1960 file photo originally released by CBS, Sen. John F. Kennedy, second from left, CBS' Don Hewitt, second from right, and Vice President Richard M. Nixon, right, take part in the presidential debate. Hewitt, 86, the newsman who invented "60 Minutes" and produced the popular newsmagazine for 36 years, died, according to CBS. (AP Photo/CBS Photo Archive) ** NO SALES **
(CBS)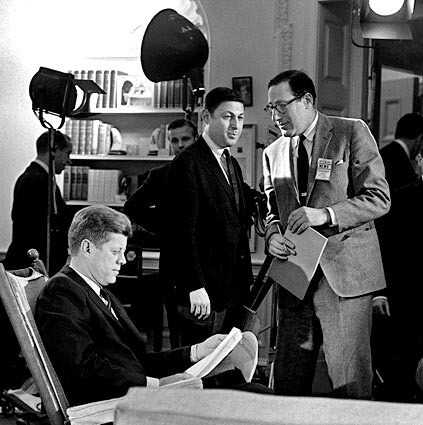 Executive producer Fred W. Friendly, right, and director Don Hewitt prepare President Kennedy for "A Conversation with the President," in which JFK reviewed the first two years of his presidency. The interview was filmed at the White House and then broadcast on Dec. 17, 1962, on all three networks.
(CBS)
Hewitt was creator and executive producer of "60 Minutes," which debuted in the fall of 1968 with correspondents Harry Reasoner, left, and Mike Wallace. The show with the ticking stopwatch offered a mix of exposes, human-interest stories and profiles, and spawned a flood of imitators, including ABC's "20/20" and NBC's "Dateline."
(CBS)
Hewitt's numerous accomplishments earned him a place in the Academy of Television Arts & Sciences' Hall of Fame in 1990.
(CBS)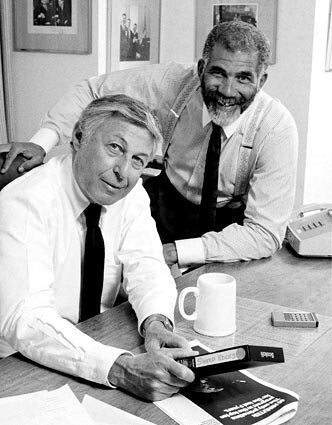 Hewitt and "60 Minutes" correspondent Ed Bradley in 1987. Bradley died in 2006.
(Rene Perez / Associated Press)
The "60 Minutes" team: Andy Rooney, left, Morley Safer, Steve Kroft, Mike Wallace, executive producer Don Hewitt, Lesley Stahl and Ed Bradley pose for photographs at the Metropolitan Museum of Art in New York.
(Mark Lennihan / Associated Press)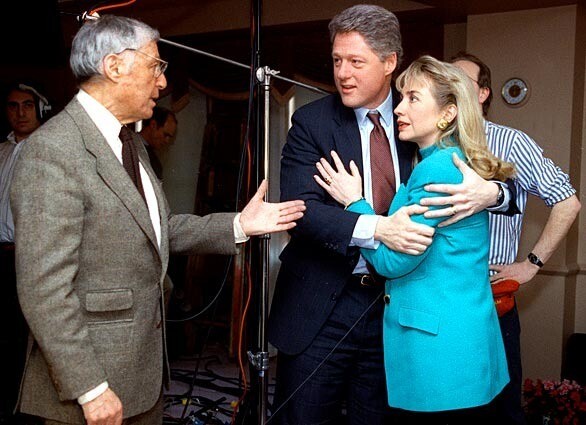 "60 Minutes" Executive Producer Don Hewitt, left, speaks with Arkansas Gov. Bill Clinton and his wife, Hillary Rodham Clinton, moments after a light rig collapsed in a taping during the 1992 presidential campaign.
(CBS Photo Archive)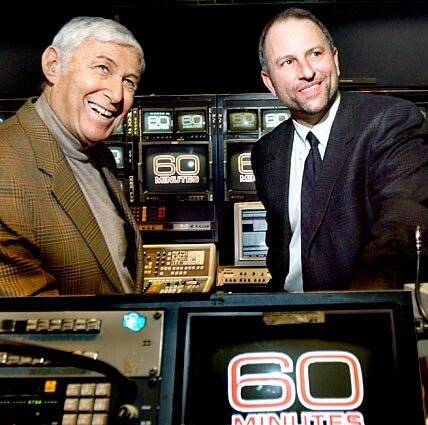 In 2004, 36 years after launching the much-copied "60 Minutes," the 81-year-old Hewitt was forced to turn over the reins to 49-year-old Jeffrey Fager.
(CBS)
Hewitt and his wife, Marilyn Berger, arrive at CBS' 75th anniversary celebration in New York in 2003.
(Louis Lanzano / Associated Press)
Don Hewitt addresses reporters during CBS' winter press tour in Hollywood in 2004.
(Rene Macura / Associated Press)
Bob Schieffer, CBS News' chief Washington correspondent, left, stands under an umbrella with "60 Minutes" creator Don Hewitt after the funeral service for Walter Cronkite at St. Bartholomew's Church in New York on July 23, 2009.
(William Regan / Associated Press)