Standing in 'Defiance' in both game and TV worlds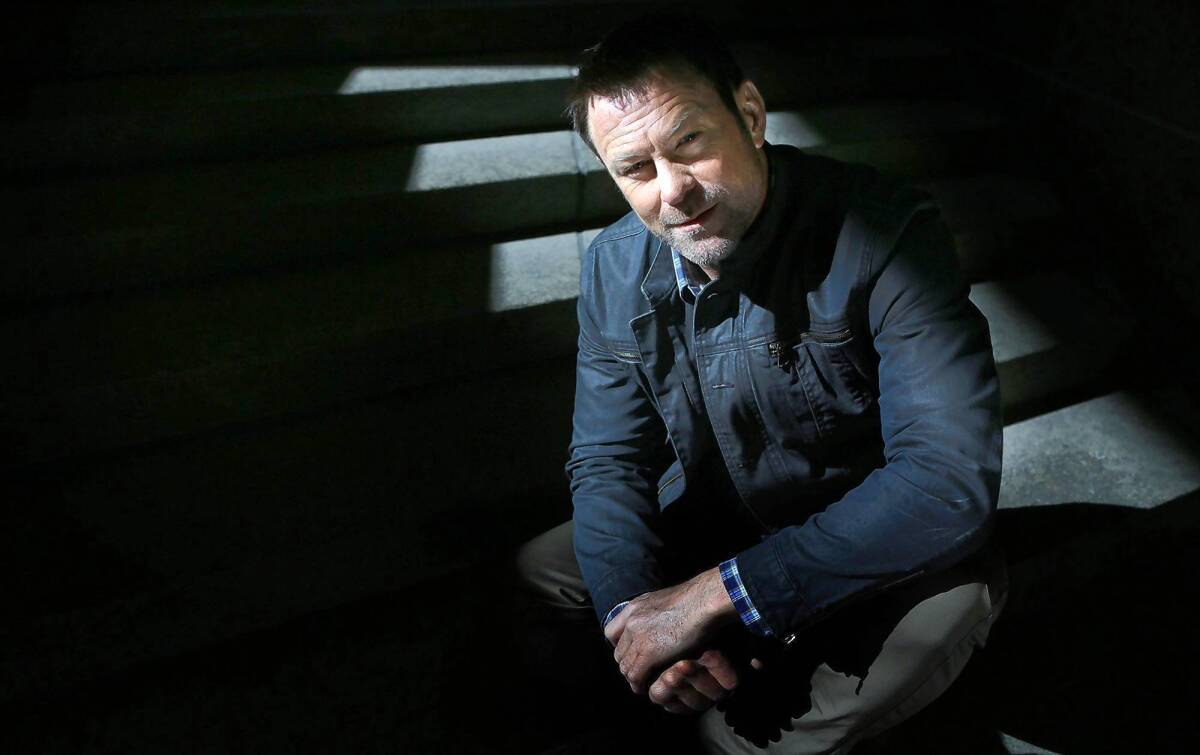 Grant Bowler is a human transmedia experiment.
The rugged star of Syfy's new show "Defiance" is also an avatar in an eponymous massively multiplayer online game that was launched two weeks ago in advance of the show's Monday premiere. Over a period of five years, Syfy worked with video-game developer Trion Worlds to create two windows on the same futuristic world that support one another with characters, weather, battles, plotlines and memes crossing over from one format to the other.
The experiment in intimately linking a television show and a video game has been tried before — the 2004-08 Canadian show "ReGenesis," was an early pioneer — but this joint storytelling venture is the most sophisticated attempt so far. And the success of the multiplatform story built around an American city decades in the future dealing with the arrival of aliens is filled with implications for entertainment.
FULL COVERAGE: Television reviews
"One of the most exciting aspects for me is that occasionally, you can jump into playing the game with a cast member," says Bowler, relaxing on a plush couch inside the Syfy offices on the 14th floor of a building in Universal City. "It's a whole new level of immersion. I just drop in on Twitter and then I'll jump in the game."
The town of Defiance is a rare outpost where all alien species and humans get along fairly well, and as such, it's the target of a variety of evil plots. Bowler plays a bounty hunter and tracker turned lawman named Jeb Nolan. (His sidekick is his adopted alien daughter, Irisa, played by Stephanie Leonidas.)
The game takes place in San Francisco, but the show rolls out in what was once St. Louis. The geographic distinction was deliberate, since the TV show doesn't directly affect the game, nor the game the show. Nevertheless, the crossovers were meticulously plotted and were made to appear organic and as seamless as possible.
"There's a common misconception that this is a choose-your-own adventure, but it's not," says Kevin Murphy, "Defiance's" show runner. "As much as a fan of a TV show might want to dictate what happens in a story, that's not necessarily good for the storytelling process. When you watch 'West Side Story,' you want Tony and Maria to have a happy ending, and if you could vote, you'd have them be together, but the story is better if they aren't."
So instead, says Leonidas, little tricks are played that create the illusion of unity. For example, her character, Irisa, appeared in the video game alongside Nolan before the show's premiere.
"We pull a few cheeky moves with the gamers and then end up in the series," she says. The mission in the game ends with their characters driving away in a car, having a particular conversation. The show then opens with them in the car having the same conversation.
FULL COVERAGE: Video games on Hero Complex
"This became an order of magnitude bigger than either team would imagine," says Trion Chief Executive Lars Buttler of the collaboration between Trion and Syfy. "These are incredible projects if you can pull them off, but they require constant communication."
There were plenty of obstacles to overcome in producing a unified multiplatform story, says Syfy President Dave Howe. The first was uniting the lexicons of the TV and gaming worlds, which by their natures are at odds.
Video games are living, breathing entities that can be constantly changed and updated via gamer feedback — and take years to develop. Their worlds are vast and ever-expanding, and successful games can stay that way for more than a decade.
But television shows are typically developed at a much faster pace. They can be shot, edited and aired in a matter of weeks. And once completed, there's no altering an episode.
Another obstacle was battling the perception in gaming worlds that a video game based on a TV show or movie was just a watered-down spinoff. The marketing campaign for both platforms took pains not to alienate strict gamers or hard-core TV watchers — both the game and show are meant to stand alone as entertainment.
Also, maintaining a sense of cohesion between the worlds was an at times mind-boggling challenge. Syfy hired a "mythology coordinator" whose sole job was to create a massive wiki to help track color palettes, architecture, languages, customs and more.
"It may have taken us five years this time around, but it's not going to take us five years next time," says Howe. "We can apply the same learning to smaller projects."
If "Defiance" is renewed, Season 2 will offer a particularly meta way to take the relationship between the game and the show to a new level.
"I'm intrigued to see what happens once the game is socialized," says Bowler. "They'll establish a type of society, and we can explore that power structure and use it to create commentary to insert into the show. The idea of game politics as social more has never been explored. We're standing on the edge of this thing, and there's no horizon."
----------------------------------
'Defiance'
Where: Syfy
When: 9 p.m. Monday
Rating: Not rated
PHOTOS, VIDEOS & MORE:
Real places, fake characters: TV's bars and eateries
PHOTOS: 'The Ellen DeGeneres Show' through the years
PHOTOS: Violence in TV shows
Get our L.A. Goes Out newsletter, with the week's best events, to help you explore and experience our city.
You may occasionally receive promotional content from the Los Angeles Times.