TV picks: 'Modern Family,' 'Inspector George Gently,' 'Orphan Black'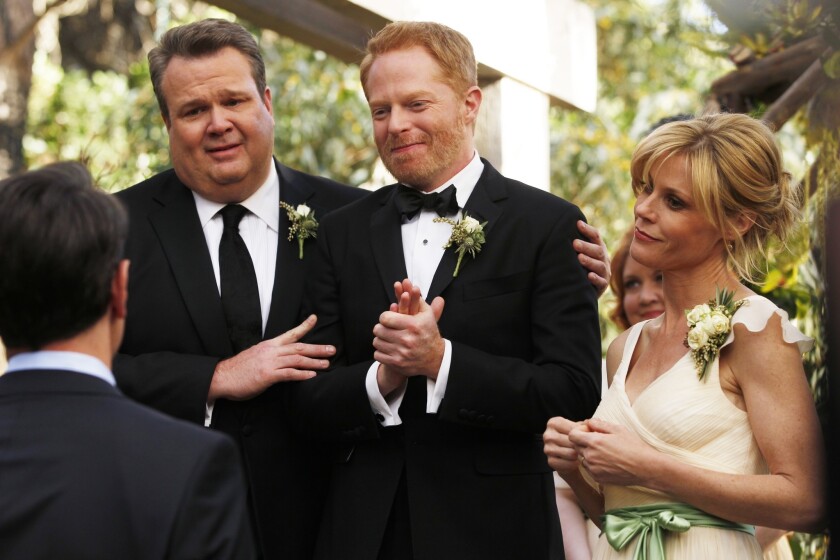 "Modern Family"—There's nothing new about a season-finale wedding, except in this case.
Finishing up a story line that has reflected changing attitudes toward, and legalities of, gay marriage in California and the rest of the country, the show's beloved Mitchell (Jesse Tyler Ferguson) and Cam (Eric Stonestreet) will finally tie the knot.
The road to the altar has not been without peril — all sorts of wedding planning issues have peppered episodes leading up to the second of a two-part finale, including patriarch Jay (Ed O'Neill) having to face his unexpected residual homophobia.
But as with the many real-life topics featured in the hit comedy, the legal status of Mitchell and Cam's relationship has always been dealt with more personally than politically. Like "Cagney and Lacey," "The Cosby Show," "Will and Grace" and so many other shows before it, "Modern Family's" "activism" is of the most basic, and effective, sort: fighting prejudice that is often mostly theoretical and based in ignorance by introducing audiences to the people that prejudice affects.
So the statement of the big crazy wedding is that there is no statement: It's just a big crazy wedding. Which, of course, makes it a much more powerful statement, and something you don't want to miss. ABC, Wednesday, 8 p.m.
"Inspector George Gently"—If you subscribe to the Acorn.tv streaming service — and I encourage you to do so — you will discover an alternate universe of terrific British shows. This is a bad news/good news situation. With so much good television on this side of the pond, the last thing you need is another slew of shows to binge-watch. But then you find a show like "Inspector George Gently" and, well, sleep is pretty over-rated.
Based on a series of novels by Alan Hunter, "Inspector George Gently" follows the adventures of a well-respected chief inspector, played by Martin Shaw. After the murder of his wife, Gently leaves London's Metropolitan police force to solve crimes in the north of England and help the young and overly ambitious Det. Sgt. Bacchus (Lee Ingleby) stay on the straight and narrow.
Set in the 1960s, "Inspector George Gently" deftly combines police procedural with character drama while capturing the shifting sociopolitical landscape of the times. Though a bit gruffer than his historical predecessor, Chief Inspector Foyle, Gently is one of those hard-working, rigorously decent detectives who, even in this age of television plenty, seem to be in such short supply. Acorn.tv, any time.
"Orphan Black"—Season 2 of the sci-fi thriller is even better than Season 1, and if Tatiana Maslany doesn't get nominated for, and win, an Emmy this year, well, the television academy might as well ditch the whole thing.
Sarah (Maslany) and her sister clones get closer to finding the secret of the origins and the motivations of their pursuers, but time is ticking down. Apparently the cloning process is not without defects, as Cosima's worrisome cough proves. If you're not on board, get on board; if you are, just sit tight and enjoy the ride. BBC America, Saturdays, 9 p.m.
---
Inside the business of entertainment
The Wide Shot brings you news, analysis and insights on everything from streaming wars to production — and what it all means for the future.
You may occasionally receive promotional content from the Los Angeles Times.