'Boardwalk Empire' recap: Eddie chooses death; cops kill Frank Capone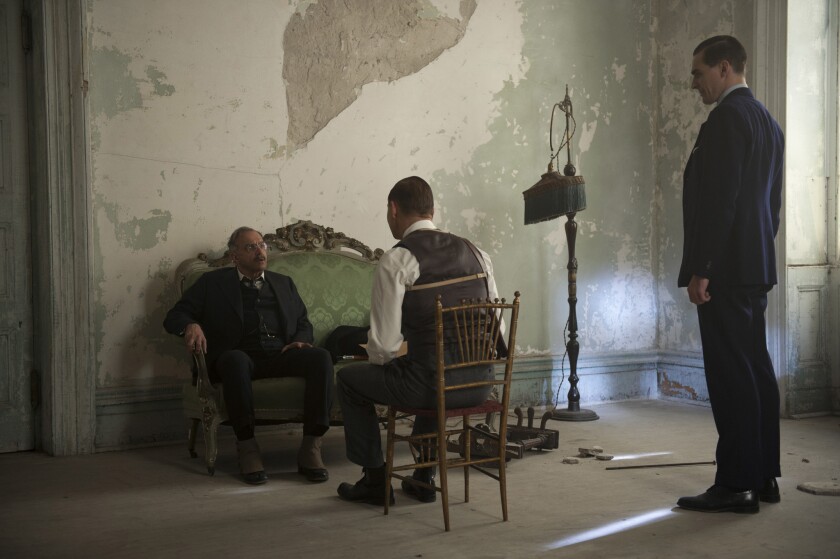 "Erlkönig," Episode 41 of HBO's "Boardwalk Empire," refers to a classic German poem about a father who can't protect his son from a supernatural being.
By contrast, valet Eddie Kessler (Anthony Laciura) protects his estranged sons from further shame. And he shields gangster Nucky Thompson (Steve Buscemi) from the feds by committing suicide rather than turning into a confidential informant.
If Eddie stuck to his valet duties, he'd probably still be alive. But by assuming a greater role in Nucky's criminal enterprises, Eddie draws the attention of zealous Prohibition agent Warren Knox (Brian Geraghty).
"I'm going to own every last bit of you," Warren threatens, punching Eddie hard in the gut.
Warren discovers that Eddie stole money in Germany then abandoned his wife and children by fleeing to America with his mistress. Now Eddie faces deportation unless he rats on Nucky.
"You tell us one little thing, and we're done for the day," Warren assures Eddie, who breaks down in sobs when revealing details of a rendezvous with mobster Ralph Capone (Domenick Lombardozzi).
"See how easy that was," Warren says, promising to see Eddie again real soon.
That won't happen, however, because Eddie pens a suicide note, straightens his tie and stoically jumps out a window.
Also meeting his demise is mild-mannered mobster Frank Capone (Morgan Spector), the only person who keeps hotheaded brother Al (Stephen Graham) somewhat under control.
When the Capones try to influence the mayoral election in Cicero, Ill., by intimidating workers at a Western Electric plant, plainclothes police officers restore order Chicago-style – killing Frank in a hail of bullets. Now grief-stricken, cocaine-snorting Al is hell-bent on revenge.
Another druggie on "Boardwalk Empire" is Gillian Darmody (Gretchen Mol), who desperately ventures into a dangerous section of Atlantic City to score heroin from thug Dunn Purnsley (Erik LaRay Harvey).
FULL COVERAGE: Fall TV preview 2013
"You far from home, Bo Peep," Dunn says to Gillian, who's short on cash.
"Perhaps we could discuss another form of payment," she suggests, offering to trade her body for a fix. "I'm having a difficult day."
Gillian is also desperate to regain custody of her grandson Tommy (Brady Noon). To sweeten her chances of prevailing in court, Gillian tries to seduce the judge. But he resists her charms.
Later Gillian goes to Tommy's school and attempts to take him home with her. But this ploy also fails as she's unceremoniously dragged away by two burly men.
"You can't just bleach me out like a laundry stain," she angrily protests.
Gillian's only hope for emotional and financial rescue is wealthy businessman Roy Phillips (Ron Livingston). But Roy is avoiding her phone calls. And he's found her drug paraphernalia.
"I must repulse you," Gillian says, sadly admitting she's done "the most awful things."
FALL TV 2013: Watch the trailers
"I know about weakness, and I know about sin," replies Roy, apparently willing to continue his nascent relationship with sexy yet troubled Gillian.
As for Nucky, he tries to keep nephew Willie (Ben Rosenfield) out of jail after he accidentally kills Temple University classmate Henry Gaines (Josh Caras) with a homemade potion.
"Who slipped him the mickey?" Nucky asks Willie. "I need to know what's true so we can agree on the rest. Understood?"
It won't be simple to resolve this fiasco, however. The authorities know Henry was poisoned and his wealthy parents demand that someone be punished.
That someone turns out to be Willie's innocent roommate Clayton (Owen Campbell), who's arrested by Philadelphia cops after Nucky bribes the district attorney.
"Whatever occurred, it's over," Nucky tells Willie. "I promise you can live with it."
Just like increasingly corrupt Nucky manages to live with his evil deeds, apparently.
ALSO:
Miley Cyrus can't stop on 'SNL'
Sinead O'Connor vs. Miley Cyrus: The saga continues
'SNL' gives cable TV some love with 'Girls,' 'Breaking Bad' mentions
---
Get our daily Entertainment newsletter
Get the day's top stories on Hollywood, film, television, music, arts, culture and more.
You may occasionally receive promotional content from the Los Angeles Times.