NBC's 'The Blacklist' marks James Spader as a criminal mastermind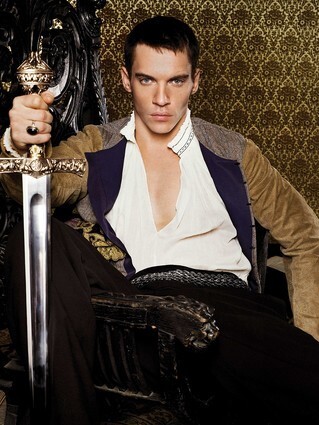 He was lusty, murderous and hungry for power. In other words, His Highness was fun to watch.
(Naomi Kaltman / AP)
NEW YORK — So far James Spader is enjoying the closely cropped hairdo he sports as criminal mastermind Raymond "Red" Reddington in the new NBC drama "The Blacklist." But, he warned recently during a break in filming at Chelsea Piers in Manhattan, "Let's wait till winter."
The shorn look may be a departure for Spader, known among other things for his impressively lush locks, but the character is more in line with the charismatic creeps he's played over the years in films such as "sex, lies and videotape" and "Secretary."
In the pilot episode of the series, which premieres at 10 p.m. Sept. 23 in the plum time slot after "The Voice," Red turns himself in to the FBI, demanding to speak only with rookie profiler Elizabeth Keen (Megan Boone).
INTERACTIVE: Fall 2013 TV preview
Granted immunity, Red shares with the bureau a "blacklist" he's cultivated of the world's greatest unknown criminals — terrorists, mobsters, spies and serial killers who have somehow escaped the notice of law enforcement officials. The pilot, directed by feature film veteran Joe Carnahan ("The Grey," "The A-Team"), offers up at least as many questions as concrete answers: By the end of the hour, Red's intentions and the exact nature of his fixation with Elizabeth remain tantalizingly unclear.
And that, according to show runner and executive producer John Eisendrath, is precisely the point.
"Some pilots end up in hindsight being more like movies with a beginning, a middle and an end. This was better as a pilot because it was almost entirely a beginning," he said.
Four episodes into production and Spader still has a great deal to learn about his enigmatic character — and that's OK with him.
"I'm still doing the same thing I did as a kid. I loved to pretend and run around in the woods and tie up my friends. As a kid when you're out in the field playing that game, it's completely fluid and evolving every second. When the pirates have captured you, all of a sudden the aliens have landed. It could go anywhere. I like that," said the actor. "I like secrets."
FULL COVERAGE: FALL TV Preview 2013
Nearly as elusive (though nowhere near as sinister) as Red is his reluctant partner, Elizabeth, whose new alliance puts her in impossibly perilous situations from week to week.
Case in point: On a recent afternoon Boone sat on set blindfolded and bound, as the character actor Tom Noonan, playing a murderous villain known as "The Stewmaker," thanks to his penchant for dissolving human bodies in acid, injected her character with a lethal concoction. In take after take, Boone shrieks in horror and breaks down, sobbing.
If Elizabeth has it tough, Boone doesn't exactly have it easy either. It's late afternoon and the production won't wrap for the night for nearly another 12 hours.
"It's been a real uphill battle," Boone, a streak of fake blood smeared across her forehead, said of the long hours. "But a lot of the time, the stuff that's worth it cause you the most strain."
As a relative neophyte in the world of series television, she's found something of a mentor in Spader, a veteran of "Boston Legal," "The Practice" and, more recently, "The Office."
"He's so patient and generous and interested in sharing what he knows," she said. "Our relationship is very strangely parallel to the relationship of our characters."
INTERACTIVE: Fall 2013 TV preview
\"The Blacklist" was created by Jon Bokenkamp, a screenwriter known for his work on thrillers such as "The Call" and "Taking Lives." The series originated during conversations between Bokenkamp and executive producer John Fox, who had the idea to center a show around a character who was a "Rosetta Stone of crime."
The team at Sony Pictures Television pitched the project "everywhere," according to Zack Van Amburg, co-president of programming and production at the studio, but NBC "was the right home" for its darker character moments and complex storytelling.
The network, in turn, sparked to the material because "we wanted to tackle a procedural with a big character at the center," said NBC Entertainment President Jennifer Salke.
The series will have a strong episodic element, with each hour focusing on a new criminal from Red's (presumably very long) blacklist. The "villain of the week" conceit allows the show to shift in tone and genre, and provides enticing opportunities for high-profile talent looking to play baddies for a very discrete time frame. (Isabella Rossellini shows up as a Bond-esque villainess in an early episode.)
But it's also a challenge for the writing team to dream up new bad guys every week, ones who are not just evil but who have also managed to escape detection by the Feds. As Eisendrath put it, "It can't just be a run-of-the-mill serial killer."
PHOTOS: Sociopaths on the small screen
Thanks to the central relationship between an earnest young female agent and her sociopathic (tor)mentor, the series has invited early comparisons to "Silence of the Lambs." But according to Bokenkamp, the show they're aiming for is more akin to "The X Files," which successfully balanced episodic storytelling with a larger mythology.
Along with "The Michael J. Fox Show," it's one of two Sony-produced series being heavily touted by the peacock network this fall.
"NBC is in a process of reinvention and to be a part of that is really thrilling and exciting," said Van Amburg.
The feeling, apparently, is mutual.
At NBC's upfront presentation in May, chairman Bob Greenblatt boasted that "The Blacklist" had tested better than "125 NBC drama pilots in the past decade." In a further sign of confidence, the network assigned it the same time slot used to launch "Revolution," last fall's top-rated newcomer.
Of course, a strong lead-in can only do so much. "The Blacklist" will face off against CBS' ambitious new cable-lite series, "Hostages," and ABC's ratings stalwart "Castle."
"There's nothing easy about any of these time slots anymore," acknowledged Salke, who also knows from experience that high preview scores don't always translate to high ratings. "It's fun to see when the test audience loves the show the way you do, but you've got to look at it with a measured eye. You don't drink the Kool-Aid."
A wise idea, especially when Red's around.
---
The complete guide to home viewing
Get Screen Gab for weekly recommendations, analysis, interviews and irreverent discussion of the TV and streaming movies everyone's talking about.
You may occasionally receive promotional content from the Los Angeles Times.