How'd Chris Rock do? Critics (mostly) liked his Oscars performance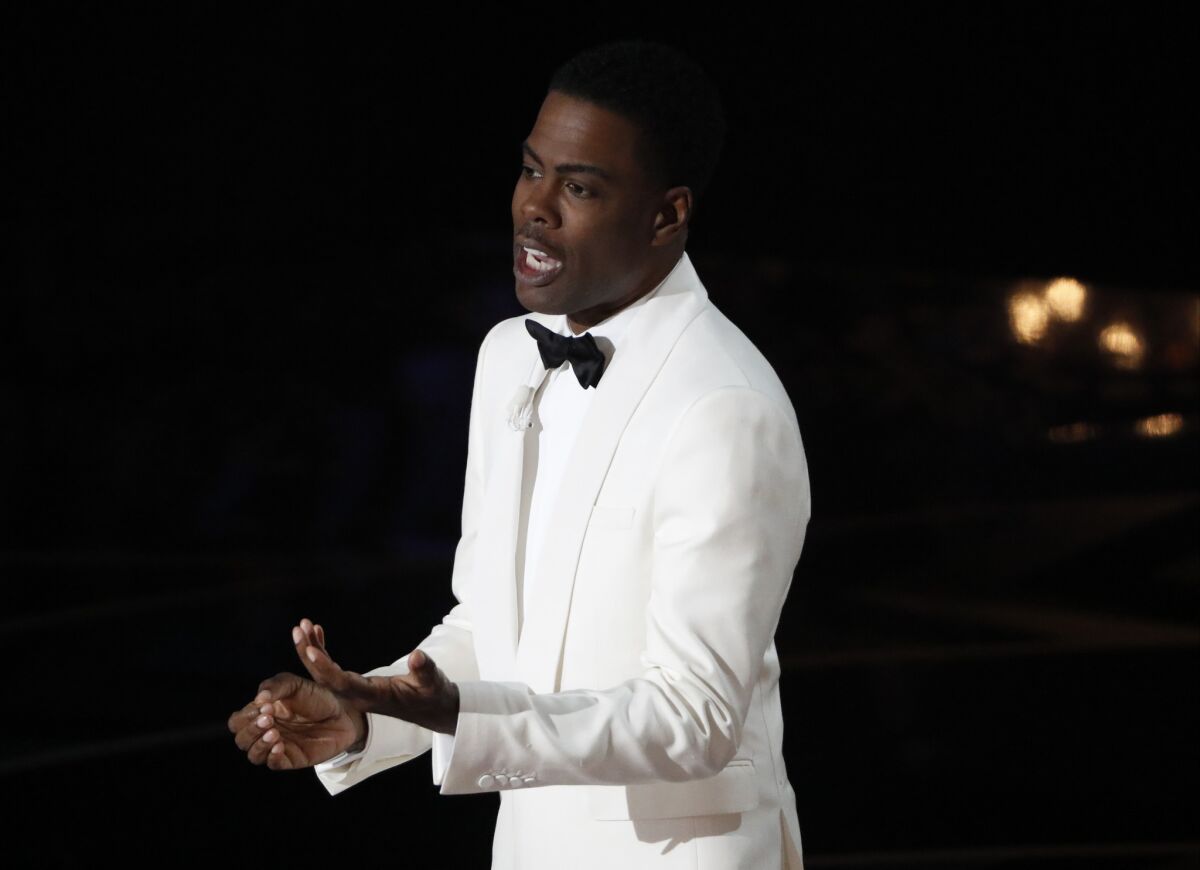 One of the most urgent questions going into Sunday's Academy Awards ceremony was just how host Chris Rock would handle the gig, and particularly how he would address the ongoing #OscarsSoWhite controversy.
Rock, a comedian known for his provocative take on race, tackled the issue head-on, opening the 3 1/2-hour telecast with a 10-minute monologue that bluntly declared Hollywood racist, albeit in a "sorority" rather than "burning cross" way." He also returned to the subject repeatedly throughout the evening, with some bits landing more successfully than others.
OSCARS 2016: Full coverage | List of winners/nominees | #OscarsSoWhite controversy
Critics generally praised Rock for addressing the issue so directly, even if not all the jokes worked. Here's a look at reactions:
Rock's performance was uneven but still praiseworthy for calling out Hollywood hypocrisy
Writing for The Times, television critic Mary McNamara argued that although Rock didn't land every joke, he encouraged a bit of reflection on what is typically a night for the film industry to pat itself on the back. "For all its flaws, Rock's Oscars had some of the most powerful moments seen in the telecast's history. His decision to honestly answer the question 'Is Hollywood racist?' was brave and effective," she said. "If Hollywood believes, as it should, that film is a medium of truth-telling and a catalyst for change, then moments of self-examination should occur at least as often as those of celebration."
Rock was the right host for the right year
New York Times TV critic James Poniewozik noted that having Rock, who was hired before the diversity flap began, emcee the ceremony "was a lucky pairing of host and subject." His performance was "evenhanded without being wishy-washy" and represented "an example of something the industry is still trying to learn: that you can achieve both inclusion and entertainment by giving the right person just the right opportunity."
That being said: What was with the bizarre appearance by Stacey Dash?
If you found yourself cringing (or just scratching your head) at the cameo by Stacey Dash, you weren't alone. Echoing the sentiments of many, McNamara wrote that "the evening's oddest moment was Rock's introduction of Stacey Dash as the academy's new head of outreach. The bit left many baffled and reaching for Google."
But even if you'd followed the controversy surrounding the actress and Fox News commentator, who recently called for an end to Black History Month, it was hard to tell what the intended effect of the joke was, beyond making everyone -- especially model Chrissy Teigen, whose cringing reaction instantly sparked a meme -- really uncomfortable.
... and the Asian jokes?
Many observers were put off by a gag in which Rock introduced "accountants from the firm PricewaterhouseCoopers" who turned out to be Asian chidren -- a not-so-subtle play on stereotypes about Asian people's math abilities. But Rock took it a step further: "If anybody's upset about that joke, just tweet about it on your phone, which was also made by these kids."
Writing for Vulture, Dee Lockett called the joke "tone-deaf" and an "egregious oversight" in a ceremony in which race figured so prominently. The joke at the expense of another minority group under-represented in Hollywood reflected "the mistake of conflating #OscarsSoWhite with a black/white binary," said Daniel Fienberg of the Hollywood Reporter.
And, well, maybe Rock could have talked about something else
Some critics though Rock could have mixed up his repertoire a bit, instead of revisiting the subject of race throughout the broadcast. "It would have been wiser to return to it sparingly -- certainly by having Rock revisit those theaters in Compton and interview African American film-goers, a highlight of his earlier hosting stint stint and this one. But the producers didn't stop there, going back to diversity with mixed results, in a reasonably clever taped piece that involved inserting black actors into nominated films and a 'Black History Month' bit that fell flat," said Brian Lowry at Variety.
The show's biggest flaw had nothing to do with Rock
"The problem with the Oscarcast is simple and constant: It's too long," wrote Poniewozik. "The show ran over three and a half hours. This year's longest best picture nominee, 'The Revenant,' clocks in at 2 hours and 36 minutes. Why should the academy ask its audience to sit longer than that?"
Follow @MeredithBlake on Twitter
ALSO
Chris Rock was right, this year the Oscars really were a little different
Three reasons why 'Spotlight' walked away with the Oscar for best picture
Chris Rock's hot mess of an Oscars show: powerful, confounding, possibly revolutionary
Get our L.A. Goes Out newsletter, with the week's best events, to help you explore and experience our city.
You may occasionally receive promotional content from the Los Angeles Times.