Uzo Aduba was last winner to address the press room. Here's what she said.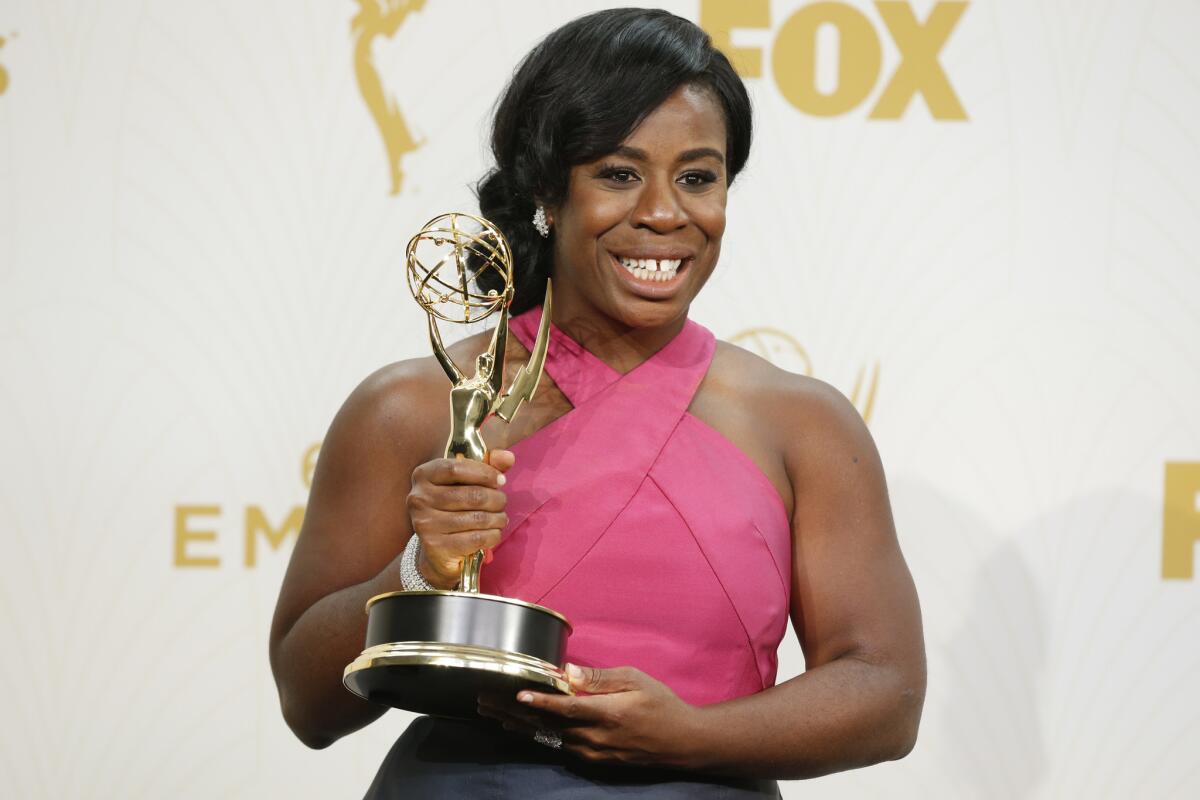 For the second year in a row, actress Uzo Aduba took home the Emmy for her role as Suzanne "Crazy Eyes" Warren in "Orange Is the New Black."
But one little twist: She won the trophy for the same role, in a different category. Last year, Aduba won for outstanding supporting actress in a comedy. This year, the Netflix show was categorized as a drama. Aduba still got the nod.
The actress also helped make history. Aduba, Viola Davis and Regina King's Emmy wins, three victories for African American actresses, ties a record set in 1991 for most acting Emmys awarded to black women in a single year.
FULL COVERAGE: Emmys 2015
Aduba was the last winner to address the press room after the ceremony on Sunday night. Here are some excerpts of what she said:
On being a two-time winner:
"It feels overwhelming. It's incredibly humbling, especially when I think back to the beginnings of this moment and the genesis of it all...I just feel sprung with gratitude. I just want to consistently express my thanks."
On her celebration plans:
"I will be celebrating with my cast; a lot of us are here tonight, we like to dance. Go Team Orange! And my family and my friends are here as well; we'll be hitting a couple of spots."
On walking the red carpet:
"Some parts of me feel more at ease, but I still feel that bubble in my stomach -- the butterflies come. I hope that never goes. I hope that never leaves me. That's where my spirit lives, where my joy and excitement comes from."
On television creating dialog about social issues:
"I think art that has any social context wrapped around it has the ability to affect social change. 'Orange Is The New Black'...creates a conversation space. It provides a forum for discussions such as mental illness, gender issues..."
On showrunner Jenji Kohan:
"She's such a steady light on our show and a guide. She's more than just creator, executive producer, writer -- she's a spirit force on our show that's very settling for all of us. It felt extra special to give her that thanks that she so deserves and that I feel daily for her tonight, with her, live."
For more news on the entertainment industry, follow me @saba_h.
Get our L.A. Goes Out newsletter, with the week's best events, to help you explore and experience our city.
You may occasionally receive promotional content from the Los Angeles Times.