'Fear the Walking Dead' recap: Are zombies evil or just misunderstood?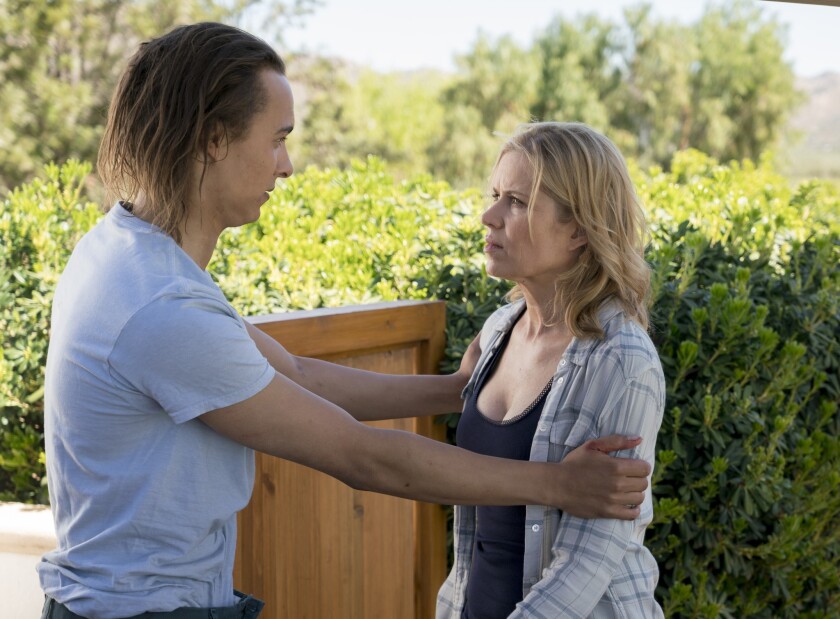 Assuming for a moment that zombies are real, what is their essence? Are they evil, flesh-eating monsters? Or are they misunderstood humans in a different form?
"Monsters" is the typical answer. Strongly disagreeing, however, is Celia Flores (Marlene Forté) of AMC's "Fear the Walking Dead."
According to this housekeeper at a sprawling Baja compound, zombies are evolved people "who can't control their natures."
Therefore, when Nick Clark (Frank Dillane) brings home Celia's zombified son Luis (Arturo del Puerto) in the midseason finale ("Shiva"), Mom is elated. He's still Luis, she says. Changed, yes, "but no less my son!"
Nick's instant bonding with Celia and reckless behavior around zombies alarms his mother, Madison (Kim Dickens).
"You're different, ever since we left L.A.," Maddie says to Nick. "I don't understand this fascination you have with them, with the dead."
"You're talking like I'm using again," protests Nick, a recovering heroin addict.
And as for zombies, they can't touch him, Nick claims.
"I move among them, Mom. Invisible. I will not die!"
Because Celia admires Nick, she allows his blended family to remain at the compound, along with Daniel Salazar (Rubén Blades) and daughter Ofelia (Mercedes Mason).
However, Victor Strand (Colman Domingo) — who transported Maddie and company to Mexico aboard the "Abigail" yacht — must leave.
That's because Victor shot zombie-bitten Thomas Abigail (Dougray Scott), whom Celia cared for since he was a child. Victor promised Celia he'd die with Thomas in a suicide pact, but changed his mind.
The truth, Celia angrily says, is that Victor looked deep inside where his soul should be and "found it empty!"
Later, Maddie confronts Celia for banishing Victor and filling Nick's head with crazy ideas.
"He understands," Celia says of Nick, that "the changed ones" are our responsibility.
When Maddie indicates she also wants to understand, Celia leads the way to a wine cellar where Luis and other zombies are caged. These are her children, Celia insists, and she'll stop at nothing to protect them.
Likewise, Maddie will stop at nothing to protect Nick and his sister Alicia (Alycia Debnam-Carey). So Maddie tricks Celia by locking her in the cellar with that undead "family."
Meanwhile, Maddie's boyfriend, Travis Manawa (Cliff Curtis), searches for his son Chris (Lorenzo James Henrie). This emotionally disturbed teenager fled the compound after threatening to harm Maddie and Alicia.
When Travis finds Chris, he won't budge.
"I see the way they look at me, like I'm disgusting," Chris exclaims. "Like I'm a monster!"
Now Travis faces an excruciating dilemma. Will he rejoin Maddie? Or will he stay with Chris? Travis chooses the latter.
Chris needs his father, Travis tells Nick when he arrives to retrieve them both. So as far as Maddie knows, "you never saw us," Travis says.
As for Daniel, he slips further into mental illness, haunted by his misdeeds in El Salvador. After attacking farmhand Jorge (Ramón Medina), Daniel is tied to a chair for his own protection.
Wildly hallucinating, Daniel sees the ghost of his deceased wife, Griselda (Patricia Reyes Spíndola). She urges Daniel to kill that "demon" Celia.
"For Ofelia," Griselda says. "For me. For your soul!"
Daniel acts quickly. He frees himself after head butting Jorge, pours gasoline into the zombie-filled cellar and ignites a conflagration that consumes the compound.
Are Daniel and Celia still alive? Unclear, but don't bet on it.
Amid the chaos, Victor steals a pickup truck so he can escape with Maddie, Alicia, Ofelia and Nick to the "Abigail" anchored offshore.
Nick refuses to leave, however, despite Maddie's frantic pleas.
"Celia, she knew what we are," Nick bitterly says. "We destroy everything!"
ALSO:
'Outlander' recap: Claire loses Faith
'Game of Thrones' recap: What does 'Hodor' mean? Now we know
'Fear the Walking Dead' recap: Promise and peril coexist at Baja compound
---
From the Emmys to the Oscars.
Get our revamped Envelope newsletter, sent twice a week, for exclusive awards season coverage, behind-the-scenes insights and columnist Glenn Whipp's commentary.
You may occasionally receive promotional content from the Los Angeles Times.