In 'Lucky 7,' the lives of a more ordinary number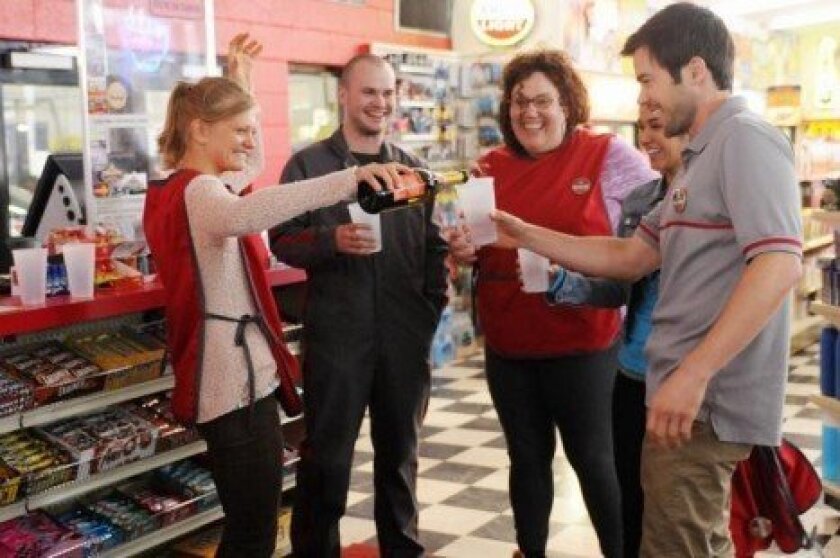 TORONTO — Modern television dramas are filled with all kinds of fantastical characters you'll probably never meet in real life — turncoat FBI agents, throne-seeking knights, superhero crime fighters.
What it may not have enough of, at least according to the producers of "Lucky 7," is everyday types dealing with everyday problems.
"There are so many people you don't see anymore on television, real people with real lumps, people you might have once seen on 'Taxi' or 'All in the Family,'" said Jason Richman, one of the show's creators and executive producers. " Where are those people?"
PHOTOS: Hollywood Backlot moments
Richman and his team aim to answer that question with "Lucky 7," a series executive produced by Steven Spielberg and based on a British show called "The Syndicate," that seeks to tell the foibles and problems of ordinary folks (with a bit of a prime-time twist, of course).
Debuting Tuesday at 10 p.m on the same night and network as Joss Whedon's less grounded (in more ways than one) "Marvel's Agents of S.H.I.E.L.D.," the show centers on the titular seven, workers at an Astoria, Queens, gas station. It's a group of people who are just trying to get by when they find the vector of their lives changed by a winning lottery ticket.
One might expect a soapy mix of new wealth and "Revenge"-esque drama to kick in. But "Lucky 7" moves determinedly in another direction. Matt (Matt Long) lives in his mother's house with his girlfriend and child and must navigate familial claustrophobia even after the money comes. Leanne (Anastasia Phillips) is a single mom facing family challenges of her own. The mechanic Antonio (Luis Antonio Ramos) is dealing with the fact that he didn't go in on the ticket. Samira (Summer Bishil) faces questions of an arranged marriage from her immigrant Pakistani parents that don't change much after she hits pay dirt.
"There are a lot of shows where the lottery would become the thing," said David Zabel, the "ER" veteran who created the show with Richman, also his partner on the short-lived "Detroit 1-8-7." "But we saw it as the Trojan Horse to get the show on a network, a delivery system for characters who are working people."
On a recent afternoon on the show's downtown Toronto soundstage, those proletarian aspects are on display.
AS the cameras roll, Bishil's character is locked in a battle with her parents over the Pakistani doctor they want her to marry. She, however, has fallen for ex-con and fellow gas-station lottery winner Nicky (Stephen Louis Grush).
ON LOCATION: Where the cameras roll
As it happens, both the suitor and Nicky are coming over to Bishir's parents home on the same night. Things quickly get uncomfortable.
"There's a racial tension and a class tension, and just because all of a sudden I won the lottery and show up in a nice suit doesn't change the circumstances that are already there," Grush said of his ruffian character. He added, "What we're showing is what money can't buy. It can't change your mind about people, can't change your ideas about race, can't change who you fall in love with.'
Indeed, though it offers a temporary euphoria, a cash infusion rarely seems to be the answer for characters in "Lucky 7." Instead it opens up rifts with family members, creates new demands or simply stirs a sense of envy for a simpler life. (The show is inspired by studies indicating that lottery winners are rarely happier after their windfall.)
Said Phillips: I don't think we want to say 'more money, more problems,' because it's not that simple. But I do think money heightens issues that are already there,"
FULL COVERAGE: Fall TV preview 2013
To give it a realistic feel, producers set about casting a more workaday group of actors — "not those who are on the lists for pilots circulating every year," Zabel said.
Among them is Grush, a Steppenwolf Theatre veteran; Ramos, a Bronx, N.Y., native who's mostly toiled in off-Broadway theater; and Lorraine Bruce, am effusive English actor who was in the original "Syndicate."
Perhaps the most recognizable prime-time face is that of Long, known for on-and-off work in several network shows — and he was cast at the last minute. "It is a little strange to be the prime-time veteran around here," he said drolly.
Writers also set the show at a gas station in Astoria, a place that is not only working-class but diverse. On the soundstage, a maze of carefully designed rooms, suggest the kitchens, bedrooms and family dens of people defined — and sometimes hemmed in — by their geography.
"I think Astoria has more languages per square mile than anywhere in the world, which was perfect for us," Richman said. "As opposed to most shows set in Manhattan, Astoria is different. There's this kind of Oz City right across the river that's somehow unattainable to people who live there."
PHOTOS: Celebrities by The Times
Bruce said that to research her new role she walked the streets of Astoria on an eavesdropping mission. "I was struck by the rhythms and speech patterns. Someone might say something to his friend and he says something back and then they go back again, and it's all just to say 'How are you doing?' (Despite the Astoria color, tax incentives ruled the day, prompting the show to be shot north of the border.)
Bruce provides a link to "The Syndicate," a show from British creator Kay Mellon that took a slightly different approach. That series used its five-episode seasons to focus on a different character in every episode and then replenishing the stock the following season. "Lucky 7" mixes and mingles all the characters in one episode and aims to continue following them if it is picked up for future seasons.
The American version also gets a boost from a notable Yank — Richman said that Spielberg has been watching dailies and involved both in note-giving and approving members of the cast and crew.
Writers and cast are conscious of the challenges "Lucky 7" poses. Much of hourlong television these days is centered on more high-concept problems — even gritty cable dramas such as "Breaking Bad" and "Homeland" drop their characters into more heightened surroundings. "Nashville," arguably ABC's most grounded drama, takes place in the stylized cocoon of the country-music industry.
FALL TV 2013: Watch the trailers
And those network shows that are set in the ordinary worlds of hospitals and law firms tend to feature a shiny, well-scrubbed cast — ABC is a prime practitioner of this with shows like "Private Practice."
"These are not the characters you normally see on ABC, or on television in general at most points after the 70's or 80's," Zabel said.
That, of course, ups the ante. If the characters and their dilemmas aren't compelling, we're not left with much else to hold on to; at least with "Scandal" there's the, well, scandal. (Early reviews on this front have been mixed. Variety said that "Lucky 7" "almost immediately lurches into melodrama, spinning off multiple plot threads but few that seem worth following.")
Still, those working on the show say the premise has its advantages. Much of prime-time network TV is indeed aspirational, they allow. But they believe that in the show's mix of races, demographics and emotional and economic challenges, they have covered such a broad base there will always be a way in.
"Our hope is that everyone will be able to see themselves in at least one character on the show," Richman said.
Ramos makes the point more finely. "Dick Wolf pulled from the headlines with 'Law and Order,'" he said. 'Lucky 7' pulls from America."
ALSO:
CBS' 'Hostages' seeks to capture audiences as cable does
Emmys 2013: Why those TV ratings weren't as great as you heard
Follow me on Twitter at https://twitter.com/ZeitchikLAT
---
Inside the business of entertainment
The Wide Shot brings you news, analysis and insights on everything from streaming wars to production — and what it all means for the future.
You may occasionally receive promotional content from the Los Angeles Times.