11 Images
Stories that leapt from big to small screen (and vice versa)
From film to TV, and vice versa | 'Veronica Mars'
The beloved fan favorite TV series "Veronica Mars" finally made its much-heralded return, this time on the silver screen. Thanks to overwhelming fan support via a Kickstarter campaign last year, everyone's favorite teen (now young adult) sleuth is back on the case. While the phenomenon of TV properties making the leap to the big screen -- and vice versa -- isn't unique in Hollywood, it is rare for the entire original cast to make the leap between screens. But the graduating class of Neptune High does join a small but elite group of casts. See who else made the leap.
(Robert Voets / AP)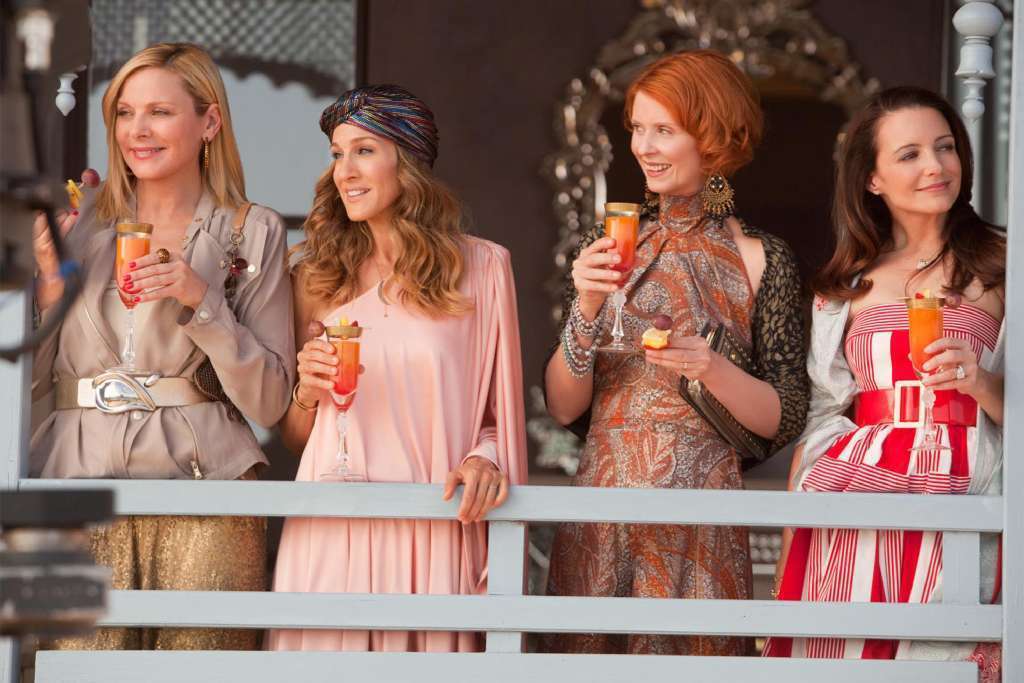 'Sex and the City'
Author Candace Bushnell launched a wealth of possibilities when she penned a collection of essays for the New York Observer titled "Sex and the City." The tales were based on her ever-changing sex life and those of her friends. Bushnell then took her columns and published them in a book of the same name. That's when HBO spun the stories into a television series starring Sarah Jessica Parker as super stylish journalist Carrie Bradshaw, Kim Cattrall as sexually confident Samantha Jones, Kristin Davis a hopeless romantic art dealer Charlotte Goldenblatt and Cynthia Nixon as whip-smart lawyer Miranda Hobbes. Over the course of six seasons, there were enough storylines to give a whirl to topics like femininity, promiscuity, safe sex and sexuality.
Then came the jump to the big screen in not one but two movies, in 2008 and 2010. And maybe even a third. What's more, Bushnell's "Sex and the City" gave rise to a prequel series of novels based on a younger Carrie Bradshaw titled "The Carrie Diaries." The novels were then adapted into a television series on the CW of the same name. Twice as nice for Ms. Bushnell.
(Craig Blankenhorn / New Line Cinema)
'Strangers With Candy'
Created as a spoof of the 1970s and 1980s after-school specials, "Strangers With Candy" chronicled the life of Geraldine "Jerri" Antonia Blank (Amy Sedaris), a 46-year-old ex-con, ex-drug addict and ex-prostitute who returned to high school as a freshman, hoping to begin her life anew. Along with Sedaris, Stephen Colbert and Paul Dinello rounded out the cast. The trio were also the creators and writers of the 1999 to 2000 series, one that amassed stalwart viewers and became a top cult show. Years later, Sedaris, Colbert and Dinello collaborated on the satirical book "Wigfield." As they wrote, they continued to come up with funny "Jerri Blank" material. Alas, a movie was made in 2004 by the same name.
(Think Film)
'Twin Peaks'
When David Lynch and Mark Frost's eerie mystery soap opera was canceled in 1991, fans had learned the identity of Laura Palmer's murderer but little else. Which made Lynch's decision to bring the cast back to the big screen for a prequel all the more infuriating. The 1992 film "Twin Peaks: Fire Walk With Me" was both a critical and box office disappointment. Who cared how Laura Palmer spent the last days of her life when Agent Cooper was still trapped in the Black Lodge? Still, in the obsessive world of "Twin Peaks," even a little was better than nothing.
(Kimberly Wright / Lynch Frost Productions)
'Young Indiana Jones Chronicles'
Executive producer George Lucas intended this spinoff series to educate American audiences on world history more than thrill them with exciting stunts, which may be why relatively few tuned into the series when it aired on ABC and later ABC Family. Still, the series did stick to the same chronology of the films and Harrison Ford himself appeared in one episode, as a bearded, older Indy, looking back on his youth.
(Paramount Home Entertainment)
'Firefly' and 'Serenity'
"Firefly," Joss Whedon's space western series that aired on Fox in 2002, chronicles the misadventures of Capt. Malcolm Reynolds (Nathan Fillion) and his ragtag crew as they scavenge and steal to keep their bucket-of-bolts spaceship Serenity afloat. Fox canceled the show short of a full-season run, but the feature-length sequel "Serenity" hit theaters in 2005, largely because of relentless support from singularly devoted fans who call themselves "Browncoats" after the former resistance soldiers in the series. Though the film was highly anticipated and critically praised, it performed poorly at the box office.
Nevertheless, the short-lived series and its movie sequel have become cult darlings, and the cast reunited for a 10th anniversary panel at San Diego's Comic-Con International in 2012. There, a tearful Whedon thanked more than 4,000 fervent fans, many of whom camped in line overnight. "When you're telling a story, you are trying to connect to people in a particular way,"
he said.
"It's not just about what you want to say, it's about inviting them into a world. And the way in which you guys have inhabited this world, this universe, has made you part of it, part of the story. You are living in 'Firefly.' When I see you guys, I don't think the show's off the air. I don't think there's a show. I think that's what the world is like. I think there's spaceships. I think there's horses. The story is alive."
(Science Channel)
'Star Trek: The Original Series'
What is now a highly successful media franchise about a crew aboard the starship USS Enterprise came from humble beginnings as a sci-fi adventure series that was canceled after three seasons because of low ratings. "Star Trek" creator Gene Roddenberry persuaded Paramount Pictures to continue his story line in film form, which led to six movies featuring the entire original cast.
(Gregory Schwartz / Paramount Pictures)
'Star Trek: The Next Generation'
While the first Trek spin-off "Star Trek: The Next Generation" followed the adventures of an all new starship Enterprise and its crew led by Captain Jean-Luc Picard (Patrick Stewart) on TV, the feature films released while the show was on air focused on the crew from the original series. The seventh film in the franchise, 1994's "Star Trek Generations," serves as a transition movie shifting the focus to the "Next Generation" crew while still featuring characters from the original series. In "Generations," Picard seeks help from Captain Kirk (William Shatner), who has long been presumed dead, to stop a man intent on destroying a star and planetary system to enter an extradimensional paradise. Three more "The Next Generation" films followed: "Star Trek: First Contact" in 1996, "Star Trek: Insurrection" in 1998 and "Star Trek: Nemesis" in 2002.
(Sam Emerson / Paramount Pictures)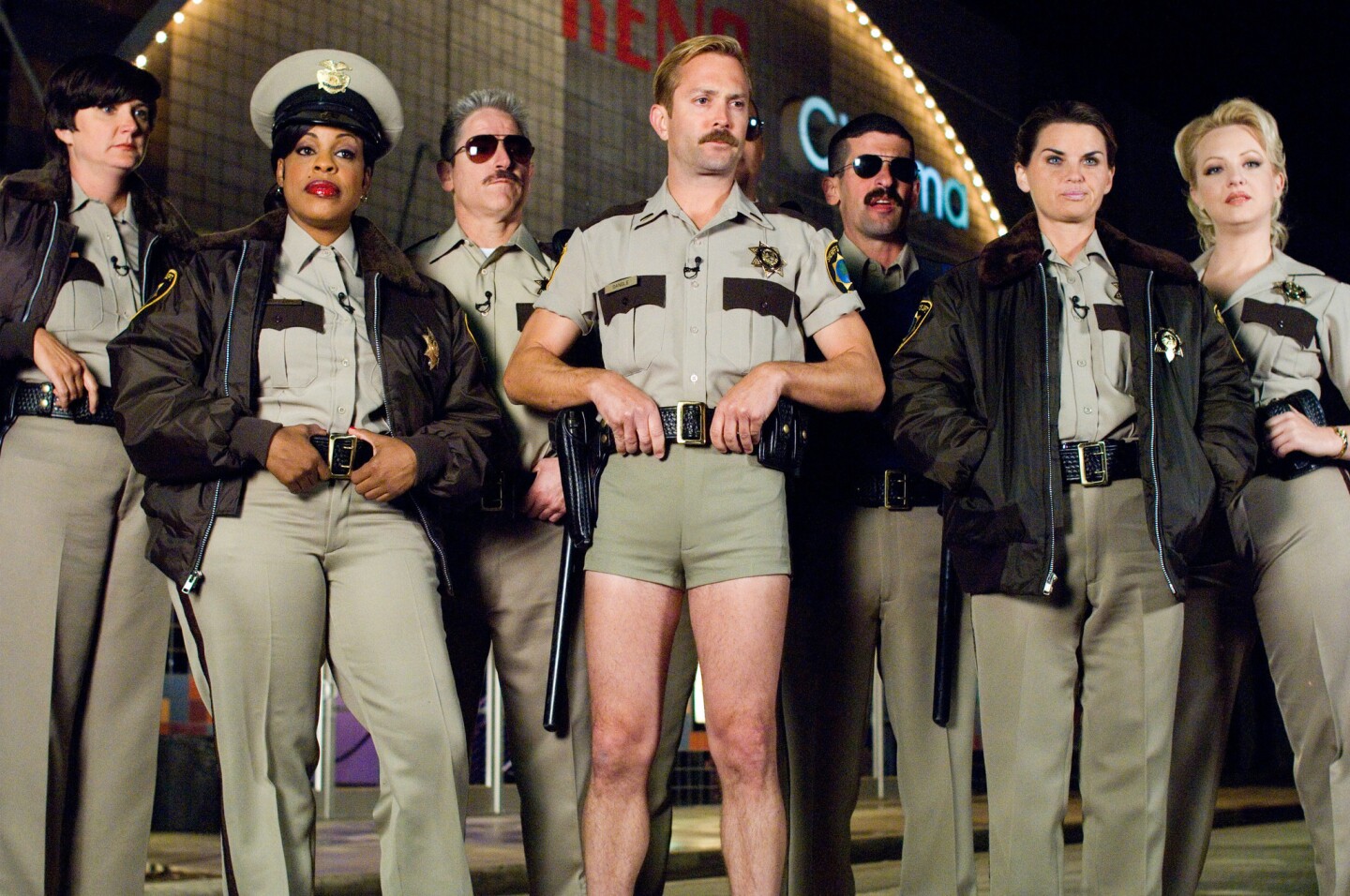 'Reno 911!'
The men and women of the Reno Sheriff's Department are a strange group, transplanted to the big city of Miami as they try to help fight crime when a terrorist attack disrupts a national police convention. Their big ambitions, misconceptions and quirks are on full display. The Comedy Central series, which ran from 2003 to 2009, led to the 2007 film "Reno 911!: Miami." From left: Trudy Wiegel (Kerri Kenney-Silver), Raineesha Williams (Niecy Nash), James Garcia (Carlos Alazraqui), Jim Dangle (Thomas Lennon), Travis Junior (Robert Ben Garant), Cherisha Kimball (Mary Birdsong) and Clementine Johnson (Wendi McLendonCovey).
(Darren Michaels / Twentieth Century Fox / Paramoun)
'The Avengers'
The widely popular blockbuster featuring a Marvel comic book hero dream team inspired a TV offshoot about the mysterious espionage agency that brought them together. In "Agents of S.H.I.E.L.D.," agent Phil Coulson (a beloved minor character in the 2012 movie) assembles a small group of specialists who protect Earth from the dangerous and supernatural.
(Marvel)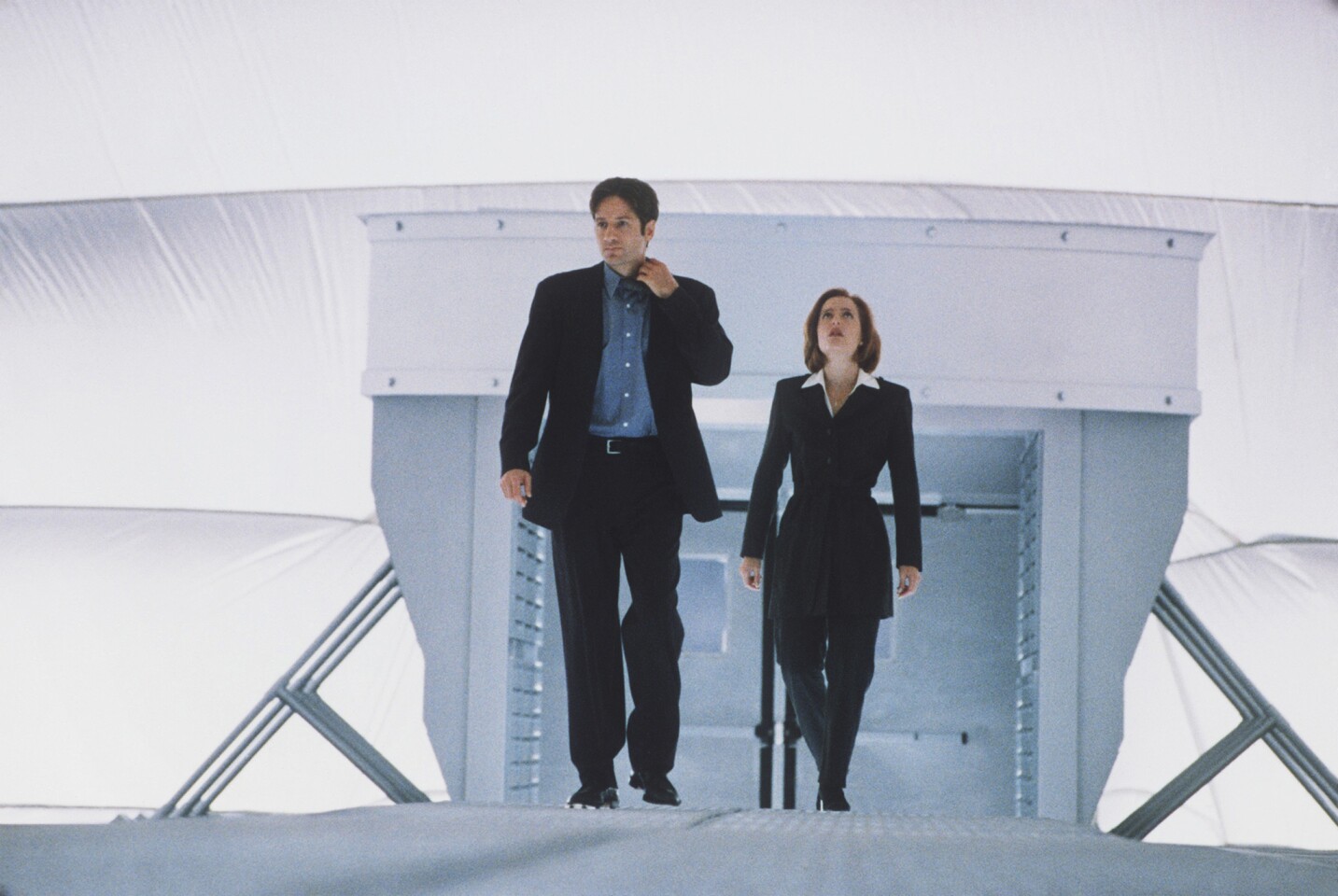 'The X-Files'
Episodes of "The X-Files" can generally be split into two categories: those with elements that build the overarching mythology of the series surrounding the government conspiracy to hide the existence of extraterrestrial life on Earth and stand-alone "monster-of-the-week" episodes that follows the agents as they attempt to solve various cases involving paranormal phenomena. Similarly, the two "X-files" films can be separated into the same categories. "Fight the Future," the more successful first film released in 1998, serves as a bridge between the Season 5 finale and Season 6 premiere by further exploring the government conspiracy attempting to hide the truth about aliens colonizing Earth. 2008's "I Want to Believe," released years after the series' conclusion, is a stand-alone horror story with the FBI turning to former agents Fox Mulder (David Duchovny) and Dana Scully (Gillian Anderson) for their unique expertise to help solve a case.
(Merrick Morton / 20th Century Fox)