Readers respond: Great TV shows left off WGA's list of 101 best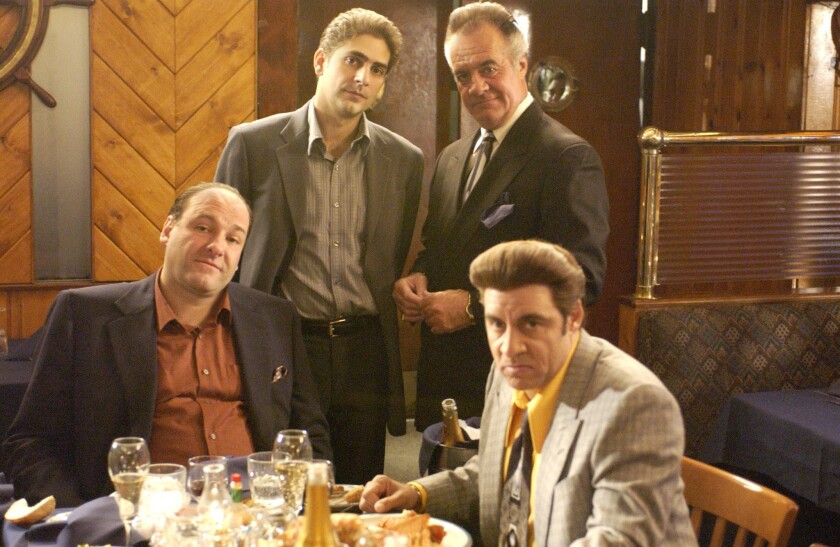 1. 'The Sopranos'
(Abbott Genser / HBO)
2. 'Seinfeld'
(Gino Mifsud / NBC)
3. 'The Twilight Zone'
(The Museum of TV & Radio)
4. 'All in the Family'
(CBS)
6. 'The Mary Tyler Moore Show'
(CBS)
7. 'Mad Men'
(Frank Ockenfels / AMC)
9. 'The Wire'
(Nicole Rivellli / HBO)
10. 'The West Wing'
(David Rose / NBC)
12. 'I Love Lucy'
(CBS / Associated Press)
13. 'Breaking Bad'
(Ursula Coyote / AMC)
14. 'The Dick Van Dyke Show'
(The Museum of Broadcasting)
15. 'Hill Street Blues'
(Globe Photos)
16. 'Arrested Development'
(Sam Urdank / Netflix)
17. 'The Daily Show'
(Martin Crook / Comedy Central)
18. 'Six Feet Under'
(John P. Johnson / HBO)
20. 'The Larry Sanders Show'
(Shout Factory / Sony Pictures Television)
21. '30 Rock'
(Ali Goldstein / NBC)
22. 'Friday Night Lights'
(Bill Records / NBC Universal)
23. 'Frasier'
(Chris Haston / NBC)
24. 'Friends'
(Warner Bros. / NBC / Associated Press)
25. 'Saturday Night Live'
(Dana Edelson / NBC)
26. 'The X-Files'
(20th Century Fox)
27. 'Lost'
(Mario Perez / ABC)
28. 'ER'
(Warner Bros. Entertainment)
29. 'The Cosby Show'
(NBC)
30. 'Curb Your Enthusiasm'
(Doug Hyun / HBO)
31. 'The Honeymooners'
(CBS)
32. 'Deadwood'
(Sam Emerson / HBO / Associated Press)
34. 'Modern Family'
(Colleen Hayes / ABC)
35. 'Twin Peaks'
(Los Angeles Times archive)
37. 'The Carol Burnett Show'
(CBS)
38. 'Battlestar Galactica'
(Carole Segal / Sci Fi Channel)
39. 'Sex and the City'
(Craig Blankenhorn / HBO)
40. 'Game of Thrones'
(Paul Schiraldi)
41. 'The Bob Newhart Show'
(CBS )
42. 'Your Show of Shows'
(NBC)
43. 'Downton Abbey'
(Gary Moyes / PBS)
44. 'Law & Order'
(Kevin Foley / NBC)
45. 'Thirtysomething'
(ABC)
46. 'St. Elsewhere'
(NBC Universal)
47. 'Homicide: Life on the Street'
(Chris Haston / NBC)
48. 'Homeland'
(Kent Smith / Showtime)
49. 'Buffy the Vampire Slayer'
(Richard Cartwright / WB)
50. 'The Good Wife'
(Eike Schroter / CBS)
51. 'The Colbert Report'
(Scott Gries / PictureGroup)
52. 'The Office' (British version)
(BBC America)
53. 'Northern Exposure'
(CBS)
54. 'The Wonder Years'
(Danny Feld / NBC)
56. 'Sesame Street'
(Sesame Workshop)
57. 'Columbo'
(Universal Television)
58. 'The Rockford Files'
(NBC)
59. 'Fawlty Towers'
(Los Angeles Times archive)
60. 'Moonlighting'
(ABC / Associated Press)
61. 'Freaks and Geeks'
(NBC / Getty Images)
62. 'Roots'
(Boettcher Trinklein Productions / PBS)
63. 'Everybody Loves Raymond'
(Richard Hartog / Los Angeles Times)
64. 'South Park'
(Comedy Central)
65. 'Playhouse 90'
(Los Angeles Times archive)
66. 'The Office' (U.S. version)
(Justin Lubin / NBC Universal)
67. 'Dexter'
(Randy Tepper / Showtime)
68. 'My So-Called Life'
(Los Angeles Times archive)
69. 'Golden Girls'
(Steve Fontanini / Los Angeles Times archive)
70. 'The Andy Griffith Show'
(Los Angeles Times archive)
71. 'The Shield'
(Prashant Gupta / FX Network)
72. 'Roseanne'
(Los Angeles Times archive)
73. '24'
(Anthony Mandler / FOX)
74. 'Murphy Brown'
(Spike Nannarello / CBS)
75. 'House'
(Adam Taylor / FOX)
76. 'Barney Miller'
(ABC)
77. 'I, Claudius'
(Masterpiece Theatre / PBS)
78. 'The Odd Couple'
(ABC / Associated Press)
79. 'Star Trek: The Next Generation'
(Los Angeles Times archive)
80. 'Alfred Hitchcock Presents'
(Universal Television Enterprises)
81. 'Upstairs Downstairs'
(Acorn Media)
82. 'Monty Python's Flying Circus'
(Los Angeles Times archive)
84. 'Gunsmoke'
(CBS / Getty Images)
85. 'The Defenders'
(CBS)
86. 'Sergeant Bilko'
('The Phil Silvers TV Show' / Los Angeles Times archive)
87. 'Justified'
(Prashant Gupta / FX)
88. 'Band of Brothers'
(David James / HBO)
89. 'Rowan & Martin's Laugh-In'
(Associated Press)
90. 'The Prisoner'
(Los Angeles Times archive)
91. 'The Muppet Show'
(Los Angeles Times archive)
92. 'Absolutely Fabulous'
(Jack Barnes / BBC)
93. 'Boardwalk Empire'
(Macall B. Polay / HBO)
94. 'Will & Grace'
(Chris Haston / NBC)
96. 'Lonesome Dove'
(CBS)
100. 'Late Night With David Letterman' and 101. 'Oz'
(Jeffrey R. Staab / CBS / Associated Press; Eric Liebowitz / HBO)
As predicted, the Writers Guild of America's recent announcement of what its members voted to be the 101 best-written TV shows has unleashed the power of the loyal opposition. And no opposition is as loyal as a viewer defending his or her favorite television show.
To the many who wrote me in sorrow and outrage, two things: One, it's not my list. (I too would have put "The Wire" much higher). And two, isn't it great that 101 isn't a big enough number to list even the best shows?
Here are shows some of our readers consider glaring omissions:
"Sports Night"
"The Tonight Show with Johnny Carson"
"NCIS"
"The Middle"
"China Beach"
"Perry Mason"
"WKRP in Cincinnati"
"Mad About You"
"Damages"
"That Was the Week That Was"
"Fringe"
"Walking Dead"
"Vera"
"Doc Martin"
"Star Trek: Deep Space Nine"
"Dallas"
"The Closer"
"Wagon Train"
"Bonanza"
"77 Sunset Strip"
"Spartacus"
"Combat"
"Police Squad"
"America Tonight"
"The Smothers Brothers Show"
"MI-5"
"Route 66"
"The Brady Bunch"
"Prime Suspect"
"Still Standing"
"Hope and Faith"
---
Inside the business of entertainment
The Wide Shot brings you news, analysis and insights on everything from streaming wars to production — and what it all means for the future.
You may occasionally receive promotional content from the Los Angeles Times.