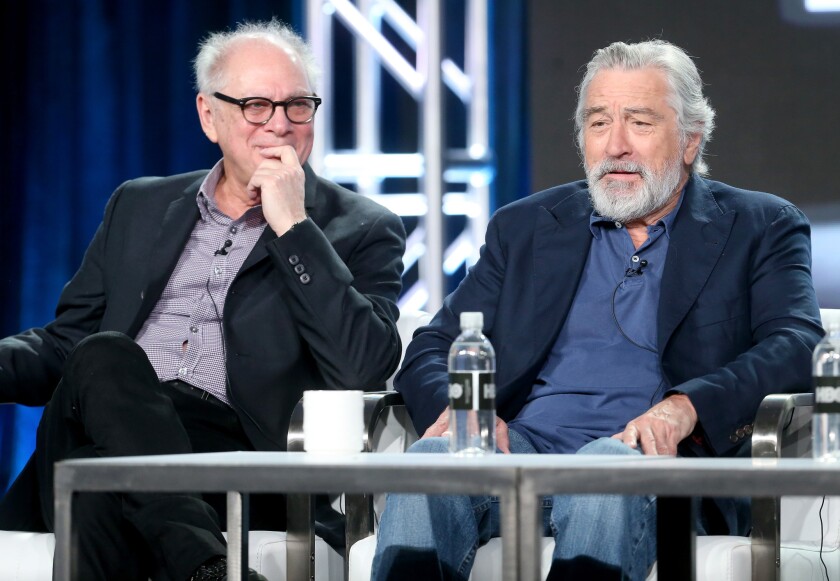 The question at hand is whether Bernie Madoff, architect of this country's largest private Ponzi scheme, is a sociopath.
Robert De Niro hedged.
"There's a disconnect somehow in him," De Niro said during the panel for the upcoming HBO film "The Wizard of Lies" at the Television Critics Assn. press tour in Pasadena. "I'd still like to understand, but I don't."
The author of "Wizard of Lies: Bernie Madoff and the Death of Trust," Diana B. Henriques, felt differently.
"Yes," Henriques said matter-of-factly of Madoff's sociopathic nature. "But it doesn't explain anything to say he's a sociopath. What you need to understand is how plausible con men like this are, how utterly they can seize your trust and your imagination and make you believe."
De Niro, who stars and also serves as an executive producer on the project, was joined with Henriques on the panel by executive producers Jane Rosenthal and Barry Levinson, who also directed the film.
The film, which features Michelle Pfeiffer as Ruth Madoff, is not Hollywood's first effort to examine the fraud and the fallout that followed — that would be ABC's miniseries "Madoff," which aired in February 2016 with Richard Dreyfuss in the lead role. But as seen in the new trailer, the style of the film is quite different, with what appear to be dream sequences and a more frenetic tone.
Henriques also suggested that HBO's adaptation contains an important element not found in previous accounts.
"I think you'll be very impressed to see how the plight of the victims is represented here," said Henriques, whose book on Madoff was born out of her New York Times coverage of the scandal.
The key to Henriques is in the empathy and compassion the film shows to those victimized by Madoff, something that was a struggle to portray in her day-to-day coverage.
For De Niro, "Wizard," which debuts in May on HBO, is a departure from a recent filmography littered with stakeless films, including "Dirty Grandpa" and "The Intern."
Asked why he returned to drama via HBO, the actor quipped, "I thought this was a comedy!"
To Henriques, De Niro's ability to think as Madoff was unnerving, recalling an exercise the pair undertook where she asked him questions and he delivered off-the-cuff answers in character.
"I made the vow," she joked, "right then and there never to take investment advice from Bob De Niro, just in case."
See the most-read stories in Entertainment this hour »
ALSO
'The Young Pope,' 'Twin Peaks' and more 'Star Wars': 2017 Movie and Television Preview
For Robert De Niro, fears of obsolescence, channeled into 'The Comedian' and constant work
Having its world premiere at AFI Fest, 'The Comedian' offers Robert De Niro a chance to be a cutup
REVIEW: Echoes of the world's new dark ages in HBO's 'The Young Pope,' starring Jude Law
Jude Law may play the 'Young Pope' but curiosity is his religion
---