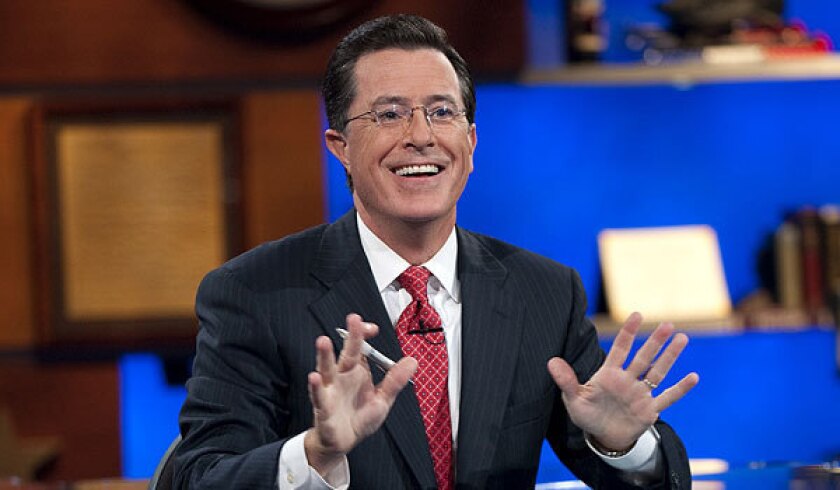 A lot of TV anchors got in the Halloween spirit Thursday, from George Stephanopoulos as an astronaut on "Good Morning America," to Kelly Ripa twerking through the morning as Miley Cyrus. But no one did more to make TV viewers feel awkward than Matt Lauer on "Today," bounding around with the plentiful cleavage of Pamela Anderson from her "Baywatch" years. And Stephen Colbert couldn't let it pass without comment.
Colbert referred to the onslaught of news anchors in costume as part of the "War on Halloween."
And the nadir of that war? Colbert pinpoints it at the moment Lauer burst through a banner in a stunning red one-piece, blond hair and the aforementioned, Pam Anderson-esque cleavage. Lauer did a slo-mo run across the sand in the plaza outside Rockefeller Center and the Comedy Central host described it as the moment "Halloween died."
PHOTOS: Celebrities by The Times
Calling Lauer in costume "my waking nightmare" and saying he's looking forward to the show's new segment, "Where in the World is Matt Lauer's Dignity?"
So is Colbert above all this Halloween cheer? Is the man who claims to love all things related to All Hallow's Eve unwilling to even indulge in a little dress-up fun? Not exactly.
As Colbert revealed, "I, of course, am dressed as a sexy hobo, who, through his work ethic, pulled himself up by his bootstraps, then got a tasteful makeover."
It's too bad Lauer didn't think of that one first. He could have saved on sunscreen.
ALSO:
NBC greenlights comedy from Tina Fey
'How I Met Your Mother' spinoff: Good idea or bad idea?
Matt Lauer shows some skin with Pam Anderson Halloween costume
---