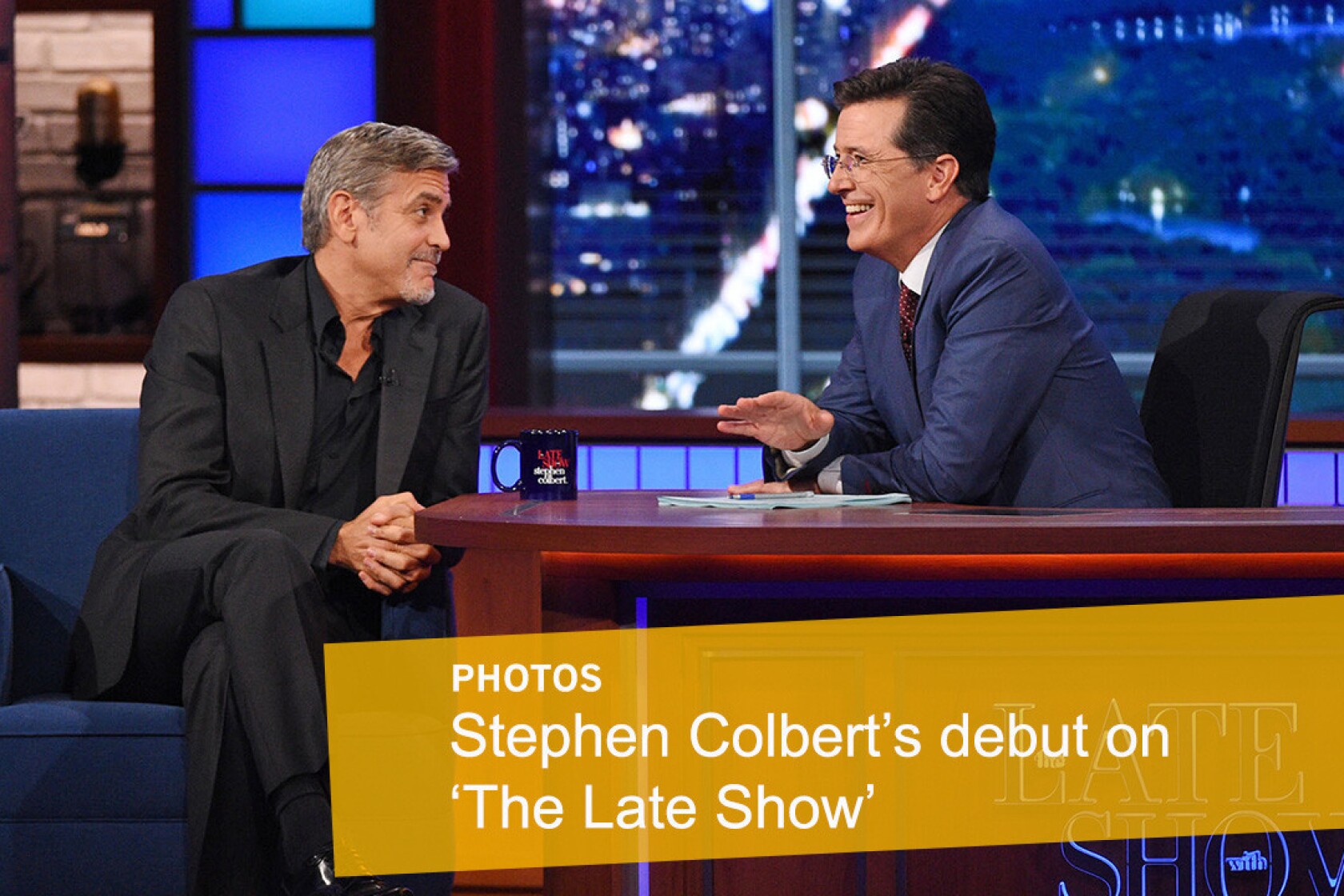 Actor George Clooney gets chatty with host Stephen Colbert on the premiere of "The Late Show With Stephen Colbert."
(Jeffrey R. Staab / CBS)
The man of the hour offers a few words during the premiere of "The Late Show With Stephen Colbert."
(Jeffrey R. Staab / CBS)
Republican presidential hopeful Jeb Bush exchanges quips with Stephen Colbert on the premiere of "The Late Show With Stephen Colbert."
(Jeffrey R. Staab / CBS)
Stephen Colbert and Jon Batiste deliver a performance during "The Late Show With Stephen Colbert."
(Jeffrey R. Staab / CBS)
Jon Batiste sings for the crowd during the premiere of "The Late Show With Stephen Colbert."
(Jeffrey R. Staab / CBS)
Musician Susan Tedeschi heads into the first taping of "The Late Show With Stephen Colbert."
(Michael Loccisano / Getty Images)
Photographer and painter Chuck Close attends the first taping of "The Late Show With Stephen Colbert."
(John Lamparski / Getty Images)
On the street outside the first taping of "The Late Show With Stephen Colbert."
(John Lamparski / Getty Images)
Actor George Clooney heads into the first taping of "The Late Show With Stephen Colbert."
(John Lamparski / Getty Images)
Republican presidential hopeful and former Florida Gov. Jeb Bush makes his way to the first taping of "The Late Show With Stephen Colbert."
(Michael Loccisano / Getty Images)
Stephen Colbert returned to television on Tuesday, and viewers had #allthefeels.
During Colbert's time on Comedy Central, the comedian racked up a fervent fan following for his more satirical, conservative on-screen persona.
But audiences were introduced to a whole new Colbert when he took the reins as the new host of CBS' "The Late Show."
Who is ready for the #LateShow!? @colbertlateshow @StephenAtHome It starts NOW! #LSSC pic.twitter.com/Lwg72xeD5r— Paco Ramos (@kicknpac) September 9, 2015
Final Nielsen ratings will not be released until later on Wednesday, but one look at Twitter and it's clear that viewers are mixed:
Feels weird watching Colbert the man rather than Colbert the character... #LateShow— Brittany Levine (@brittanylevine) September 9, 2015
A little underwhelmed, but promising. Colbert has yet got to find his new groove. #LateShow— James Reyes (@jamesreyes) September 9, 2015
#LateShow with Colbert is weird.— Greg M (@GTMGiantsFan) September 9, 2015
For many, it took a while to soak in the new "real Stephen Colbert."
For the first time in my life, I get to watch Stephen Colbert on a broadcast network, not a cable channel. #LateShow— Raymond Chung (@raymondchung) September 9, 2015
But Colbert's return to TV, sans his satirical Comedy Central persona, was exactly what some viewers were looking for:
It's really, really nice to have Stephen Colbert back on television. That is all. #LateShow— RMSpuhler (@RMSpuhler) September 9, 2015
The #LateShow with #StephenColbert is really funny. Especially his bit on #Trump. I laughed out loud! pic.twitter.com/qoPMy1FTfS— Stephen Paley (@stepale) September 9, 2015
Watching #LateShow with @StephenAtHome !! Thank goodness you're back on the teevee!— Denise (@LostDiva) September 9, 2015
Love the new #LateShow intro! So excited Colbert is back on TV!— Sedora Tantraphol (@sedoraFTW) September 9, 2015
@StephenAtHome is so much funnier than #DavidLetterman. #LateShow is now watchable. @colbertlateshow #NoDisrespect— Jeff Pohjola (@JeffPohjola) September 9, 2015
Others tuned in to see whether the new late night show was worth adding to their TV watch list.
I miss Dave and Paul but know Stephen will be funny #LateShow— Carol Layne (@keddle01) September 9, 2015
Miss you David Letterman but Stephen is cool! #StephenColbert #LateShow #CBS— Don Beddoe (@The_Don_102) September 9, 2015
Watching Colbert munch on Sabra Hummus and boxes of Oreos even got some viewers hungry:
Power of suggestion, now I want some @Oreo's @colbertlateshow #LateShow #Oreos— marlene (@marlene_EOL) September 9, 2015
Like, I really want them. #LateShow https://t.co/c7CzvkuUir— Mandi Bierly (@MandiBierly) September 9, 2015
Watching Colbert, gotta eat some Oreos. #LateShow #Colbert— Colleen (@CelticCoco) September 9, 2015
Now I want humus and Oreos #LateShow— Antoinette Georgy (@_antoinetterose) September 9, 2015
Still, not everyone was impressed.
Not impressed with the new #LateShow Going to stick with #Conan— Tim Sharp (@TimSharp80) September 9, 2015
Weird ass monkey hand? That's what you went with? #LateShow— Maxwell Mooney (@MaxwellAMooney) September 9, 2015
#LateShow didn't work! Wiping glasses w/ bottom of jacket in monologue..Oreos over his face wiped by @GeorgeClooney Boring #Jeb #epicfail— Carra Riley (@CarraRiley) September 9, 2015
Despite the mixed emotions over Colbert's "Late Show," one thing's for sure: The late night landscape just got far more crowded.
Oh great... now I'm gonna be torn between watching the #LateShow or the #TonightShow ARGH! Colbert and Fallon are both awesome!— HaloEliteLegend (@HaloEliteLegend) September 9, 2015
Watching #StephenColbert hosting the 1st #LateShow. Now to decide who im watching now. Him or #jimmyfallon. Didnt have that decision before— Nikki (@NikkiLA22) September 9, 2015
For more news on the entertainment industry, follow me @saba_h
MORE:
'Late Show's' Stephen Colbert is off to a strong start as new host
What we still need from Stephen Colbert
As Stephen Colbert debuts on 'Late Show,' late-night TV wars heat up
---