As Stephen Colbert debuts on 'Late Show,' late-night TV wars heat up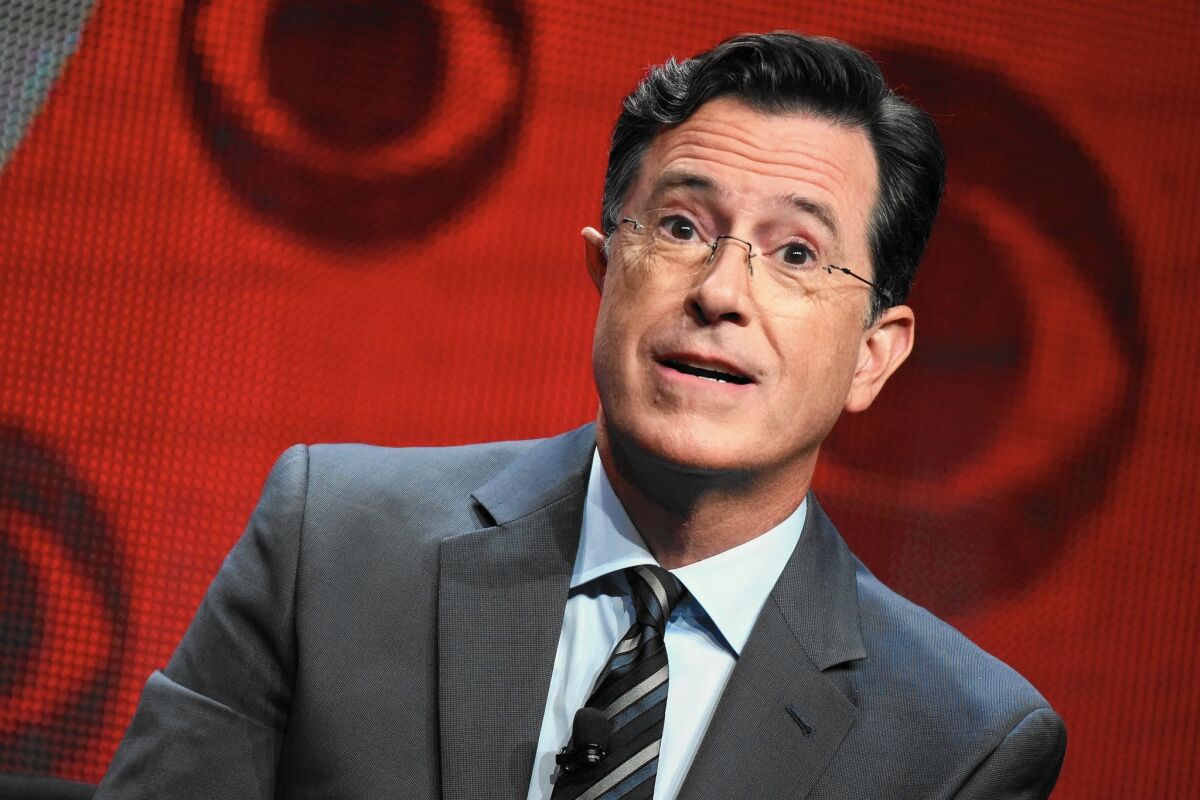 NEW YORK —
When Stephen Colbert takes to the stage of the Ed Sullivan Theater on Tuesday night as the new host of "Late Show," it will bring to a close an extended period of transition in broadcast late night that began with the announcement of Jay Leno's retirement more than two years ago. But it will also open up a new front in the decades-long battle for supremacy in a format that has undergone changes more fundamental than the names on the marquee.
Colbert is moving from the comfortable niche of cable television, where he spent nine years hosting Comedy Central's satirical "The Colbert Report," to CBS, the most-watched and arguably most traditional of the legacy broadcasters. His devoted fans — members of the so-called Colbert Nation — and his detractors are wondering whether his surrealist brand of humor and political point of view will translate to a more mainstream platform.
He's also entering a late-night landscape that would have been virtually unrecognizable a decade ago; YouTube views are nearly as important as Nielsen ratings, and audiences face an ever-increasing array of options from cable networks and streaming outlets.
See the most-read stories this hour >>
It remains to be seen whether Colbert can catch up with Jimmy Fallon, who has established himself as the ratings leader in just 18 months as host of "The Tonight Show," or Jimmy Kimmel, a master of viral pranks. But Colbert, who racked up six Emmy Awards while at "The Colbert Report," has the chops, say late-night veterans.
"His ability to interview guests, his intellect and his likability — it's a rare combination," said Jon Macks, a longtime writer for "The Tonight Show With Jay Leno."
At "The Colbert Report," a spinoff of "The Daily Show," the comedian mixed political satire with Andy Kaufman-esque performance art. In character as a buffoonish blowhard, he testified before Congress, formed his own super PAC and even ran for president — twice.
It's already apparent that Colbert will inject a strong political perspective into late-night television just as the 2016 campaign is swinging into high gear, says Penn State professor Sophia A. McClennen, author of "Colbert's America: Satire and Democracy."
"Colbert's no longer in character, but that doesn't mean that there won't be satire. It's clear that he's dying to get back into that."
McClennen points to videos released online this summer, in which Colbert gleefully mocked reality star turned Republican candidate Donald Trump and cheered the Supreme Court's ruling on same-sex marriage. At the Television Critics Assn. press tour in August, Colbert told reporters that his "Late Show," which shares much of its writing and producing staff with "The Colbert Report," would likely skew more political than its rivals.
"It's combed into our DNA after the last 10 years," he said.
Dick Cavett, whose ABC talk show was a destination for political conversation during the Watergate era, said, "The Colbert wit will be extremely welcome during the election."
Indeed, Colbert would seem to have the edge over Fallon and Kimmel when it comes to campaign coverage. And he knows it, judging by the politicians and Washington, D.C., figures he's booked for his first two weeks on air: GOP presidential hopeful Jeb Bush, Vice President (and potential presidential candidate) Joe Biden and Democratic insurgent Sen. Bernie Sanders of Vermont.
Other announced guests, such as U.N. Secretary-General Ban Ki-moon, author Stephen King, and Tesla and SpaceX Chief Executive Elon Musk, reflect Colbert's omnivorous curiosity and wide range of interests. With a background in improv — he studied at Chicago's famed Second City — the 51-year-old host is unusually quick on his feet.
"He's obviously very intelligent, which gives him a leg up on most of these guys," said Robert Morton, a former executive producer for David Letterman at "Late Night" and "Late Show." He compared Colbert to Jack Paar, the "Tonight Show" host who interviewed the likes of Albert Schweitzer, Robert F. Kennedy and Fidel Castro.
Colbert's eclectic taste will help distinguish him from Fallon, whose fun house of a show skews toward lighthearted musical sketches and parlor games rather than topical humor or probing conversation.
But there's also a danger in being too highbrow — the equivalent of "Charlie Rose" with more laughs — especially given that his rivals have had a long time to establish themselves creatively and to find an audience.
Fallon started as host of "Late Night" in 2009 and has largely kept his show intact since moving to 11:30 p.m. in February 2014. He's retained Leno's long-held ratings lead, reeling in an average of 3.5 million viewers a night this season, according to Nielsen, while infusing "Tonight" with a boyish exuberance that's attracted more of the under-50 viewers prized by advertisers.
"He has created the perfect 'Tonight Show' for this generation and the times," said Macks, author of the book "Monologue: What Makes America Laugh Before Bed."
Fallon also has an invisible weapon in the form of executive producer Lorne Michaels, whose powerful fiefdom at NBC — he also presides over "Saturday Night Live" and "Late Night With Seth Meyers" — might compel talent to opt for "Tonight" over "Late Show."
Fallon and Colbert may be friendly, having visited each other's shows many times, but NBC is still doing everything it can to draw attention away from CBS' new late-night star. In a major coup, "Tonight" has booked Trump for Friday night, marking the Republican front-runner's first visit to a late-night show since announcing his presidential bid in June.
Though he's had 12 years to establish himself at ABC, Kimmel, whose show is based in Los Angeles, may have more reason to be nervous about Colbert's arrival on broadcast. "Jimmy Kimmel Live!" trails Fallon by about a million viewers a night, according to Nielsen.
But the ABC host also understands how to light up the Internet — the place where an increasing share of viewers catch up on late-night TV. Videos of children melting down after their parents pretend to have eaten all the Halloween candy are an annual favorite, with the clips reliably racking up 50 million views on YouTube.
"It's not necessarily about those 3 million people watching, it's more about the 48 million that are going to see it virally," said Morton.
In that sense, Colbert isn't just competing against Fallon or Kimmel or other shows that air between 11:30 and midnight, like "Conan" or "The Nightly Show." The rise of nonlinear consumption means he's also vying against "Late Night With Seth Meyers," his lead-out "The Late Late Show With James Corden" and even online talkers like "Between Two Ferns" and Chelsea Handler's upcoming show for Netflix.
But Colbert has also shown a knack for going viral. Case in point: A star-studded spoof of Daft Punk's hit "Get Lucky," which aired after a last-minute cancellation by the electronic music duo in 2013, or his takeover this summer of a Michigan public access show.
Still, Colbert is no doubt feeling some nerves as his debut approaches — and that's not necessarily a bad thing. As he said in his Television Critics Assn. appearance last month, "If you are not a little nervous, you are probably not trying hard enough."
------------
'The Late Show With Stephen Colbert'
Where: CBS
When: 11:35 p.m. Tuesday
Rating: TV-PG (may be unsuitable for young children)
Get our L.A. Goes Out newsletter, with the week's best events, to help you explore and experience our city.
You may occasionally receive promotional content from the Los Angeles Times.