Fox's 'The Grinder' cast jokes about the show name, Rob Lowe's handsomeness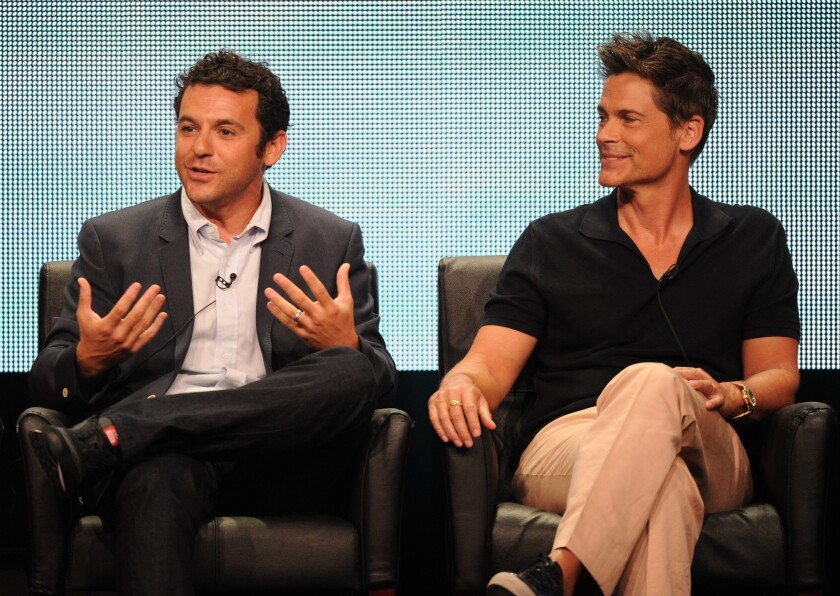 Don't get confused: Fox's new comedy "The Grinder" is nothing like the hook-up app of the same name.
But the show's cast, which includes Rob Lowe, Fred Savage, Mary Elizabeth Ellis and William DeVane, have no problem joking about the name.
"I just like being able to tell people I'll be grinding with them on Tuesday nights," Lowe said at the Television Critics Assn. summer press tour in Beverly Hills on Thursday.
Savage then joked if the series had its own app, users could "find Rob Lowe anywhere and have sex with him."
Fox's new comedy, which premieres Sept. 29, follows Dean Sanderson (Rob Lowe), a TV lawyer (nicknamed "The Grinder," hence the show's name) and his brother Stewart (Fred Savage), an actual lawyer. After his show comes to an end, Dean moves back to his small hometown to try and take over their family's law firm, much to the dismay of Stewart. Mary Elizabeth Ellis, William Devane and Hana Hayes co-star.
"The idea is that this fake TV lawyer is bringing his dramatics to this mundane small-town legal world," Jarrad Paul, creator and executive producer, said. "It's bringing this element of Hollywood into this normal world."
Much of the panel was filled with laughs, especially when Lowe was asked if he and John Stamos, who stars in another new Fox comedy, "Grandfathered," ever "joke about your handsomeness."
From the back of the room, Stamos yelled: "Rob, tell the truth. We've dated for years!"
"This is what the level of journalism has become?" Lowe replied. "It's shameful anyone can get credentialed!"
Though Lowe and Savage have a sibling rivalry on the show, their off-camera relationship resembles more of a bromance.
"I'm flattered you think there are things in common with Rob," Savage told a reporter who asked about the two stars sharing a background as child stars. "I'll hold on to that for longer than I care to admit."
"I was such a fan of Fred's," Lowe added. "I had never met Fred until he was already basically hired for this."
Devane, who plays Stewart and Dean's father, said the cast bonds on and off screen.
"In all the time I've done '24,' I don't think we hugged anyone," he said. "Here, I'm hugged to death."
For more news on the entertainment industry, follow me @saba_h
---
Inside the business of entertainment
The Wide Shot brings you news, analysis and insights on everything from streaming wars to production — and what it all means for the future.
You may occasionally receive promotional content from the Los Angeles Times.