'The Mindy Project' gets Hulu premiere date -- and Kaling is 'grateful'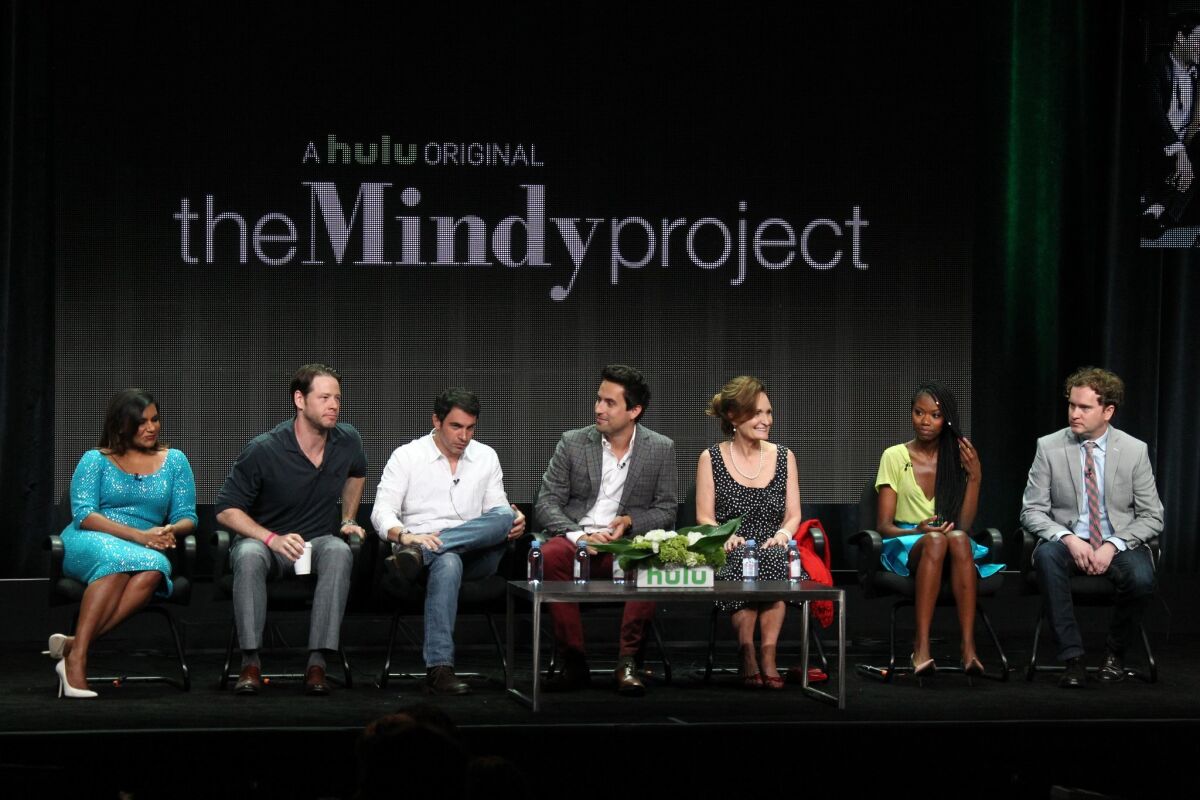 Fans of "The Mindy Project," your prayers to Beyoncé Pad Thai have been answered: Come Sept. 15, the comedy's fourth season will begin its rollout on Hulu.
You might recall the awkward breakup the comedy endured this spring when Fox dumped the low-performing half-hour at the end of its third season. Fans were worried they might never know what Mindy Lahiri as a mother would entail. But like an unexpected romantic comedy hero, Hulu appeared and rescued "The Mindy Project."
"I couldn't make it up, the path I took to keep this show alive," the comedy's eponymous heroine Mindy Kaling told reporters Sunday.
Full coverage: Television Crtitics Association press tour 2015
She was on hand at the Television Critics Assn. press tour in Beverly Hills -- along with fellow executive producer Matt Warburton and the cast -- and spoke of the comedy's beleaguered journey.
"I feel, personally, I wasn't ready to say goodbye to the show," Kaling told reporters. "And I'm so grateful to Hulu for giving us this opportunity. I just want to make the show better than it's ever been.... It went from being, 'oh, we're never going to do the show again' to 'we're going to have more work than we've ever had.'"
Hulu is co-owned by Comcast's NBCUniversal (in addition to Disney's ABC Television Group and 21st Century Fox's Fox Broadcasting Co.). And the service has become a second home to "The Mindy Project," as it already has exclusive subscription video on demand (SVOD) rights to the show's three seasons.
Kaling said discussions with Hulu were a no-brainer. She had been to the streaming service's upfront presentation, in which networks and streaming sites present their programming roster to advertisers, a couple of years ago, and credited the enthusiasm expressed by Hulu's content chief Craig Erwich as evidence that it would be a right fit.
"I met with [Craig] and [Hulu CEO] Mike Hopkins," Kaling said. "Craig has seen every episode and was quoting the Stephen Colbert episode to me. It was a really smooth transition."
Episodes of the fourth season -- which totals 26, the most in a season it has ever had -- will roll out weekly, Erwich told reporters Sunday.
"Maybe it's old-fashioned, but I like a Christmas episode that airs in December," Kaling said of the weekly-release method.
Meanwhile, star and writer Ike Barinholtz stresses the show's new home won't result in a show the fans won't recognize. The structure of it, however, slims down from a four-act structure to a three-act structure.
"I think if we really changed the show too much and made it more risque and put it more on a tilt of stuff you might find on HBO or Showtime, I think we would turn off our core viewers," said Barinholtz, who stars as goofy nurse Morgan.
But they are enjoying the freedom of not being beholden to Broadcast Standards and Practices, Barinholtz acknowledged -- pointing to examples, like not being able to say "Jesus" in one scene or having to cut a moment from the "I Slipped" episode in which Mindy talks to her backside.
"She can, under no circumstances, talk to her ass," Barinholtz joked was a note from Fox.
Below are some noteworthy tidbits on what to expect from Season 4:
-- Danny (Chris Messina) and Morgan (Barinholtz) will go on a road trip together. "It's going to be a disaster," Barinholtz said. Let's just hope Danny's red glasses survive the excursion.
-- The Season 4 premiere, which pays homage to "Sliding Doors," explores what it'd be like if Mindy had never fallen for Danny. Instead, Mindy finds herself in bed with a reality producer of "Real Housewives" played by Joseph Gordon-Levitt. And Mindy visits Danny and he's dating Freida Pinto.
-- Kaling said we'll see Mindy Lahiri change, but not too much. We'll see the "maternal instinct" side of her, Kaling said. Or as Kaling put it in an impersonation of Lahiri: "I never thought I could love anything more than you, but, 'Who Danny?'"
I tweet about TV (and other things) here: @villarrealy
---
The complete guide to home viewing
Get Screen Gab for everything about the TV shows and streaming movies everyone's talking about.
You may occasionally receive promotional content from the Los Angeles Times.