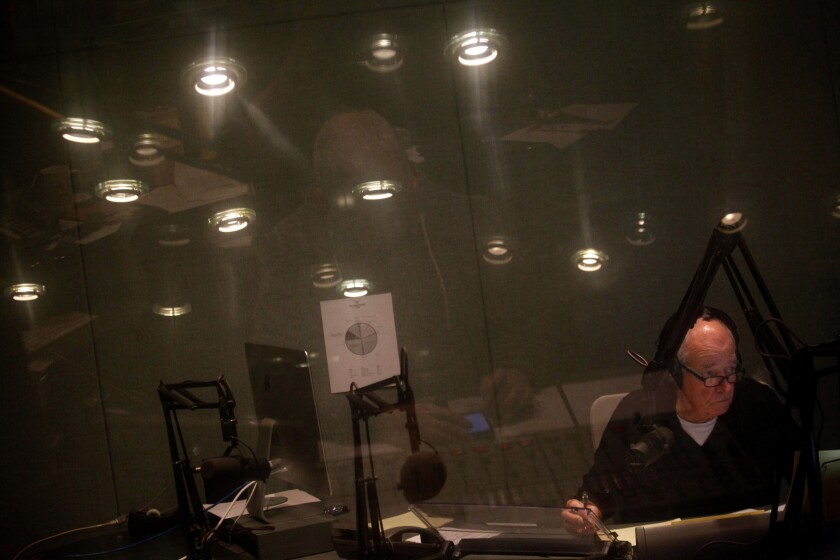 "Which Way, LA?" is headed for the exits.
KCRW-FM (89.9), where host Warren Olney's local public affairs show has held sway for 23 years, announced Tuesday that the program would wrap effective Jan. 28.
Olney will continue hosting his other daily public radio show, the nationally syndicated "To the Point," which premiered in 2001. He will also appear on new weekly segments dubbed "Olney in L.A.," which will air during "Morning Edition" and "All Things Considered" from National Public Radio.
In a prepared statement, Olney said the demands of hosting two daily shows was taking a toll.
"At this point in my career, I felt it was time to make a choice to do one show a day -- that's already a full-time job. It was time to get a part of my life back," Olney wrote.
"To the Point," he added "is more necessary than ever. There's so much going on and so much information available, it's getting harder and harder for listeners to disentangle the facts from the fear."
"Which Way, LA?" began in the wake of the 1992 riots after the Rodney King verdict. The program subsequently became an at-large observer of the local scene. Recent shows have looked at how Angelenos are faring with El Niño weather conditions and how local authorities have handled a massive gas leak in Porter Ranch.
KCRW, a Santa Monica-based NPR member station, has another Los Angeles-focused public affairs show called "Press Play," hosted by former NPR journalist Madeleine Brand.
A call and email to a KCRW representative was not immediately returned.
What do you think of "Which Way, LA?"
Twitter: @scottcollinsLAT
---