'Extrapolations' is the climate change TV show we desperately need
This story originally published in Boiling Point, a weekly newsletter about climate change and the environment. Sign up here to get it in your inbox.
The year is 2047. Rabbi Marshall Zucker, portrayed by "Hamilton" star Daveed Diggs, is scrambling to secure funds to keep his congregation safe as rising ocean waters flood the pews of their Miami synagogue. Then an intense hurricane hits, a sea wall breaks and Diggs must rush to save the Torah scroll, putting his own life at risk as Miami is ravaged by the storm...
That's from an early episode of "Extrapolations" — a haunting, rage-inducing, totally necessary new series about the climate dangers on the horizon. It premieres Friday on Apple TV+ and offers a terrifying glimpse at what the world might look like between 2037 and 2070. That includes children struggling with lethal "summer heart," wildfire smoke semi-permanently blotting out the sun and rich people uploading their brains to the cloud, so they can return to Earth if things ever get better.
The show's all-star cast — Gemma Chan, Marion Cotillard, David Schwimmer, Edward Norton, Meryl Streep, Forest Whitaker and more — hasn't gathered to tell a story about the end of life on Earth, or the collapse of modern civilization. Governments keep stumbling along. Smartphone-like devices hard-wired into human brains become ubiquitous. Scientists cure cancer.
But despite all that, life just keeps getting more unbearable — for the wealthy and the poor, for humans and for animals. San Francisco residents wear masks connected to oxygen tanks whenever they venture outside. In India, it's gotten so hot and so humid that most daily life takes place at night. The last humpback whale endures a lonely, mournful existence.
This isn't a totally dystopian future like the one envisioned in "Mad Max," executive producer Dorothy Fortenberry told me. It's an attempt to grapple with the reality that humans currently face, which is a lot messier than either failing or succeeding at stopping climate change. Every bit of warming adds to our collective suffering — and every bit avoided is cause for celebration.
"The guiding principle behind the timeline was, what if we just keep muddling forward as we are?" Fortenberry said.
There's an urgent need for Hollywood to tackle the climate crisis. I wrote last year about a report finding just 2.8% of more than 37,000 film and TV scripts from 2016 through 2020 included any mention of climate change, or a list of related terms. USC researchers reported that the word "dog" was mentioned almost 13 times as often as all 36 climate keywords put together.
"Extrapolations" answers the call for badly needed stories about the greatest challenge of our time. It's got powerful acting, some transcendent writing and more pathos than it knows what to do with. I'm willing to forgive the occasionally uneven storytelling — leaps of logic, over-the-top melodrama — because the show so vividly brings to life the terrors of climate disruption, which can feel strangely abstract even in a world battered by ever-worsening heat waves, droughts, wildfires and floods.
It's not uplifting television. Some of the episodes are downright saddening, others frightening. And it doesn't take place in some far-distant future — a deliberate move by the writers. The story begins 14 years from now, when I'll be in my mid-forties and my 9-year-old nephew will probably be just out of college. It ends in 2070, when I hope to be alive and kicking.
"Dorothy and I looked at each other and said early on, 'Let's not have this end in 2099.' That is a literary and human construct that isn't applicable," said Scott Z. Burns, the show's creator. "We don't have until the end of the century."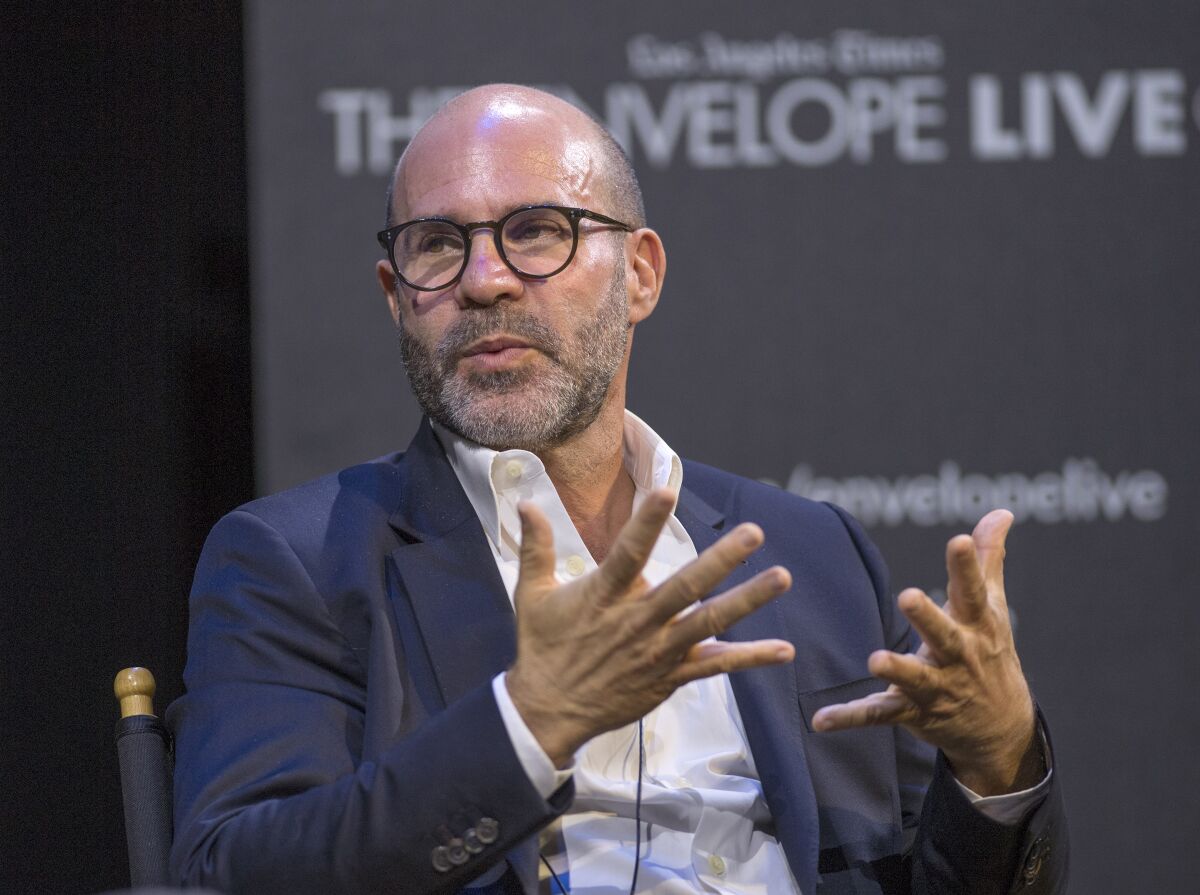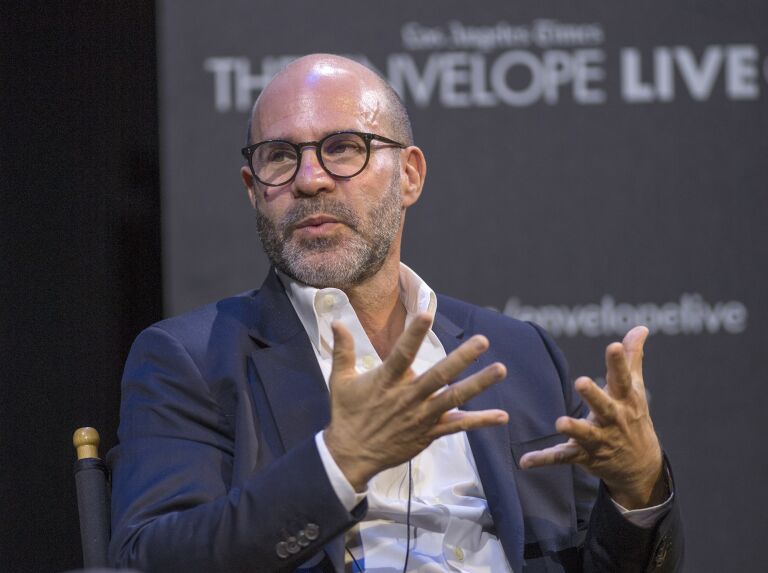 Burns was one of the producers of "An Inconvenient Truth," Al Gore's prescient 2006 film about global warming. I asked Burns if he was surprised that 17 years later, society has made so little progress on climate that now a TV show is necessary.
Not really, he said. But he is surprised and frustrated that more filmmakers haven't started telling climate stories.
He recalled a conversation in which "Don't Look Up" director Adam McKay asked him, "Why is there an infinite number of cop shows and hospital shows and lawyer shows? Why aren't there more shows that put climate change front and center?"
"What happens in a writers' room is sometimes people who are upset about [climate] find a way of plugging it into an existing show. A series will have a climate change episode. And that gives a lot of people a feeling that they ticked a box in terms of having a social conscience for their show," Burns told me. "We clearly need more than box-ticking."
He's right. At the same time, there's value in stories where climate is a supporting player, not the main selling point.
Not everyone wants to watch a show as existentially gloomy as "Extrapolations" — and that's OK. But if enough characters on half-hour sitcoms and police procedurals and Marvel superhero romps are shown talking about heat waves, or driving electric cars or eating less meat? Then the people watching those shows might begin to take the climate crisis more seriously.
I posed that idea to Fortenberry, who was nominated for three Emmy Awards as part of the writing staff for "The Handmaid's Tale." She agreed that all types of climate stories are needed. That's why she's part of an industry group collaborating with the Natural Resources Defense Council to help writers and producers feel more confident incorporating climate themes.
"On some level, the most effective climate storytelling would just be if somebody's mansion burned down in 'The Real Housewives,'" she said. "You wouldn't have an audience that had necessarily shown up to hear a climate story. But you're watching your regular story, and all of a sudden people that you've become invested in, their lives are disrupted."
"Not to wish disaster on any housewife," she added.
I asked Fortenberry about a jarring line from a late-season episode of "Extrapolations," in which a character casually mentions having worked as a massage therapist in Burbank — "when there was a Burbank." Fortenberry and her husband and kids live in the San Fernando Valley city, which has found itself under siege from fires, floods and heat storms in recent years. She told me her two daughters have gotten used to indoor recess on school days when the air is choked with smoke.
"Which I find totally horrifying, and they're just like, 'Well, sometimes you get a smoke day,'" Fortenberry said.
The show's writers had no choice but to make some educated guesses about how the effects of rising temperatures might play out over the coming decades. They did consult with experts, though, including climate scientist Nicole Hernández Hammer, who studies sea level rise, and Columbia University neurologist Kiran T. Thakur, for an episode dealing with cognitive decline.
If there's anywhere "Extrapolations" falls short, it's the relative lack of focus on climate solutions. The show devotes hardly any time to wind and solar power, for instance, even though they make up a rapidly growing share of global energy supplies due to their low costs. Other clean power options — batteries, geothermal, efficiency — are basically nowhere to be seen.
Burns pointed to various scenes where solar panels and wind turbines are featured on screen — and a sermon in which Diggs' character notes that his congregants will enjoy Passover meals cooked with energy provided by the sun. But he acknowledged that one of the difficulties in telling a story about climate change is that "frequently what's bad in life is good on paper."
I also asked him about his decision to devote an entire episode to geoengineering, the controversial idea of spraying chemicals into the atmosphere to try to cool the planet. It's a strategy that critics say could go horribly wrong, abruptly altering the climate with unpredictable and irreversible consequences. Was Burns at all worried about lending credence to geoengineering as a one-stop climate solution just by giving it so much airtime, even as some of his characters decry the potential dangers?
Burns told me he's personally frightened of geoengineering and felt the need to sound an alarm bell, working with writer Dave Eggers to craft the episode. He also said the high-stakes storyline offered a key source of drama — and if he wants more film and TV producers to follow his lead on climate, he needs to show that these stories can be entertaining, not just educational.
"Nothing matters if people are bored. If they're bored, they turn off the TV," he said.
Similarly, nothing matters if governments and corporations don't get their act together on climate — and this is an area where "Extrapolations" excels, showing how individual actions are largely meaningless in the absence of larger societal changes.
The writers make that point through Kit Harington's character, an ultra-wealthy tech company CEO whose products come to pervade every aspect of human life. He sees vast sums of money to be made off global warming, which prompts him to help engineer a new global climate deal that weakens the current target of limiting planetary warming to 2 degrees Celsius.
By the show's final episode, the planet is 2.59 degrees hotter, up from 1.2 degrees today.
When I asked Burns if he's hopeful for the future, he brought up his 2011 film "Contagion," which in many ways predicted the COVID-19 pandemic. The difference, he said, is that many of the horrors in "Extrapolations" can still be prevented.
"I'm challenging the viewer and saying, 'If you don't like this, there is time to stop quite a few of these things,'" he said.
It can be hard to feel optimistic given recent news. On Sunday, the oil giant Saudi Aramco reported $161 billion in annual profits — a record for a publicly listed company. The next day, the Biden administration approved ConocoPhillips' big Alaska oil-drilling project, known as Willow, which will result in huge amounts of planet-warming pollution if it's not derailed by lawsuits.
Neither of those developments is necessarily incompatible with a climate-safe future. But they're certainly not going to help.
Fortenberry finds at least some cause for optimism in her daughters. Her younger one, age 7, has declared she'll one day invent a machine to "eat all the pollution." Her 12-year-old, meanwhile, has scheduled a series of appointments with her mom from 2037 through 2070, so she can tell Fortenberry everything she got wrong in each episode of "Extrapolations."
"If we were overly pessimistic, and the future looks way better than we thought, that would be great," Fortenberry said.
Still, she's acutely aware that while technology might solve some climate problems, it's no silver bullet. She pointed to the rapid development of COVID-19 vaccines — and the political and social forces that conspired to stymie widespread vaccination.
"Having the technical ability to create this exciting, brand-new vaccine does not distribute it equitably around the globe. It does not refrigerate it in places that need refrigeration, and it doesn't solve the political problem of people finding it expedient to talk about anti-vaccine sentiment," she said.
For former HBO executive Michael Ellenberg — whose independent television studio Media Res produced "Extrapolations" — creating the show was an act of optimism. He told me his desire to tell a story about global warming was informed by an "old-fashioned belief that through knowledge and understanding, you gain power, and the range of what's possible expands."
A similar belief in the transformative power of information motivates me to write about climate as a journalist.
"By being excited, entertained, provoked, unsettled, maybe people will be more open to seeing the problem through fresh eyes, and not seeing it as quite so intractable," Ellenberg said. "I think the subject overwhelms people. It's immobilizing."
Is there really a large audience for a distressing show about global warming, though? Ellenberg believes the high-profile cast of "Extrapolations" will "lower the barrier to entry," bringing in viewers who might not otherwise watch.
"If you're going to ask people to engage with a subject that they might be wary of, here's a way to do so," he said.
Ellenberg pointed to last year's passage of the Inflation Reduction Act — which was signed by President Biden and included $369 billion in federal support for renewable energy and other climate measures — as a sign that incremental progress is possible. He hopes "Extrapolations" will be one puzzle piece in a larger constellation of forces that help drive further progress.
"Spoiler alert, humans will still be around," Ellenberg said. "The question is, what kind of world will we have?"
In the Miami hurricane episode, Diggs' on-screen rabbi shares a climate-tinged version of the well-worn parable "Two Boats and a Helicopter." It's about a devout man trapped by rising floodwaters, who refuses rescue because he's sure God will save him.
The punchline, as Diggs tells it: The devout man drowns and ends up in heaven, where he asks God, "Why didn't you deliver me from that flood?" To which God responds, "I sent you two boats and a helicopter. What more do you want?"
What more do I want? Divine intervention would be great, but I'm not counting on it. More than anything, "Extrapolations" serves as a reminder that humanity's future lies in our own hands. It's gripping television, but I don't need to see it again.
On that note, here's what's happening around the West:
ALL THE WATER, ALL AT ONCE
"Pajaro is just the beginning." Some of the most horrifying consequences of the record rain and snow battering California are being felt in a Monterey County town overwhelmed by floodwaters, after a levee failure on the Pajaro River forced thousands of migrant farmworkers and other residents to flee. My colleague Susanne Rust reports that federal officials knew for decades the levee was likely to fail — but never paid to fix it because protecting the low-income community didn't pencil out in a cost-benefit analysis. Similar crises may be on the horizon elsewhere, with Rust and Ian James writing that many of the state's thousands of miles of levees are more than a century old and in terrible shape — especially in marginalized areas. More than 300,000 homes lost power amid California's 11th atmospheric river of the season, as dam managers scrambled to release water from reservoirs to make room for more storms to come. Crops were underwater, homes were burglarized, and officials said they might have to slice through the state's iconic coastal highway to relieve pressure on the Pajaro River and protect downstream areas — right as Gov. Gavin Newsom looks to slash funding for coastal resilience by $561 million, as Julie Cart reports for CalMatters.
The storms highlight the need for climate solutions that address the growing "weather whiplash" between intense rain and devastating drought. As a new global study confirmed this week, extreme storms are already happening more often as the planet warms. Here in California, state and federal officials are attempting to take advantage of the floodwaters while we have them, setting aside 600,000 acre-feet of flow to bolster underground aquifers in the Central Valley — a move that could replenish groundwater supplies but that critics consider a giveaway to Big Ag, as James reports. Officials also lifted mandatory water restrictions for nearly 7 million people across Southern California, although they urged households to keep conserving.
The Golden State is being inundated right now, but the effects of years of water shortages are still with us. There will be no salmon catch along the California coast this year, with James writing that regulators have canceled commercial and recreational fishing for just the second time to protect dwindling populations. Along the California-Oregon border, the removal of four dams on the Klamath River should help salmon, too. I enjoyed this story by Juliet Grable for Jefferson Public Radio about members of the Yurok and Karuk tribes planting native trees and vegetation around the current reservoirs in advance of the dams coming down, so that invasive species don't take over later — an effort that involves billions of seeds. And in one last fisheries story, the Associated Press' Patrick Whittle reports Maine's lobster industry is suing the Monterey Bay Aquarium for defamation, claiming the aquarium has hurt business by putting its prized catch on a "red list" of seafood to avoid due to harm to rare whales.
RISKY CHEMICALS
A new study suggests trichloroethylene contamination at sites across the country — including the Santa Susana Field Lab in Ventura County and the Stringfellow Acid Pits in California's Inland Empire — could be causing Parkinson's disease. The Times' Tony Briscoe has the details here. In related news, state officials tried moving lead-laced soil from the former Exide battery recycling plant in Los Angeles County to the aforementioned Stringfellow Acid Pits, already a Superfund site. Now a bill in the state Legislature would stop anything similar from happening again, per Sarah Hofmann at the Riverside Press-Enterprise. And in a fabulous example of great journalism getting results, a startling investigation by The Times' Kiera Feldman into toxic fumes on airplanes has led to a bill in Congress that would finally force airlines and plane manufacturers to deal with the problem.
UC Irvine has told Southern California Gas Co. it won't let the company test the safety of hydrogen blending in its gas pipelines at first-year dorms and dining halls, after safety concerns raised by students who would prefer to see all-electric appliances replace natural gas. Hydrogen testing is still possible elsewhere on campus, Brooke Staggs reports for the Orange County Register. Also relevant to this conversation: the risk of indoor air pollution posed not only by gas stoves but also by gas space heaters, water heaters and clothes dryers. As Sarah Wesseler writes for Yale Climate Connections, these appliances can sometimes leak dangerous fumes indoors while contributing to outdoor air pollution, too. And if you're still feeling stung by exorbitant natural gas bills the last few months? Check out this history lesson from The Times' Patt Morrison, who explains that the dominance of gas heating and cooking in California stems in part from a clever gas industry marketing campaign.
A federal judge ordered the U.S. Nuclear Regulatory Commission to produce more records about a "serious near miss" involving radioactive waste at Southern California Edison's shuttered San Onofre nuclear plant along the coast in San Diego County — or at least look for those records. Here's the story from Rob Nikolewski at the San Diego Union-Tribune, who notes that the lawsuit was brought by Michael Aguirre, an attorney who has also fought lonely battles against the state's rescue of Pacific Gas & Electric and his home city's dealings with San Diego Gas & Electric. Farther down the coast, infrastructure failures in Baja California and San Diego County have resulted in 30 million gallons of not-fully-cleaned sewage being discharged into the Pacific Ocean every day, Joshua Emerson Smith reports for the San Diego Union-Tribune. Repairs aren't expected until June.
THE ENERGY TRANSITION
A new study looking at California and five other states found a 1.5% drop in resale prices for homes near solar farms — not a huge difference, but not nothing, either. Dan Gearino wrote about the study for Inside Climate News, noting that in California, there was actually a slight increase in home sale prices, although it was so small as to be statistically meaningless. I've got no doubt solar critics will point to this study as evidence that solar farms can hurt property values, adding fuel to the larger debate I've been covering over where to build renewable energy facilities. In other mediocre-at-best news for the clean energy industry, Canary Media's Jeff St. John writes that while Silicon Valley Bank was a key lender for community solar projects — which can bring solar to middle- and low-income communities — the bank's collapse might not be as damaging as initially feared.
New Mexico's San Juan coal plant will almost certainly be torn down, not reopened and retrofitted with carbon capture. NM Political Report's Hannah Grover writes that local officials have approved a demolition plan submitted by utility owner PNM, which will bring an end to a major polluter that supplied electricity to Southern California. PNM, by the way, wants New Mexico officials to reconsider its previously rejected merger with global energy giant Iberdrola — but what would that mean for the Land of Enchantment's 100% clean energy target? Jason Plautz takes a look for E&E News. New Mexico lawmakers, meanwhile, blocked a bill that would have required the state to cut climate pollution 50% by 2030, per Adrian Hedden at the Carlsbad Current-Argus.
The first 171 miles of California's bullet train are now expected to cost up to $35 billion — more than the entire system was initially estimated to cost. The new numbers are only the latest setback for high-speed rail, as Ralph Vartabedian writes for CalMatters. One way or another, we need a lot more public transit in California, and not just for climate and air-pollution reasons; just see this piece by my colleague Russ Mitchell about distracted driving, which includes some gut-check statistics about the number of people dying or getting seriously injured while using their phones. But while public transit is statistically a lot safer, it's easy to understand why people might hesitate to take the train after reading startling pieces like this one by The Times' Rachel Uranga, about the crisis of drug overdose deaths on L.A. Metro. I imagine there won't be problems like that, at least, on the San Francisco Bay's new zero-emission ferry, which will be powered entirely by hydrogen fuel cells, Robert J. Lopez reports.
POLITICAL CLIMATE
The Navajo Nation and the state of Arizona will square off at the U.S. Supreme Court next week, in a consequential dispute over tribal rights to Colorado River water. The New Republic's Matt Ford wrote about the high-stakes battle, which harkens back to a century-old legal doctrine holding that tribal reservations established by the U.S. government need water to prosper. In other Colorado River news, the Nevada Legislature might pass a bill that would allow Las Vegas-area water managers to cut off water-hogging homes after a certain amount of consumption. Details here from Gabe Stern at the Associated Press.
The Biden administration has declined to protect Joshua trees under the Endangered Species Act, despite the long-term dangers posed by climate change. In California, stronger protections now hinge on a bill in the state Legislature, the Desert Sun's Erin Rode reports. In Nevada, meanwhile, conservationists sued the federal government to protect a rare fish they say is threatened by alfalfa farming and lithium mining, Brent Schanding reports for the Pahrump Valley Times. And in Utah, activists are petitioning to get the world's smallest rabbit protected under the Endangered Species Act, arguing its Great Basin habitat is being decimated by global warming and invasive weeds. Here's the story from Brian Maffly at the Salt Lake Tribune.
California keeps letting fossil fuel companies upgrade existing wells near homes and schools to produce more oil — even though this would have been banned under a law now on pause until a November 2024 public referendum. Environmental justice activists are furious with Gov. Gavin Newsom and his appointees, John Cox reports for the Bakersfield Californian. The oil industry and its allies were able to get the law paused by rounding up enough signatures for a statewide ballot measure.
ONE MORE THING
In last week's newsletter, I wrote about a new study out of USC finding that Angelenos who drive more tend to be exposed to less air pollution, and Angelenos who drive less tend to be exposed to more pollution. As the lead author of the study explained, that disparity is largely a function of the racism that shaped this city and its suburbs, including Los Angeles County's shameful history of tearing apart low-income communities to build freeways.
The headline on The Times' website: "How white and affluent drivers are polluting the air breathed by L.A.'s people of color."
The piece went viral among right-wing media figures, who found the study — and my commentary — to be patently absurd. Donald Trump Jr. tweeted about the story, as did Elon Musk. Fox News aired five segments, including ones in which Tucker Carlson and Laura Ingraham attacked me personally. I was inundated by hate mail, much of it antisemitic. Thousands of people — most of whom, I'm guessing, did not read the story — called me a racist, a Marxist, a filthy Jew. Some of them wished for my death.
On the one hand, this kind of thing happens to journalists all the time. It's an unfortunate but often unavoidable consequence of shining a light on hard truths in a country where large swaths of the media and political ecosystems have come to be dominated by propaganda artists who build money and power by telling outrageous lies and demonizing their perceived enemies.
On the other hand ... it was pretty surreal to see up close just how many Americans are convinced structural racism doesn't exist — and are eager to spew hatred on anyone who dares suggest otherwise. I thought about the people in my own life who watch Fox News and wondered what they made of me after watching those segments. I thought about the challenge of trying to make the world a better place through journalism when so many people aren't willing to engage beyond a provocative headline.
I don't have all the answers. But I do have hope, somehow, despite all the vitriol.
And if you're hopeful, too? Support our journalism with an L.A. Times digital subscription. Help us keep reporting the truth.
We'll be back in your inbox on Thursday. To view this newsletter in your Web browser, click here. And for more climate and environment news, follow @Sammy_Roth on Twitter.
Toward a more sustainable California
Get Boiling Point, our newsletter exploring climate change, energy and the environment, and become part of the conversation — and the solution.
You may occasionally receive promotional content from the Los Angeles Times.