California adopts drought rules outlawing water wasting, with fines of up to $500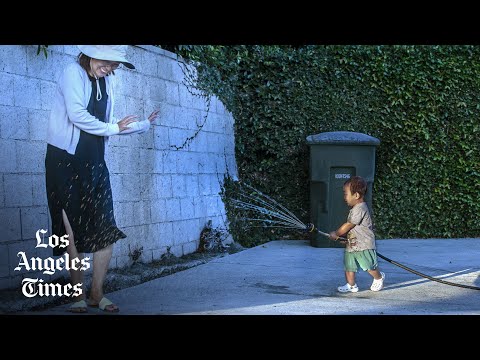 California's latest drought rules prohibit running sprinklers after rain or overwatering that sends runoff coursing into city streets.
In an effort to discourage wasteful water practices such as hosing off driveways or allowing irrigation water to run down streets, California water officials have imposed new drought rules for cities and towns throughout the state.
The regulations, adopted Tuesday by the State Water Resources Control Board, prohibit overwatering yards, washing cars without a shutoff nozzle, hosing down sidewalks or watering grass within 48 hours after rainfall.
Even after December brought downpours across California and record snow in parts of the Sierra Nevada, state water officials stressed that a drought remains and that efforts to conserve water should continue.
"These are just the practical everyday things that we all can be doing," said Sean Maguire, a member of the state water board. He said the measures in the emergency drought regulations will "help with that mindset of water savings."
The new rules also prohibit, among other things, using potable water to irrigate grass on public street medians or landscaped areas between the street and sidewalk; using potable water for street cleaning or construction purposes; and using potable water for decorative fountains or filling artificial lakes or ponds, with some exceptions.
The regulations apply statewide and there are no exceptions for golf courses and other recreational facilities, said Jackie Carpenter, director of media relations for the state water board. There is a general exemption in the rules for water that's necessary for public health and safety.
Violators could face fines of up to $500. The temporary rules, which will be in effect for one year, are similar to measures that were put in place during the last severe drought from 2012 to 2016. The rules also bar homeowners' associations from fining residents who cut back on watering their lawns or other landscaping.
Eric Oppenheimer, the water board's chief deputy director, said the new rules should help boost conservation and raise awareness about the need to continue conserving.
"Despite record levels of precipitation so far this winter in some areas, we are not out of the woods yet," Oppenheimer said.
The new rules are "commonsense measures to save water as California faces more extreme cycles of wet and dry conditions driven by climate change," he said.
The state water board's conservation rules focus on urban areas and don't address agriculture, which according to state data uses nearly 80% of the water that is diverted and pumped for human use in an average year.
That aspect of the state's approach prompted criticism from Nataly Escobedo Garcia, a policy coordinator with the nonprofit group Leadership Counsel for Justice and Accountability.
"We continue to warn that without accompanying regulations on agricultural overpumping, the gains made by urban water regulation will be minuscule at best," Escobedo Garcia told members of the board.
Overpumping of groundwater has been a chronic problem in farming areas across the Central Valley, and a frenzy of new well-drilling has occurred during the drought, while limits on pumping have yet to take effect under the state's 2014 groundwater law. Meanwhile, at least 975 households saw their wells dry up during the past year, according to state data. Many of those wells were located in Central Valley farming areas, where groundwater continues to be depleted.
The water board did not address the issue of agricultural overpumping Tuesday, but it did respond to Escobedo Garcia's concern that fines could create problems for low-income households.
Oppenheimer said the regulations aren't intended to create "an undue burden" for low-income individuals. He said that during the last drought local agencies largely handled water-waste complaints by notifying customers and offering assistance, instead of issuing fines.
While no data was presented on fines issued during the last drought, Oppenheimer said the few that were imposed were not "anywhere near the $500 mark."
The state water board will be able to fine any water suppliers or cities for violations, he said, but will be looking to those local agencies "to take the lead on enforcing at the individual household level."
Board member Laurel Firestone said she was concerned about the lack of protections for water customers and the potential that low-income residents could face water shutoffs or tax liens on their homes.
"Inability to pay can have really significant consequences," Firestone said. "I would want to make sure that we as a board are not compounding that equity problem with our actions."
Other board members agreed, and the regulations were revised to address the concerns. An added provision in the final version says the water board would base any fines on a determination of the customer's ability to pay, would not result in a water shutoff or tax lien, and would consider a 12-month payment plan. The state water board also encouraged cities and water suppliers to take the same approach.
With those changes, the board voted unanimously to adopt the rules on wasting water.
"These are no-brainer actions. And we need to make sure that we're helping that message be heard across California," Firestone said. She said she hopes the measures will help push forward other efforts to develop long-term standards of water conservation and efficiency, and establish a "more appropriate and effective approach to emergency conservation."
The board adopted the rules after announcing that Californians reduced water usage 6.8% statewide in November compared to the same month the previous year. Gov. Gavin Newsom in July urged Californians to voluntarily reduce water use 15%, but much of the state has lagged behind that goal.
People in the Bay Area reduced water use 20.2% in November, but other regions conserved less. Water use in the South Coast region of Southern California increased slightly in November.
After two of the driest years on record, the state's reservoirs remain at below-average levels. The wet and snowy December helped somewhat, but the state's water management officials are preparing for the possibility that the rest of the winter may not be nearly as wet.
"It looks like after we get through this weather system this week, things go dry, and the expectations are a drier than average January, February and March," State Climatologist Michael Anderson said. Much will depend on a high-pressure system building over the Pacific that's likely to push storms north into Oregon and Washington.
With the state-declared drought emergency still in effect, California's water officials said they hope the new rules will help underscore their conservation message. They pointed out that people can report a water waste complaint through the state website SaveWater.ca.gov. The webform includes the type of water waste, a space for the address and a space to upload photos.
At the local level, some cities and water districts offer similar means of reporting water waste online.
As for enforcing the drought rules, Oppenheimer said cities and local water agencies have previously hired additional staff to follow up on complaints and help people comply with the restrictions. For example, he said, oftentimes people don't realize their sprinklers are overwatering and sending water running in the street. Letting them know is enough to fix the problem, he said.
The fines are an option for repeated or flagrant violations, Oppenheimer said, but "there's not going to be like a statewide force of water cops or anything like that."