Brit Week event honors fashion designer Pam Hogg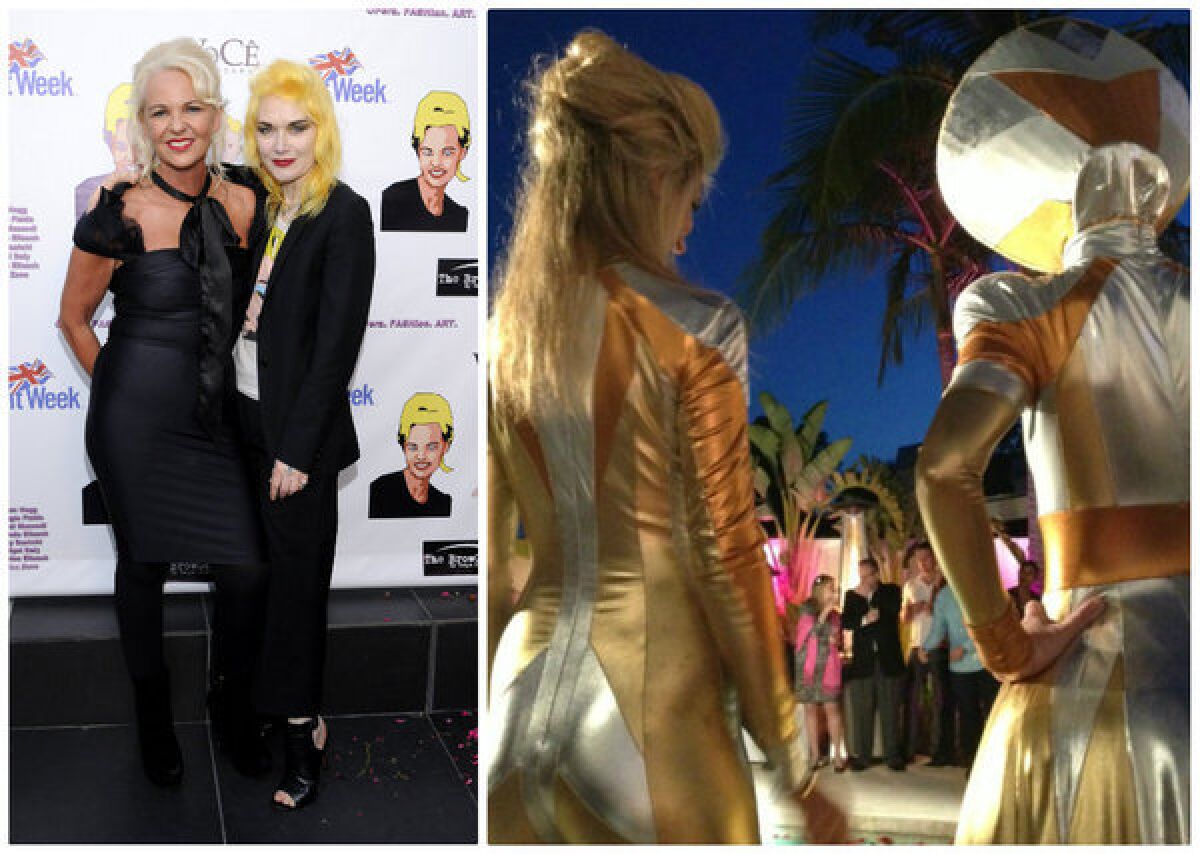 Opera, fashion and art came together Saturday night when Genlux magazine fashion editor, filmmaker and photographer Amanda Eliasch threw a Brit Week bash at her West Hollywood hillside home above the Sunset Strip.
The colorful poolside party for fellow creatives from across the pond was held in an eclectic setting, with a panoramic view of Los Angeles to the south, a hot pink piano due north and a burgundy crocodile, stirrup-dangling bench near the southeast outdoor bar that could've ambled out of "50 Shades of Grey."
Live vocal performances came courtesy of Lisa Zane (sister of actor Billy Zane, who was also in the mix -- and wearing a T-shirt of his own design emblazoned with the words "Seize the day bed"), and Charles Eliasch, Amanda's son. Charles and Lisa appear (and sing) in the hostess' recently completed film, "The Gun, the Cake and the Butterfly."
"At first Charlie was appalled she wasn't a properly trained opera singer," Amanda Eliasch said by way of introduction. "And now [they] do Handel at parties!"
Among the British artists in the house -- and whose work was on display throughout same -- were Nigel Daly, Duggie Fields and Yassi Mazandi.
The performance beside the pool was followed by a fashion show over and around it, as models clad in London designer Pam Hogg's body-hugging, color-blocked clothes walked a water-spanning runway bridge in pieces from the designer's spring collection. The looks channeled the best of glam rock Bowie -- as modeled by Lady Victoria Hervey -- and inspired whispers of "Barbarella" from the crowd as worn by actress Meredith Ostrom.
Hogg's creations were a fitting choice for Brit Week, which celebrates all that is British in the City of Angels. The designer has dressed many rock 'n' roll style icons from the 1980s to today, including Lady Gaga, Rihanna and Kylie Minogue.
ALSO:
George Esquivel counts his star clients by the foot
Designers create exclusive looks for London Show Rooms L.A.
L.A. designer Monique Lhuillier dresses Michelle Obama for nerd prom
---