Eva Amurri Martino addresses joy, sorrow, fashion in lifestyle blog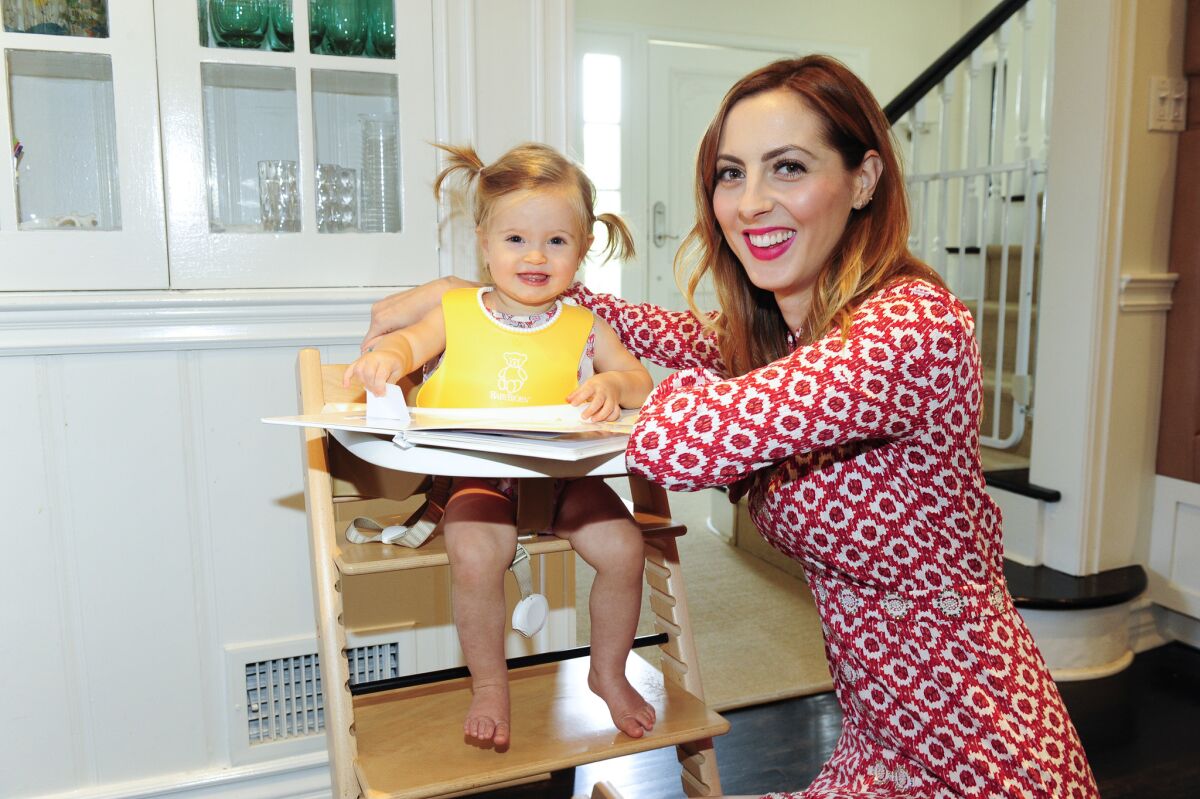 When actress Eva Amurri broke the news on her blog, Happily Eva After, that she had suffered a miscarriage in August, her readers, 27,000 Instagram followers and the fans who have followed her acting work since she was a child offered an outpouring of support.
The 100-plus comments on the blog post applauded her courage in broaching a subject rarely discussed in the open, particularly by lifestyle bloggers and actresses in the public eye.
"To anybody enduring similar heartache, I will tell you what I'm feeling and processing as a result of this loss: A lot of confusion, some anger, deep sadness and also an immense amount of gratitude," she wrote. "I have realized in the past forty-eight hours how incredibly grateful I am for the magic that I have in my life."
It's this type of candor that is a through line on her blog and what her fans seem to appreciate. Whether she's sharing recipes, style inspiration, home décor or the frustrations and hilarity of raising her 1-year-old daughter Marlowe, Martino comes across as honest, and it resonates with her readers and those going through the same experiences.
Martino began blogging after Marlowe was born in August 2014.
"I had a baby and I felt really pulled in a lot of directions in terms of who I was supposed to be now," says Martino. "I wanted to be a mom and still be the multi-tasking woman I was before but it seemed insurmountable, so I began documenting my life and experience in hopes of being a friend to other parents."
Though she started posting after Marlowe's birth, the blog celebrated its official lunch just a few days ago, with a luncheon Sept. 1 at the Sherman Oaks home she shares with her daughter and her husband, sports analyst Kyle Martino.
Here, Eva Amurri Martino, who was raised by her own high-profile working mom, actress Susan Sarandon (with whom she appeared in the 2002 film "The Banger Sisters"), shares her thoughts on style, work and whether there is such a thing as balance when it comes to doing and having it all. Given her ambition to build a lifestyle blog and brand while also filming a new movie, coincidentally titled "Mother's Day," Amurri is experiencing this balancing act and sharing each moment, to the obvious delight of her readers.
How are you managing sharing so much of your life with readers and how do you manage blogging and acting?
I'll always be grateful for everything I was able to experience as an actress, but my passion really is the blog. The blog is really giving back to me. I've fallen in love with it. It's reinvigorated me. For me the point was putting the life back in the mom blog. It's décor, food, entertaining, style, beauty and kids.
That's what's so great about blogging. You can create a world where you don't have to apologize for living your life. My blog is somewhere in the middle, it's not too much mommy stuff or too much fashion. I'm trying to bridge the gap.
Is there such a thing as balance?
I see it more as a juggle. For myself I've had to redefine what balance is and what having it all is. The great part of parenting is that my priorities have shifted, and I've been able to focus on the things that are important to me. I hear from women that they have to really love what they're doing, because you're taking time away from child, family and yourself.
Has your approach to style and beauty changed at all since having a child?
Actually, my style changed more when I moved from New York to L.A.! It's so relaxed here, and I'm running around after a toddler and sometimes have to jump in front of a staircase. I usually wear a skinny or boyfriend jean and crisp white shirt. I'm really into Nike wedge sneakers as they feel a little dressed up and love dresses for work, date night or out with friends. I've gotten very particular about the clothes I own. There's nothing superfluous, like that one skirt that I'd wear in Bali at a dance show. One thing I really try and do is make sure that I feel great about myself every day, whether that means three-minute makeup or blowing out the front two sections of my hair myself. It's my armor and makes me feel my best.
Your blog seems to be growing quickly. What can we expect in the future?
I'll be doing an advice column every Sunday where people can email me their questions about lipstick, baby food, what their mother-in-law did. It's across the board, to sadder, more moving experiences like miscarriages and those who have experienced a similar loss.
It's so interesting and exciting to communicate with my readership -- that's one of the things that made me fall in love with this entire thing.
ALSO:
Lululemon will soon have a new way to sell pants
What H&M has been doing with your unwanted clothes
---