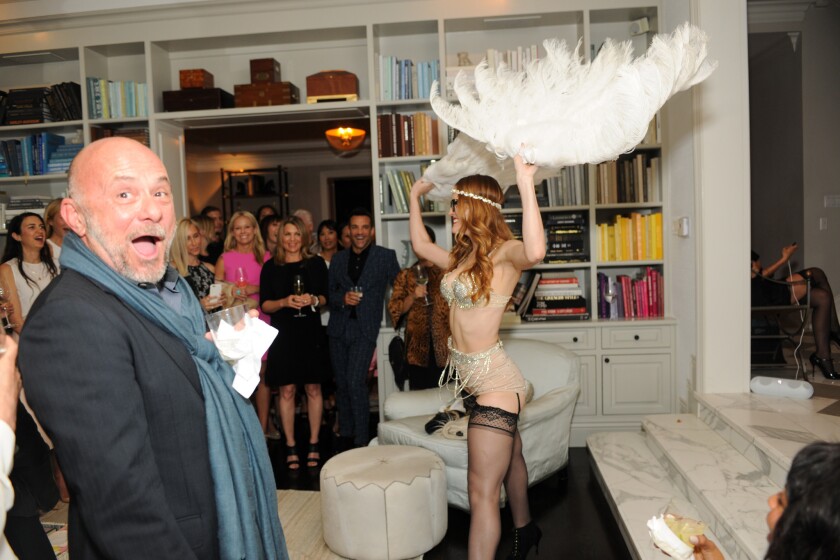 Several of Los Angeles' brightest stars from the worlds of fashion and interior design came together Monday to celebrate decorator Windsor Smith's recently released book "Windsor Smith Homefront: Design for Modern Living."
Fashion designers Monique Lhuillier and Minnie Mortimer, furniture designer Alexandra von Furstenberg, architectural designer Dax Miller and floral designer Eric Buterbaugh all gathered at Smith's Brentwood home, a sprawling space filled with a mix of luxurious textures – marble, brass and pony hair furniture and surfaces, surrounded by white and deep gray walls – to toast the designer on writing her first tome.
Smith, who works with a celebrity roster that reads like an Oscar party invite list, was also joined by her most famous client, Gwyneth Paltrow, who penned the foreword for the book and played host for the evening.
The actress, who lives across the street from Smith, says she was smitten with Smith's design for her home.
"She has an uncanny ability to combine spaces in a way that reflects how people really want to live," Paltrow said during an impromptu post-dinner speech. "It's been such an honor to live in the home that you've designed."
Paltrow is part of Smith's elite clientele, or what the designer refers to as "high-powered families with complicated lives, high standards and a beautiful aesthetic."
"That's my sweet spot," Smith said of the demographic.
"I wanted to write a book that was about families and how the paradigms of design need to change based on the way we live today and how spaces are evolving," Smith said. For example, a grand salon-style kitchen meant for entertaining is the modern-day answer to the antiquated formality of a traditional dining room, she said.
The designer, who has lived and worked in Los Angeles for 20 years, appreciates the casual elegance that comes with the Southern California lifestyle, saying, "There's a deconstructed, unbuttoned quality about L.A. that doesn't exist anywhere else. I love the juxtapositions, the fact that we can do all of this, yet still entertain barefoot."
For her own party, Smith was not barefoot, but clad in a pair of white, high-heeled Tom Ford sandals and a structured, sunset-hued, caftan-style dress from the Row, an ensemble that showed off the designer's brand of elevated ease.
Add to that the stylish burlesque dancers who performed intermittently throughout the dinner party and Smith's credo on "undone elegance" became crystal clear – that even in the most beautifully appointed spaces, people can and should still be able to have fun and live comfortably.
---