Jumpsuits are the hottest red carpet trend right now: Jennifer Lawrence at Comic-Con is latest to work it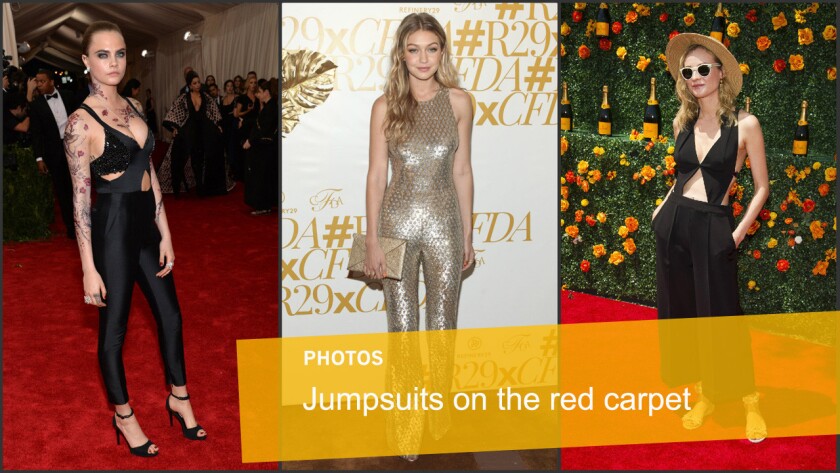 From classic tuxedo riffs (Emily Blunt in navy satin Elisabetta Franchi) to all-out disco-diva styles (Gigi Hadid in metallic gold Michael Kors), the elevated onesie is all over the place this spring.
When did the trend begin? I'd point to the 2012 SAG Awards, when Rose Byrne wore a white lace Elie Saab jumpsuit with cap sleeves, a plunging neckline and wide pants. She said she was channeling Michelle Pfeiffer in "Scarface," and with the bob hairdo, it was unmistakable.
At the time, I called Byrne the biggest risk-taker of the night when it came to red carpet dressing, and noted that the look worked in a "kooky chic" way. Well that kooky chic has gone mainstream. In the three years since, nearly ever star in Hollywood has jumped on the jumpsuit, and at some of the biggest awards shows, too.
Jumpsuits are a modern antidote to outdated, overly wrought evening gowns -- a cool compromise between a dress and a pant suit. Balmain has been the go-to designer for glittery rock chick styles. (Jane Fonda wore an emerald green Balmain jumpsuit to the 2015 Grammys and Taylor Swift a white cutout Balmain style to the 2015 Billboard Music Awards.) For classicists, Lanvin has been a go-to. (Emma Stone wore a Lanvin jumpsuit with a big bow-tied sash to the 2015 Golden Globes). Stella McCartney and Roland Mouret have been best bets for more casual versions.
And now that we're heading into summer, with 1990s nostalgia in full swing, the style is going super casual, with Alessandra Ambrosio, Stone, Swift and others hitting the streets in denim overalls. And what are overalls really but a relaxed jumpsuit?
Here are some of the season's best:
Jennifer Lawrence, left, with Stan Lee at Comic-Con International in San Diego, Calif.
Emily Blunt wears an Elisabetta Franchi Fall 2015 navy blue tuxedo jumpsuit at the American Institute for Stuttering's Freeing Voices, Changing Lives Gala on June 8 in New York City.
Taraji Henson wears a strapless Monique Lhuillier jumpsuit at Spike TV's Guys Choice Awards on June 6. Terrence Howard is to her right.
Gigi Hadid wears a metallic gold jumpsuit by Michael Kors at the CFDA Awards in New York on June 1.
Diane Kruger wears a black cut-out Roland Mouret jumpsuit at the 8th annual Veuve Clicquot Polo Classic in Jersey City, N.J., on May 30.
Marion Cotillard wears an Ulyana Sergeenko multi-colored silk jumpsuit from the Demi Couture Collection to the "Macbeth" photocall during the 68th annual Cannes Film Festival on May 23.
Taylor Swift wears a white cutout Balmain jumpsuit at the Billboard Music Awards on May 15.
Cara Delevingne wears a cutout Stella McCartney jumpsuit at the Met Gala on May 4.
Elizabeth Banks wears Kaelen at the 2015 CinemaCon Big Screen Achievement Awards on April 23.
Scarlett Johansson appears in Zuhair Murad at Nokia Theatre L.A. Live on April 12 in Los Angeles.
Emma Stone wears Lanvin at the 72nd annual Golden Globe Awards on Jan. 11.
For the latest in fashion and style news, follow me @Booth1 on Twitter.
---