Model Behati Prinsloo talks fruit bats, Instagram and THVM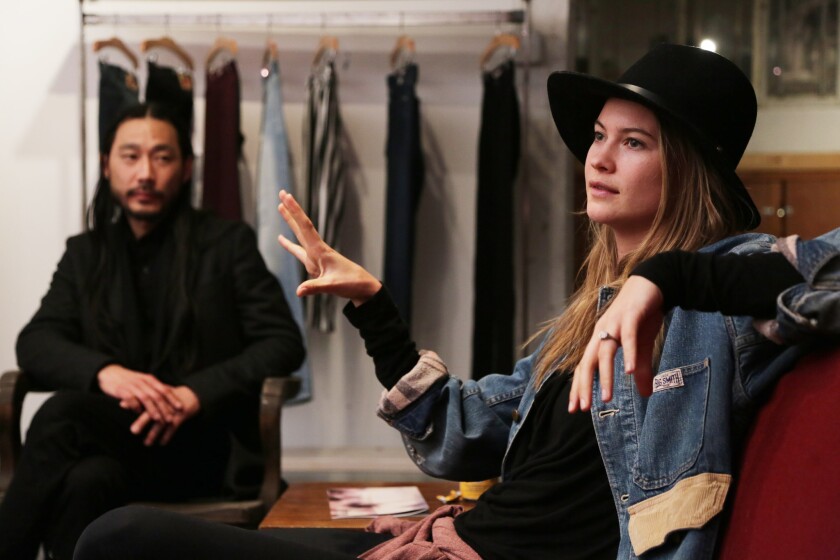 A week ago I had a chance to sit down with Namibian supermodel Behati Prinsloo on the overstuffed couch of a downtown L.A. denim atelier to talk about her first foray into fashion -- a capsule collection with THVM due out for spring/summer 2014.
While a more in-depth story about that collection and the charmingly funny Prinsloo (who earlier this year got engaged to Maroon 5 frontman Adam Levine) is slated to appear in Sunday's Image section, here are a few excerpts from our conversation that ranged from style inspiration to Instagram to naming a fruit bat.
All The Rage: Although I've read all about it on the Internet I wouldn't be doing my journalistic duty if I didn't ask you straight out: You are engaged to Adam Levine, right?
Behati Prinsloo: That is correct!
ATR: So are you planning on relocating out here now?
BP: I'm going to continue going back and forth. I work mostly in New York [City] and when I have time off I come here [to Los Angeles] -- I love it!
ATR: On any given month, how much of it do you spend here and how much do you spend in New York?
BP: It depends on the season and the schedule but it's usually about half and half. All of my work is based out of New York but I'm here for work now so that's good!
ATR: Where do you like to shop in Los Angeles?
BP: Honestly I don't shop in L.A. very much -- it's mostly in New York or when I'm away on trips. I love going to all those fun little vintage places.
ATR: Can you name a few of your favorite places?
BP: Resurrection -- for really amazing pieces -- and What Goes Around Comes Around. It's super expensive but they have some really good stuff. Oh, and Palm Springs has some really good places but I can't remember the names. And there's this one place in Miami where there's all this kind of crazy stuff in a huge basement -- but I don't know the name of that either.
ATR: Who are some of your personal style icons?
BP: I love Marilyn Monroe, Jimi Hendrix and Kurt Cobain, I really do. It doesn't matter what style they had -- whether it was pin-up or whatever -- it just worked for them, and it looked effortless even though it was fabulous. I like anything that just looks effortless.
ATR: How long did the process of collaborating on the Behati in This Here Very Moment collection take?
BP: It was crazy -- it was something like a month from the time we first talked to the time there were samples for me to wear. We ended up doing a lot of the [process] by FaceTime because I was in New York working for most of the time. [Co-founders and designers] Brian [Kim] and Olga [Nazarova] and I all worked really well together -- it ended up being super easy.
ATR: I noticed one of the designs in the collection is a huge fruit bat -- which is also on the back patch on the jeans. It seems like a kind of mascot -- does it have a name?
BP: I feel like he should have a stupid name like Barnaby, Charlie or Suzy -- Suzy Q. Yes, that's it: Suzy Q the fruit bat!
ATR: Do you have any plans to pursue fashion design? I'd read that this collaboration with THVM was a kind of stepping stone to doing your own line.
BP: Collaborating is really fun and it's something I'd like to do more of but I don't think I want to do something on my own right now. Maybe one day -- but I really like the idea of collaboration and working with other people.
ATR: Are there any fashion collaborations out there that have caught your eye?
BP: I really like the Chloë Sevigny for Opening Ceremony collection -- all of those kind of laser-cut leather dresses.
ATR: Do you consider yourself social-media savvy? As of today you've got 169,280 Twitter followers and somewhere in the neighborhood of 461,634 people following you on Instagram.
BP: [A lot of those Instagram followers are] thanks to [People magazine's] sexiest man alive -- and they all want to kill me! It wasn't like: "Ohhh, we're following you because we love your pictures," It was like: "You suck!" (laughs). Actually I love Instagram -- I don't actually go on Twitter and tweet, I just connect it through my Instagram account. I think it's a good way of getting stuff out there and connecting with people.
ATR: Do you have any favorite Instagram accounts you follow?
BP: I love National Geographic's -- it's really good. And there's one called Earth Pics. And there are some girls I know -- [model] Cara Delevingne is really funny and goofy and I think it's kind of refreshing.
ATR: What do you think it will be like the first time you see something from the Behati Prinsloo This Here Very Moment collection out on the street, in the wild so to speak?
BP: If I didn't give it to them or something and I just saw it on the street? It would be so exciting I think I'd probably jump on them and say: "Yesssssss!"
ATR: So I should tell people that for each piece from the collection they purchase there's the potential for a random Behati Prinsloo hop-on?
BP: Totally! Or at the very least a "Yo, good choice!" and one of these! (Prinsloo flashes a huge smile and gives an enthusiastic thumbs up to an imaginary denim-clad passerby.)
ALSO:
Adam Levine says Behati Prinsloo got his mind on marriage
Costume Designers Guild to honor Judd Apatow, April Ferry
Acne Studios opens 5,000-square-foot store in downtown L.A.
---