New York Fashion Week fall 2013: Raif menswear review
Raif - fall 2013
(Fernanda Calfat / AFP/Getty Images)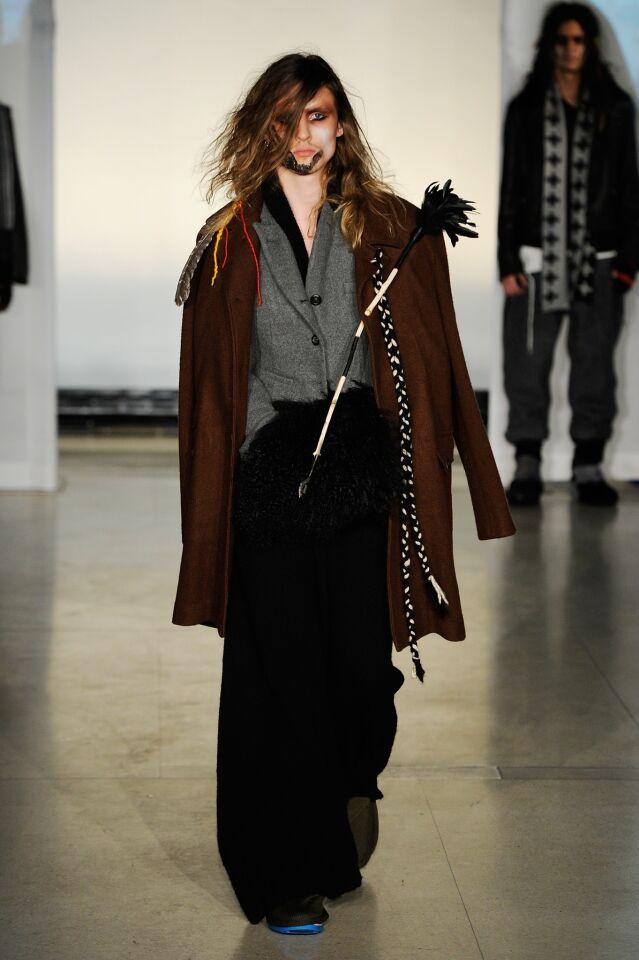 Raif - fall 2013
(Fernanda Calfat / AFP/Getty Images)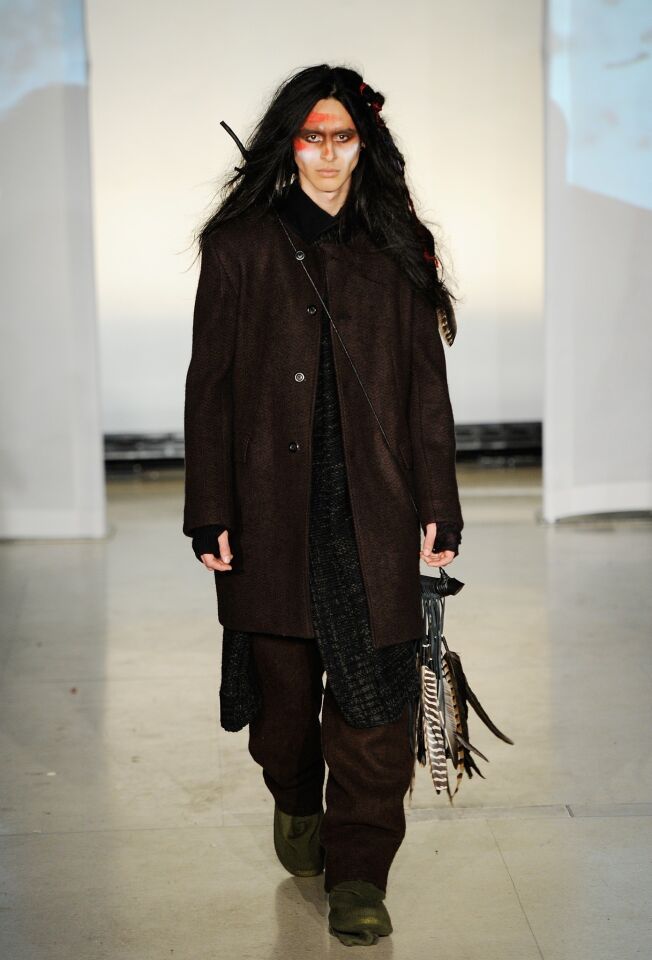 Raif - fall 2013
(Fernanda Calfat / AFP/Getty Images)
Raif - fall 2013
(Fernanda Calfat / AFP/Getty Images)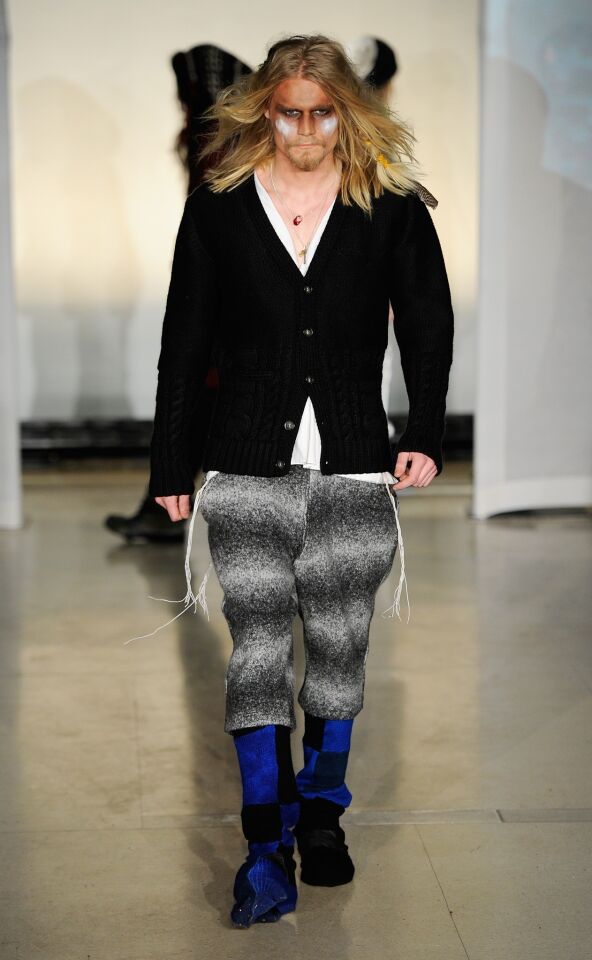 Raif - fall 2013
(Fernanda Calfat / AFP/Getty Images)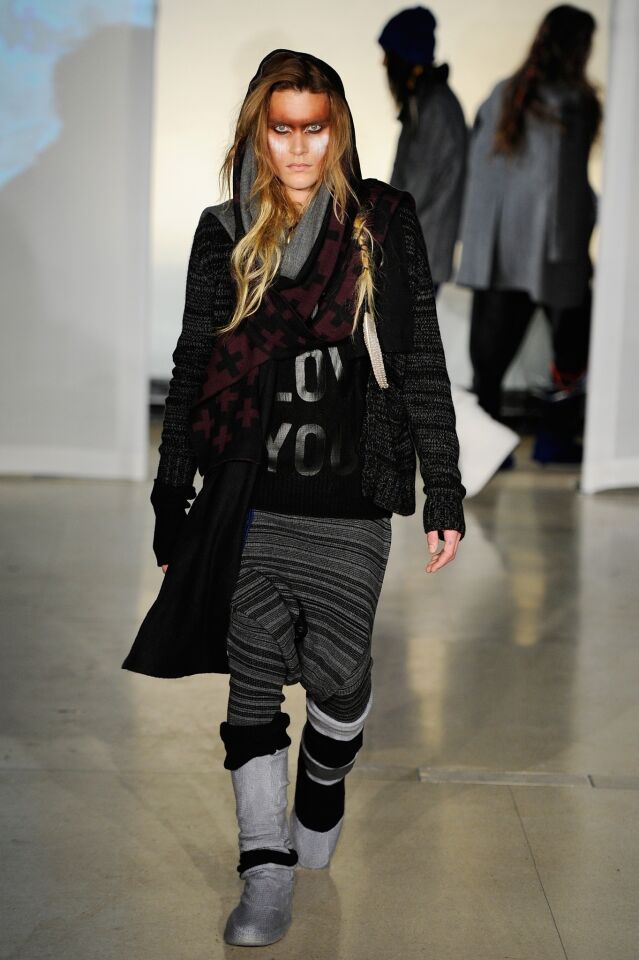 Raif - fall 2013
(Fernanda Calfat / AFP/Getty Images)
Raif - fall 2013
(Fernanda Calfat / AFP/Getty Images)
Raif - fall 2013
(Fernanda Calfat / AFP/Getty Images)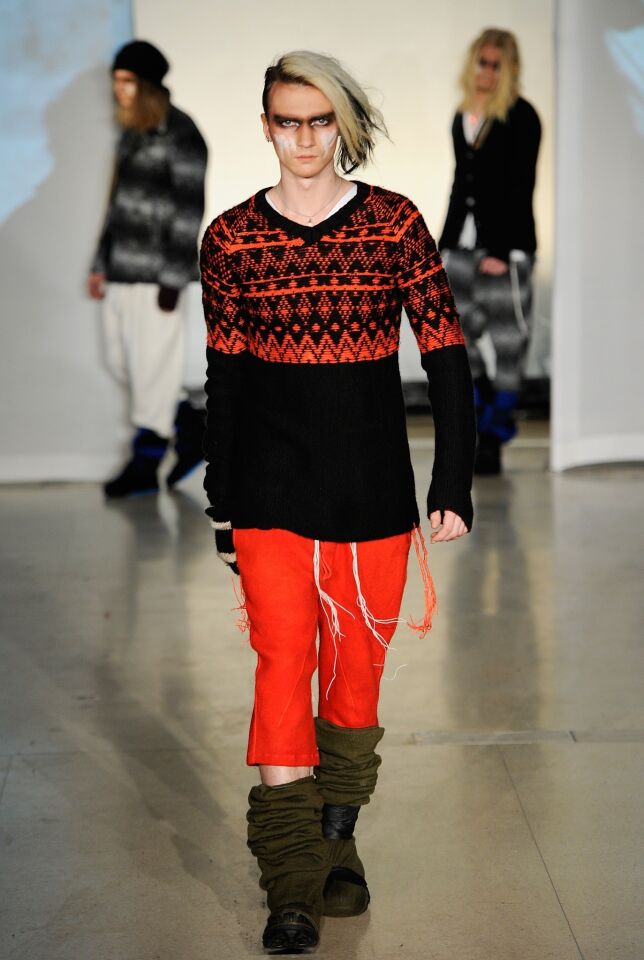 Raif - fall 2013
(Fernanda Calfat / AFP/Getty Images)
NEW YORK -- For the first time, Raif Adelberg presented his cashmere-heavy Raif fall-winter 2013 menswear runway collection during New York Fashion Week, staging a runway show Saturday in the New York Public Library at Lincoln Center as part of Details magazine's effort to establish a viable menswear hub at the twice-yearly slate of shows.
Although his name might not be instantly ring a bell, Adelberg, based out of British Columbia's Bowen Island, has a nearly quarter-century of experience paddling in the luxury-label pool, first as a retailer and later a designer. He opened his first boutique, the Edge, in Palm Springs in 1989, but is perhaps best known for Richard Kidd, the Vancouver store he opened in 2004, which would later grow into a men's and women's label of the same name before shuttering in 2008.
His eponymous super-luxe men's cashmere collection, now in its third season, has a super-luxe price tag too -- think $370 knit beanies and $4,000 cardigan sweaters. Itsells at Bergdorf Goodman in New York and independent luxury boutiques across the country (including Just One Eye in Los Angeles). Although he recently expanded the line to include womenswear, he sent his men's collection down the runway here.
Inspiration: Adelberg cited as his inspiration "an eclectic mix of Russian, Jewish, Tibetan nomads, a group of indigenous survivalists who have separated themselves from society."
The Look: Several herds' worth of cashmere hand-knit and hand-loomed into generously cut cardigan sweaters, double-breasted peacoats and blazers (with the extra-cozy touch of felted cashmere elbow patches) and a raft of accessories including slouchy beanies, scarves, gloves, mufflers and leg and hand wraps, drop-crotch trousers and toasty warm sweatpants, all grounded in a color palette of winter tundra whites, blacks and earthy browns punctuated with the occasional pair of piercing blue trousers, or muted shades of red.
But there was a definite edge hidden beneath all that laid-back luxe, evidenced by things such as intarsia sweaters with the word "destroy" across the back, and scarves and shirts bearing a slogan we can only paraphrase here as "EXPLETIVE I Love You." Whatever Adelberg's nomads are up to, the collection seemed to say, cross them at your peril.
News: Saturday's runway show at Lincoln Center wasn't just a first for Adelberg. Backstage, just before the clothes hit the catwalk, we had the opportunity to chat briefly with one of the models -- a tall, slender, soft-spoken young man by the name of Christian Balelia, who was about to walk in his very first runway show, thanks to the Make-A-Wish Foundation.
Balelia, who has sickle cell anemia, had flown to New York City from his home in Indianapolis earlier in the week to finally realize his wish -- three years in the making -- to be a high-fashion runway model. (Although the organization concentrates the bulk of its efforts on helping younger children, the 17-year-old who first made the wish was a day past his 20th birthday).
"I'm really excited -- and kind of anxious," Balelia said moments before the show began. "I didn't believe this was really happening until I was sitting in my seat on the plane and we were about to take off."
Nervous as he may have been, by the time the young man hit the runway, wearing a black-and-white-striped cashmere sweater, black scarf, gray knit cap and slouchy trousers, he looked every inch the professional.
Verdict: When it comes to making one feel warm and fuzzy all over, this was a pair of New York Fashion Week debuts -- the cashmere's and the kid's -- that's going to be hard to top.
ALSO:
New York Fashion Week fall 2013: Todd Snyder
New York Fashion Week fall 2013: Tommy Hilfiger review
New York Fashion Week fall 2013: Band of Outsiders menswear
---