New York Fashion Week: Jeremy Scott goes on a psychedelic safari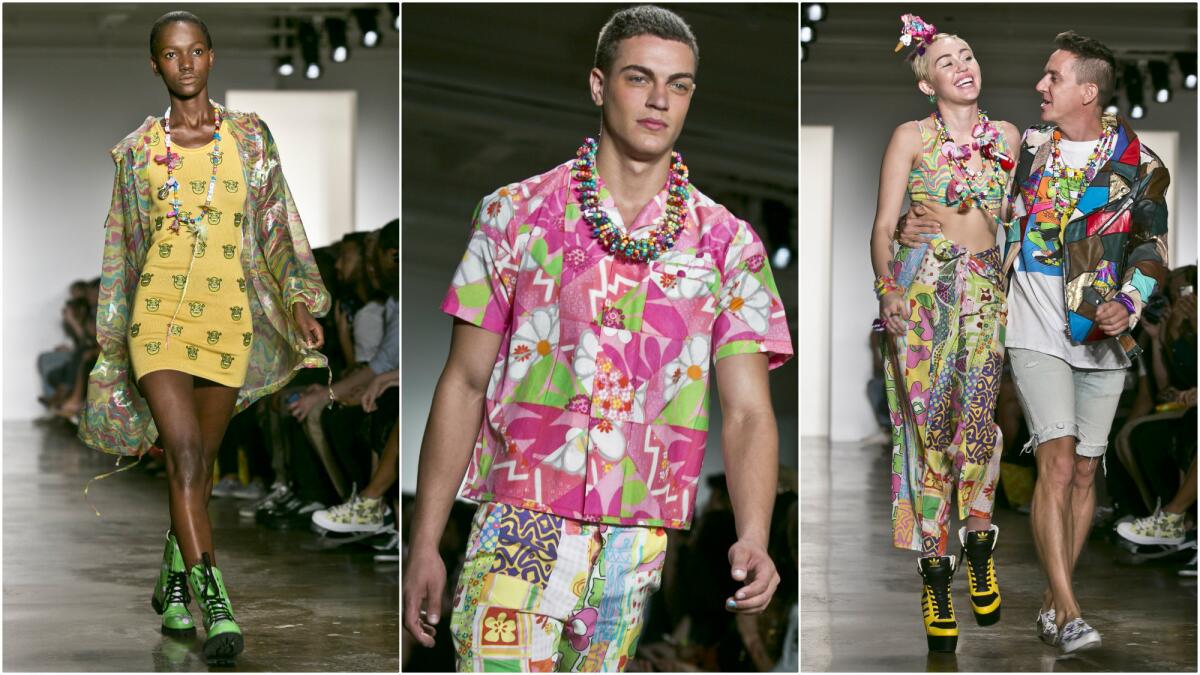 Reporting from New York —
Jeremy Scott presented his spring and summer 2015 men's and women's runway collection at Milk Studios here Wednesday in front of a star-studded crowd.
The Inspiration: Titled "Psychedelic Jungle," the collection took the "garden party on acid" vibe seen in other collections this week on a psilocybin safari, mixing his signature bold animal prints with fantastical florals, geometric leather patchwork pieces.
The Look: The look wasn't just mad trippin' it was time-trippin' too -- with decades of psychedelia on display from '60s-era florals that could've come off the set of "Rowan & Martin's Laugh-in" on babydoll dresses to '70s-era tie-dyed T-shirts, and '80s-era all-over eightball graphics on jackets and bucket hats.
There were also sweaters with grinning intarisa knit jack o' lantern designs, shirts with a swirly circle of words: "What the natives are wearing Jeremy Scott SS 2015."
A surprise pop-culture cameo -- straight outta the aughts -- was Shrek, the green animated ogre from the DreamWorks movie franchise of the same name. His fat green head could be seen on various pieces throughout the collection, most notably in an all-over embroidery on a yellow sweater dreess (we thought ogres were forest dwellers but we're not ones to quibble). We also noticed a tie-dyed T-shirt printed with the slogan "Shrek Happens."
Key Pieces: Our favorite piece on the men's side was a pink patchwork floral camp shirt that's about as close as Scott will come to anything appropriate for the office's next aloha Friday. Our favorite women's piece was a knit top with the words "Don't Take Drugs" on the front in trippy rounded script. It was only after the model turned to head back up the runway that the punchline was revealed on the back. "Give Them To Me," it read.
The Scene: Although celebrities in the front row for the show included Perez Hilton, Bella Thorne and Whoopi Goldberg, it was a rumored appearance by Miley Cyrus that had the pre-show crowd abuzz (perhaps fueled by the allcaps "extra big special thanks to my love Miley" in the show notes).
Her Twerkness did not disappoint, emerging from backstage just as the house lights came down. Afterward, when Scott hit the catwalk for his runway bow he pulled her from her seat and took her for a spin down the catwalk before spiriting her backstage.
A golden PR move if ever there was one, yes, but given the increased ferocity of the fashion photographers' scrum this season, we couldn't help but think it was also a smart public safety move.
For the latest in fashion and style news, follow me @ARTschorn