N.Y. Fashion Week: Tommy Hilfiger heads for the hills
Tommy Hilfiger
(Bebeto Matthews / Associated Press)
Tommy Hilfiger
(Randy Brooke / Getty Images for Tommy Hilfiger)
Tommy Hilfiger
(Randy Brooke / Getty Images for Tommy Hilfiger)
Tommy Hilfiger
(Randy Brooke / Getty Images for Tommy Hilfiger)
Tommy Hilfiger
(Stan Honda / AFP/Getty Images)
Tommy Hilfiger
(Randy Brooke / Getty Images for Tommy Hilfiger)
Tommy Hilfiger
(Randy Brooke / Getty Images for Tommy Hilfiger)
Tommy Hilfiger
(Randy Brooke / Getty Images for Tommy Hilfiger)
Tommy Hilfiger
(Randy Brooke / Getty Images for Tommy Hilfiger)
Tommy Hilfiger
(Bebeto Matthews / Associated Press)
Tommy Hilfiger
(Randy Brooke / Getty Images for Tommy Hilfiger)
Tommy Hilfiger
(Randy Brooke / Getty Images for Tommy Hilfiger)
Tommy Hilfiger
(Randy Brooke / Getty Images for Tommy Hilfiger)
Tommy Hilfiger
(Stan Honda / AFP/Getty Images)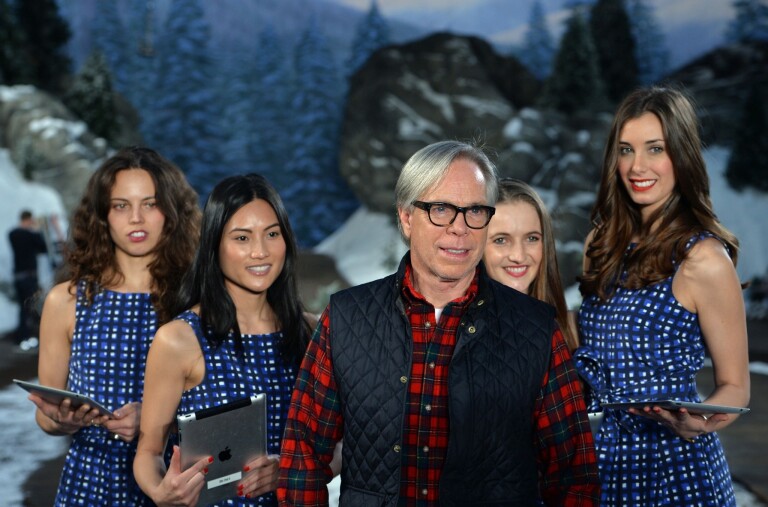 Designer Tommy Hilfiger.
(Stan Honda / AFP/Getty Images)
NEW YORK -- Tommy Hilfiger presented his fall and winter 2014 women's collection against a ski lodge mountainscape at the Park Avenue Armory on Monday.
Inspiration: The activities of the great American outdoors in winter: hiking, skiing, mountain climbing -- and keeping warm.
The look: Technical mountaineering gear meets Western workwear with a blanket party of plaids and a festival of fringe thrown in for good measure. Among the pieces that hit the runway: plaid shirtdresses, utility denim, buffalo plaid turtleneck sweaters and fringe-trimmed fleece knit shirt dresses and jackets, chunky oversized sweatshirts and voluminous knit wool ponchos.
Technical touches included bungee-cord button-holes and zigzag lock-stitching on parka lapels and around the hems of circle skirts. There was a ski-lodge's worth of upscale layering pieces to be had including vests (puffer, shearling, orange fleece) and some haute meets heavy-duty outerwear in the form of snuggly lined utility parkas, fleece bombers and velvet anorak pullovers.
The scene: The Tommy Hilfiger runway stagecraft we've come to expect, complete with a ski lodge -- and ski lift -- at the top of the runway, mountains, craggy boulders, ski racks and even a faux-snow-strewn catwalk.
The verdict: The collection managed to tap in to some of the season's prevailing trends -- statement sweaters, blanket plaids and chunky, creative knitwear -- but with a totally Tommy twist that makes girding yourself for battle against the colder climes look downright fun.
ALSO:
More New York Fashion Week coverage
Brian Lichtenberg goes motocross-grunge
Tommy Hilfiger fetes George Esquivel collaboration
---