Meet Hollywood's newest sole man, Paul Andrew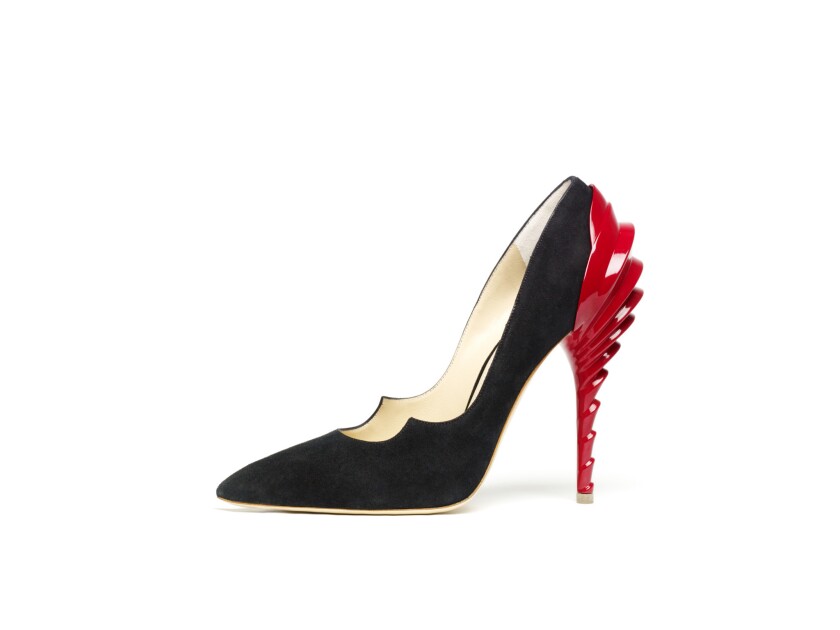 New York-based shoe designer Paul Andrew already has a signature pump (the Zenadia), a CFDA Vogue/Fashion Fund Award, a high-end collection sold at Neiman Marcus and Net-a-porter, and a capsule with J.Crew. In the three years since launching his namesake brand, he's more than hit his stride.
But when it comes to the red carpet, he's still learning, which is why he brought his collection to Los Angeles for the first time last week, to meet with the gatekeepers to glamour, celebrity stylists.
"[The red carpet] is a totally different formula than editorial," the designer said over lunch at the Palihouse. "They are ever so specific about the materials and the colors. You can't have any embellishment on the toe because it might snag the gown. Some girls will only wear an ankle strap because they are afraid the shoe is going to fall off, and some won't wear an ankle strap at all."
Still, all the fuss pays off — in spades, he says.
"Whenever we dress celebs it impacts business not just on a domestic level but globally. People post about it on Instagram, and then you will hear from retailers they have more requests about that certain shoe." (Emmy Rossum, January Jones, Kendall Jenner, Taylor Swift and Gwyneth Paltrow have all worn Andrew's shoes on the red carpet.)
Andrew, 37, was showing styles from his pre-spring 2016 collection, which will hit stores as awards show season is kicking off toward the end of the year. Inspired by a recent trip to Hong Kong, including finer points such as the wallpaper at the China Club and cherry blossoms at the Summer Palace, the rich lineup features emerald satin evening wedges; sling backs in a brocade based on the print of a cheongsam found in a Hong Kong vintage store, and flat evening sandals covered in milky jade Swarovski crystals. There are velvet flat-form sandals with tassel ankle ties, and evening pumps with metal ankle cuffs mounted on elastic so they won't cut off your circulation.
But one thing you will never see from Andrew is a shoe a woman cannot walk in.
"At the time I was launching my brand, everyone was wearing staggeringly high platforms," he says. "Shoes felt so vulgar, and my personal preference has always been for a single sole, light, elegant shoe. I thought, 'This has got to be coming back. I have to launch it now,' " says Andrew, who spent 15 years designing shoes for other brands before launching his own in September 2012.
"I tried to put modernity into that silhouette again, and jazz it up. My shoes have a chic, elegant appeal, but also joyful colors and prints," he said.
Before setting out to launch his own line, he did a survey of 500 women around the world, "because part of what I disliked was seeing women walking down the street hobbling. There's nothing less sexy than a woman who can't walk in her shoes. And so many shoes in the market now are built according to measurements established in the 1970s. Today, so many people are doing sports and wearing sneakers all the time, the anatomy of people's feet has changed."
The survey involved scanning people's feet, including the arch, the width and the length of toes. "In general, people are much wider than they were and the foot size is much bigger," says Andrew, whose shoes are designed in Manhattan, and made in Italy and Spain. "We're now cutting up to a [European] size 43, which is unheard of."
Andrew hails from the rural English town of Maidenhead, close to Windsor. His interest in footwear is both fanciful and pragmatic. "My mom has huge shoe closets, and one of the reasons I started doing fringe was that she had these fabulous fringe boots," he said.
His father was the upholsterer to the British royal family. "He had a workshop in our house where he spent all this time with these amazing brocades. So of course I'm drawn to those fabrics."
While Andrew was studying at the Berkshire College of Art & Design (now Reading College), a professor encouraged him to concentrate on footwear, pointing out that the shoe business was growing exponentially, and there would be an opportunity for designers.
In 1999, after Andrew won London's Graduate Fashion Week, a charity event that showcases the work of 1,000 design students, the London buyer Yasmin Sewell bought his graduate collection for her store, Yasmin Cho. She introduced the young designer to several big names in the London fashion scene, including Alexander McQueen, where Andrew apprenticed for his first job.
Soon after, a Vogue editor in New York suggested he try moving across the Atlantic, where a number of big American brands were looking for accessory designers. He launched footwear for Narciso Rodriguez, worked as the head of shoes and bags for Donna Karan (resin heels with stars inspired by mosques was a highlight there) and Calvin Klein (where his mid-heel biker boots were a hit on the runway).
"I made a lot of mistakes on other people's dollar," Andrew says. "Shoemaking is a craft you need to learn, not just something you can do. I hand make every pattern, every heel, every last. You don't have that skill set when you come out of school."
From the first season, he was able to sell to Saks Fifth Avenue and Barneys New York. The collection, $445 to $1,395, is also available at Neiman Marcus and Net-a-porter.
Early on, his Zenadia pump, with its wing-like topline detail, became a signature. "You never think of these things intentionally," Andrew says. "But that season, I was inspired by a photography book by Andrew Zuckerman that was all about birds. "It's a versatile shoe, in that it can take many materials well, and the winged detail holds you in if you're narrow, and if you're wide, it gets your bunion to stay in the shoe."
Andrew also sells a lot of sling backs, which he offers in five heel heights. "I've tried to perfect the fit and the tension of the elastic. You see too many women with sling backs falling down. It's not nice looking. I've really tried to approach the brand with democracy in mind. Every style has an iteration that's lower."
The J. Crew CFDA Vogue Fashion Fund capsule collection in stores now features riffs on some of his most popular styles, including a pair of fringed gladiators, priced lower, from $398 to $598. Next up for Andrew is launching his own e-commerce site and his first men's collection later this year.
He's also quite taken with designing around a single city as inspiration. The fall 2015 collection landing soon is inspired by New York City: skyline-embroidery on a disco boot, Chrysler Building spire-as-a-heel and more.
Might L.A. someday capture his imagination? Says Andrew, "It could very well."
---