A seaside stronghold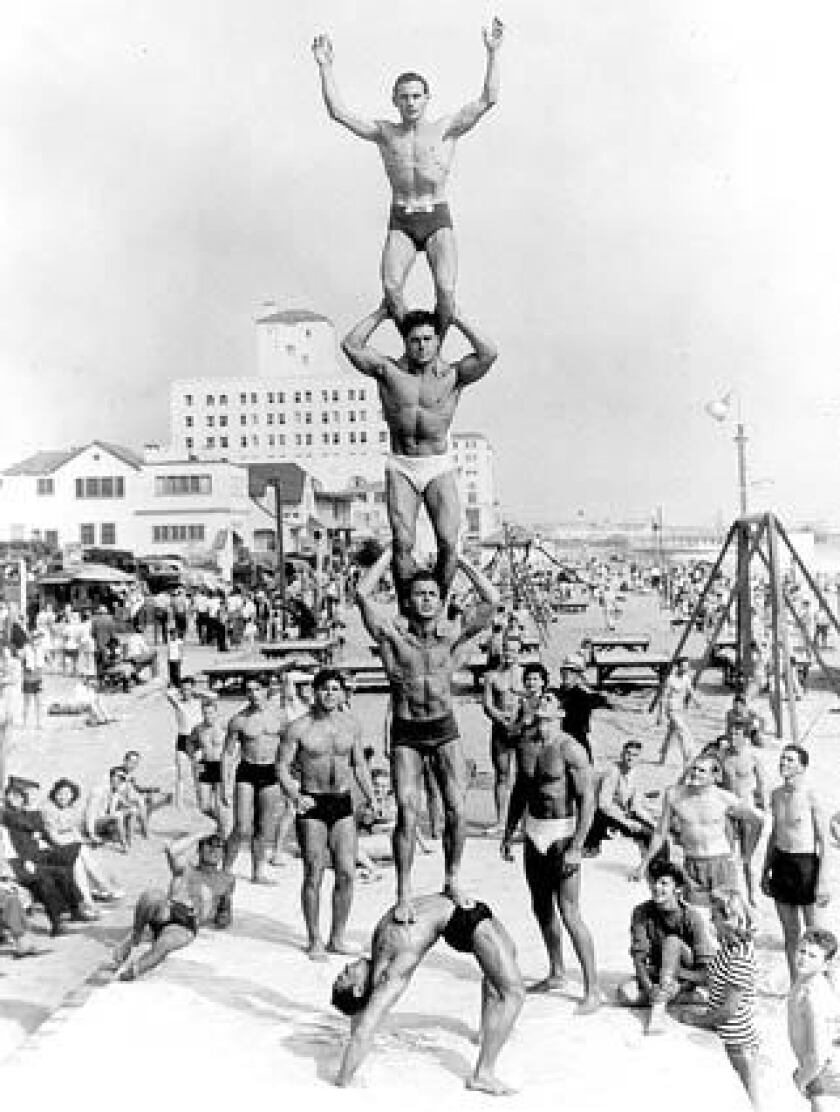 Special to The Times
JACK LaLANNE was already famous by the time he visited Los Angeles in 1939. He'd set records by doing 1,000 push-ups without stopping, and had founded the first modern health club six years earlier in Berkeley.
But he almost certainly wouldn't have ended up with a TV fitness hour that ran from 1951 to 1984 — or have been immortalized with a star on the Hollywood Walk of Fame — had he not headed to Muscle Beach, the spit of sand in the shadow of the Santa Monica Pier that was already making L.A. the mecca of worldwide fitness culture.
Muscle Beach was "the incubator, the magnet for fitness leaders from around the world," said Harold Zinkin, a local bodybuilder who engaged LaLanne in a furious wrestling match minutes after they met. Zinkin went on to invent the Universal Gym Machine, the first modern weight-stack machine, which is now a staple in gyms everywhere.
Even more influential, perhaps, was his and LaLanne's appearance, captured in a famous photograph, as part of a 20-foot human tower. Thanks to images like that, thousands flocked to Muscle Beach every weekend in the 1940s to watch Zinkin, LaLanne and friends perform feats of acrobatics and strength.
Hollywood and the world were watching — and participating. According to Zinkin's memoir, "Remembering Muscle Beach," Jane Russell regularly showed up to pursue her future husband Bob Waterfield, while tenor Mario Lanza worked out in disguise.
As LaLanne's TV show stoked the public's interest, he, Vic Tanny and Joe Gold built L.A.-based health clubs to meet the growing interest in fitness.
In 1977, bodybuilding and fitness got a new burst of attention when Arnold Schwarzenegger exploded into the public consciousness in the documentary "Pumping Iron."
Health clubs and private training began to proliferate at the end of the decade, after a man named John Derek knocked on a health-club door after hours and asked if someone could teach his wife how to lift weights. "She is going to run down the beach in slow motion in a movie," he said, "and her arms and body have to be muscular and perfect."
A year later, when Johnny Carson asked Bo Derek on national television how she became a "10," her answer practically created an industry.
In the 1980s and 1990s, intense competition — and media coverage — made Los Angeles the place to launch fitness trends such as Jane Fonda's aerobic workouts and Rollerblades, invented in Minnesota but popularized on the Venice boardwalk.
Ten years ago, a penniless South African trainer named Johnny Goldberg built his own stationary bicycles, set up speakers in his West L.A. garage and put a dozen people at a time through hourlong, music-blasted journeys. Now, millions jam spinning classes around the world.
The innovations keep coming, from strip aerobics to group rowing. Ultimately, fantasy fuels this workout frenzy.
"L.A.'s the land of fulfilling dreams, where everybody wants to be a star, where you have to look good and fitness is an integral part of the mix," says Gregory Florez, head of FitAdvisor, one of the country's largest fitness consultants. When it comes to keeping in shape, as with so much else, the world watches what happens in Los Angeles.
---