At 'Les Deux Palais'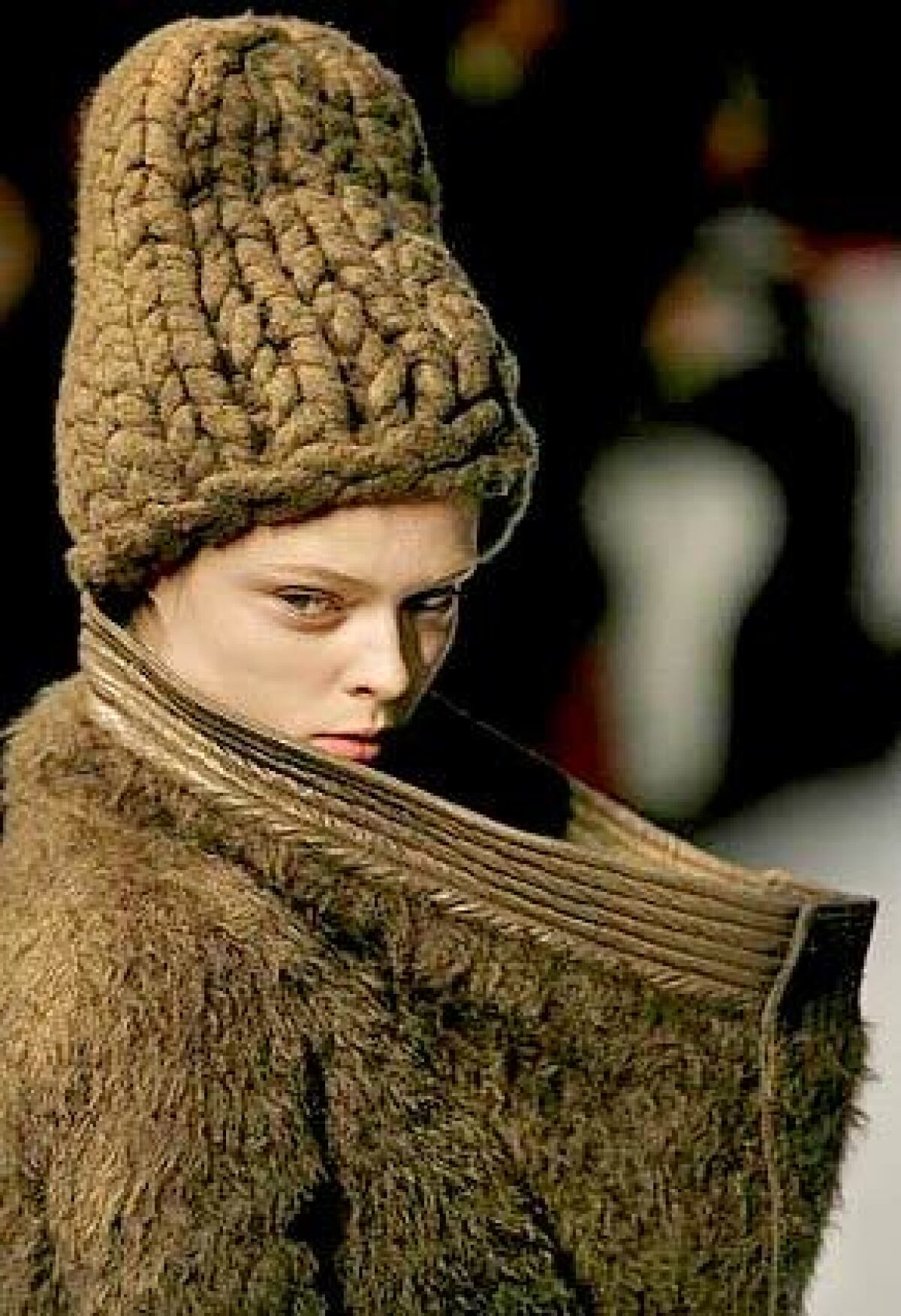 Times Staff Writer
Paris —
BEFORE it was fashionable to hang out in Hollywood, Rick Owens and his French-born partner and muse, Michele Lamy, had us clamoring to get into Les Deux Caf–s, a piece of Provence in a Hollywood Boulevard parking lot where on any given night you might find Madonna, Rod Stewart or Lenny Kravitz dining and drinking at a leafy garden table.
Then they moved to Paris and L.A. lost a bit of its bohemian spirit, not to mention the designer who kick-started the high fashion design renaissance here.
Now, four years later, Owens is coming off his best runway collection yet, and he and Lamy have a new project, mentoring Gareth Pugh, one of the most creative talents to come out of London since John Galliano.
They landed in the most unlikely place, sharing a Left Bank address, the Place du Palais Bourbon, with the National Assembly, France's lower legislative branch. (Lamy insists she's wanted to live here since she threw stones at cops on the Place in 1968, to protest boredom.) The front room of the five-story building, all wedding cake moldings, used to be Fran–ois Mitterrand's office when the place was the headquarters for the Socialist Party.
The rest of the place is more what you'd expect from Owens — raw, industrial space and bare lightbulbs. He made all the plywood and galvanized steel furniture himself, a project that has given rise to a new home furnishings line. He and Lamy live on the fourth floor and keep a guest apartment on the fifth. They love to entertain at home, or as they call it "Les Deux Palais," a hangout for artists, directors and fellow designers visiting Paris. They sit on the back terrace, which abuts the Ministry of Defense, and smoke cigarettes. Once, Lamy screened a film on the showroom wall.
Owens is on a roll after giving up his post at the helm of French furrier Revillon last year to focus on his own brand, which sells at Barneys New York, Maxfield and other temples to the avant-garde. In August he opened his first store, at the tony Palais Royal. He also launched a fur line, which treats mink and goatskin like malleable fabric, not a precious medium. His latest runway show was near perfect, a carefully choreographed parade of leather coats and jackets with cocooning or hunchback volumes, worn atop drapy jersey skirts in "dust" and his other signature dingy shades. The models wore cartoonish fur shoes that swept the floor like Swiffers, and there was even a handbag or two to round out this most commercial of his collections.
Fashion seems primed for an Owens moment, now that designers are redefining minimalism with a renewed emphasis on couture-like construction. Throughout the last few crystal-laden years, Owens has stayed true to his vision, informed no doubt by his time in Los Angeles, of bringing the ease of jersey dressing and the edge of rock 'n' roll to the hallowed ground of haute French design.
That means his work hasn't changed much, but that's fine by him. "I don't want my customers to think the clothes they just bought from me last season are obsolete," he says, looking a bit like a younger Iggy Pop the morning after his show.
"He's artistic in everything he does," says stylist and costume designer Arianne Phillips, who has known Owens since 1994, when he was working as a patternmaker for Lamy, a former designer. Owens made some costumes for "The Crow," which Phillips was working on at the time, and later for "Tank Girl" (1995). "He's really becoming a brand. His aesthetic translates so well into a lifestyle and a philosophy. And he has impeccable timing."
Owens, who grew up in Porterville, Calif., says he is content with his life in Paris (though he would be content with life anywhere) and his Spartan existence. The bedroom he shares with Lamy consists of little more than a dark-sheeted platform bed, a flat screen TV and a pile of New Yorker and OK magazines. When he's not here, he's in Concordia, Italy, where his factory is based and life is even more ascetic. There's not even a movie theater in the small town, so it's work and the gym, which explains his buff physique.
Enter Pugh
WELCOMING Pugh into their lives was Lamy's idea. The two receive inquiries about internships all the time, but there was something about the London-based Pugh, who graduated from Central St. Martins and has since received a tidal wave of publicity for runway collections that have inflatable, Herman Munster-sized proportions. That's despite the fact that he's never sold a single piece.
"I got an e-mail from him and he was interested in furs," says Lamy with her gold teeth, tattooed fingers and Southern California glow, maintained at Paris' finest tanning parlors. "He was the most charming little boy." She invited him for a visit, or a "go-see," as Pugh calls it, nearly two years ago.
Owens was reluctant. "When I first moved here, I tried having a lot of young people with cute haircuts running around, and it distracted me and I didn't understand how to communicate with them." When Pugh first arrived, Owens subjected him to a task tantamount to hazing. "We were lacquering mousseline to look like snakeskin, so I locked him up in a little room with a gas mask and a spray thing, and I almost killed him."
"But that's the kind of thing I enjoy," Pugh says. "Being so hands-on."
Owens quickly warmed to him. "I saw that technically he knows what he's doing. We made some cashmere coats using his patterns, and they were wonderful."
Then there was a moment when he realized Pugh's collection was something his factory could produce. "There is this reckless side of him that I love. He's doing his thing, he doesn't care if it sells or who likes it.
"I also thought, wouldn't it be hilarious in my universe to have a shot of Gareth, to have a big monster come out of the middle of nowhere?"
And indeed, some of Pugh seems to have rubbed off on Owens. "I was looking at this collection, and it's very Gareth, the shapes are more exaggerated, there's a sense of whimsy…." Owens trails off. "Whenever I say that, people are like, 'You are doing black stuff that looks kind of scary, there's nothing whimsical about it.' But it looked like Dr. Seuss to me."
---
booth.moore@latimes.com